Virtual gold trail a first for Perth
Oct 5, 2017
As the major sponsor of the Gold Industry Group, The Perth Mint is partnering with other members in support the Group's latest initiative – the Heart of Gold Discovery Trail.
The trail is the first virtual tour of its kind which will give local residents and tourists of all ages an interactive 'gold' experience via a free app.
Using augmented reality, enticing audio visuals, games and more, the app will tell the tales of a city built on gold as it takes trail blazers on a virtual gold treasure hunt across the city to The Perth Mint.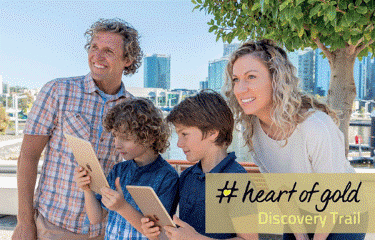 To launch the trail, a free family event will be held at Elizabeth Quay on Saturday 7 October.
From 10am to 3pm, the Quay will become a hub of gold inspired activities to educate and entertain the community.
Throughout the day, The Perth Mint will be hosting a dry gold panning activity, giving children and their families the chance to experience what it was like to search for gold during the early gold rushes.
Great prizes are also up for grabs, including a handful of real gold nuggets donated by Ramelius Resources, family passes to our exhibition, Young Collector 'Experience It' coin in cards, and of course chocolate coins!
Participants who complete the Heart of Gold Discovery Trail will claim additional golden rewards upon their arrival at The Perth Mint, including a commemorative #heartofgold medallion and 25% discount on admission fees to our dazzling exhibition.
Download the free Heart of Gold Australia app online now, available for both Apple and Android.