Buy and sell gold
We pay competitive rates for gold jewellery, bars, coins and nuggets. We also sell precious metals including gold and silver bullion bars and coins. Come in and browse our range in the bullion trading room at The Perth Mint Shop.
What we buy
We buy gold jewellery, Perth Mint branded gold, silver, platinum and palladium coins and medallions, gold and silver legal tender coins, gold and silver bars and ingots, natural gold nuggets. See below for conditions and more information.
What we sell
The Perth Mint Shop buys and sells precious metals in the form of gold and silver bullion bars and coins. For more further information read the bullion trading room frequently asked questions before coming in to trade with us.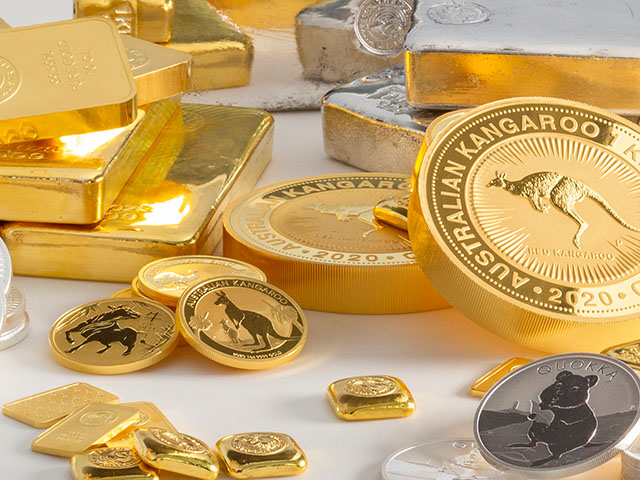 Selling to us: What you need to know before you visit
The Perth Mint is a licensed secondhand dealer (licence number 1824). Our staff will guide you through the simple process. Prepare for your visit by reading the information below and having the appropriate identification documents with you.
We provide expert assessments, competitive rates and live pricing. If all conditions are met, you will be paid directly into your nominated bank account and, if you wish, you can then buy new investment bars or coins with your proceeds.
Trading hours


Closed most public holidays

Bullion trading (includes buying your nuggets, coins and bullion

We buy your gold jewellery

9.30am, 10.30am, 11.30am, 12.30pm, 1.30pm, 2.30pm
9.30am, 10.30am, 11.30am, 12.30pm, 1.30pm, 2.30pm
10.30am, 11.30am, 12.30pm, 1.30pm, 2.30pm
Contact us
If you have any questions about bullion trading and jewellery buybacks, please get in touch.
The Perth Mint Shop
Terms and conditions