What's this Scottish-born geographer's connection with Burke and Wills?
Aug 19, 2018
One of our favourite pastimes is delving through The Perth Mint's historic collection. It always throws up something worth investigating – like who was James Park Thomson and why does his portrait appear on this fine looking medal?
The gentleman in question was born in 1854 on Unst, the most northerly inhabited island in the Shetlands. His destiny, however, lay in the southern hemisphere. Becoming one of his remote isle's best travelled émigrés, Thomson visited North and South America, New Zealand, New South Wales and the South Pacific in the name of his passion – geography.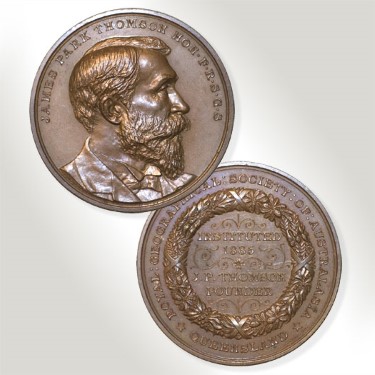 In 1885, the intrepid voyager settled in Brisbane, where he joined the Queensland Department of Mapping and Surveying – a move that foreshadowed his remarkable career in public service.
Thomson was urged by the New South Wales-based Geographical Society of Australia to form a branch in Queensland where it would be well received "being so full of explorers and old experienced colonists."
Not only did he respond with vigour, but spent the rest of his life dedicated to the service of the Royal Geographical Society of Queensland (RGSQ) which to this day actively promotes the study and science of geography.
Thomson served as the Society's Secretary/Treasurer, and then President. He edited its Journal, wrote more than 200 scientific papers and delivered countless addresses. Among his many areas of interest was water conservation and the zone system for reckoning time.
Later in his career, Thomson was actively involved in a fascinating project to survey, photograph and map the location of Camp 119. This was the site near the Gulf of Carpentaria where the Burke and Wills left other members of their famous 1860 – 61 expedition in a final effort to become the first explorers to cross the continent from south to north.
The significance of Thomson's work was recognised numerous times – the Royal Geographical Society's Peek Award in 1901 and an honorary LL.D. (Doctor of Laws) from Queen's University, Canada in 1902. Just before his retirement in 1922 he was appointed a Commander of the Most Excellent Order of the British Empire (CBE).
In 1901, the RGSQ inaugurated its annual J.P. Thomson Medal recognising outstanding services to science, and Thomson himself became its first recipient. Struck in bronze, the portrait was sculpted by Allan Wyon, whose notable works include the Royal Society Darwin Medal and the University of Sydney Prize Medal.
Other early winners of the handsome award included Antarctic explorer Douglas Mawson and aviator Bert Hinkler.