Why two cent coins are being hunted by collectors
Jul 19, 2013
The Perth Mint made 16,995,000 two cent coins for issue in 1968. Now, some of these early decimals are becoming increasingly sought-after.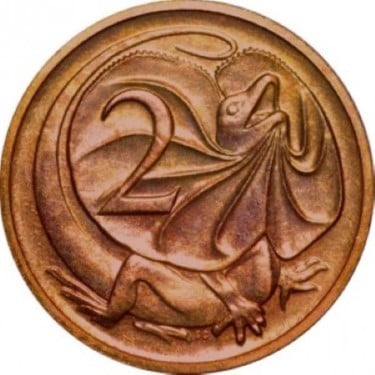 The Australian two cents was introduced in 1966 (and withdrawn from circulation in 1992). The coin's reverse portrayed a Frill-necked Lizard by Stuart Devlin, whose initials appeared under its belly.
Except that on an unknown number of these coins, the famous designer's initials are missing!
We now know that 'SD' is also missing from some 1967 and 1981 issues. Despite our best efforts to find out precisely how it occurred, the story remains a mystery.
According to rare coin dealer Andrew Crellin, the value of these two cent coins have been steadily increasing in value. "Several coins that have been independently graded as being among the finest known examples have recently made prices in excess of several thousand dollars on a leading online auction site," he says.
No wonder there's renewed interest in the humble two cents as people in the know scramble to check their old decimal coins… just in case.
Have you looked at yours recently?