Nickel miner's art deco treasure
Aug 15, 2013
Assembled over many decades, The Perth Mint's historic collection is a treasure trove of fascinating coins and medals from around the world.
Not only does this eye-catching medal feature in the Mint's historic collection, but we found that another example is held by the Victoria and Albert Museum in London, suggesting it must have quite some significance.
Two factors provoked our curiosity: its striking Art Deco design and the unusual fact that it's made from 99.9% nickel. So what's its story?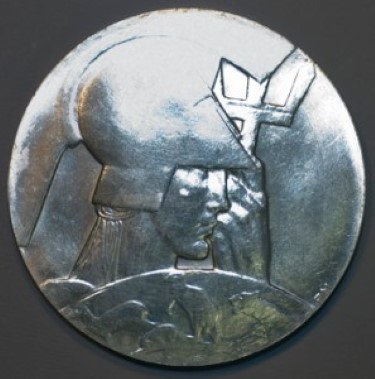 The back identifies the issuer as Mond Nickel Company, a UK business founded in 1900 by Ludwig Mond, the inventor of the nickel refining process. That clearly explains the choice of metal!
Although the company had mining assets in Canada, it shipped most of its raw material back to Britain for purification. This modus operandi must have made it exactly the sought of business the organisers of the 1924 British Empire Exhibition were keen to attract.
Their aim was to alert the public that in the exploitation of raw materials of the Empire, new sources of wealth could be produced. Officially, their intention was "to stimulate trade, strengthen bonds that bind mother Country to her Sister States and Daughters, to bring into closer contact the one with each other, to enable all who owe allegiance to the British flag to meet on common ground and learn to know each other".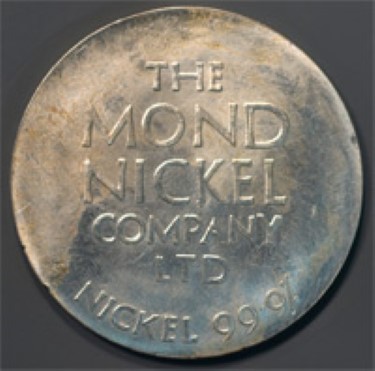 To celebrate its attendance at this landmark event, Mond commissioned Percy Metcalfe to design its commemorative medal. An inspired choice, Metfcalfe rose to fame with his designs for the first coinage of the Irish Free State in 1928 and thereafter several other nations. He is remembered in Australia particularly for the obverse of the 1935 Australian florin showing George V.
The dominant feature of his design for Mond was Britannia, symbolising the Mother Country as the driving force and leading industrial power in the Empire. Below appears part of a globe depicting iconic animals representing resource-rich dominions: a springbok for South Africa; a beaver for Canada; a tiger for India; and a kangaroo signifying Australia.
The piece foresaw a bright future. "In his recognisably Art Deco design Percy Metcalfe captures the driving spirit of modernity. By concentrating on simple geometric shapes he implies strength and vitality," the V&A notes. But the Empire was at its zenith: by the mid-twentieth century its sun had set – leaving Metcalfe's medal as a fascinating historical reminder of its former glory.