Hero Simpson features on coin, stamp cover
Apr 16, 2015
John Simpson Kirkpatrick – "the man with the donkey" – is one of the most potent symbols of Australian courage and tenacity on Gallipoli.
Simpson was 22 years-old when he landed at dawn on 25 April 1915 tasked as a stretcher-bearer. With the aid of a donkey brought in to carry water, he transported wounded men day and night from the fighting in Monash Valley to the beach on Anzac Cove.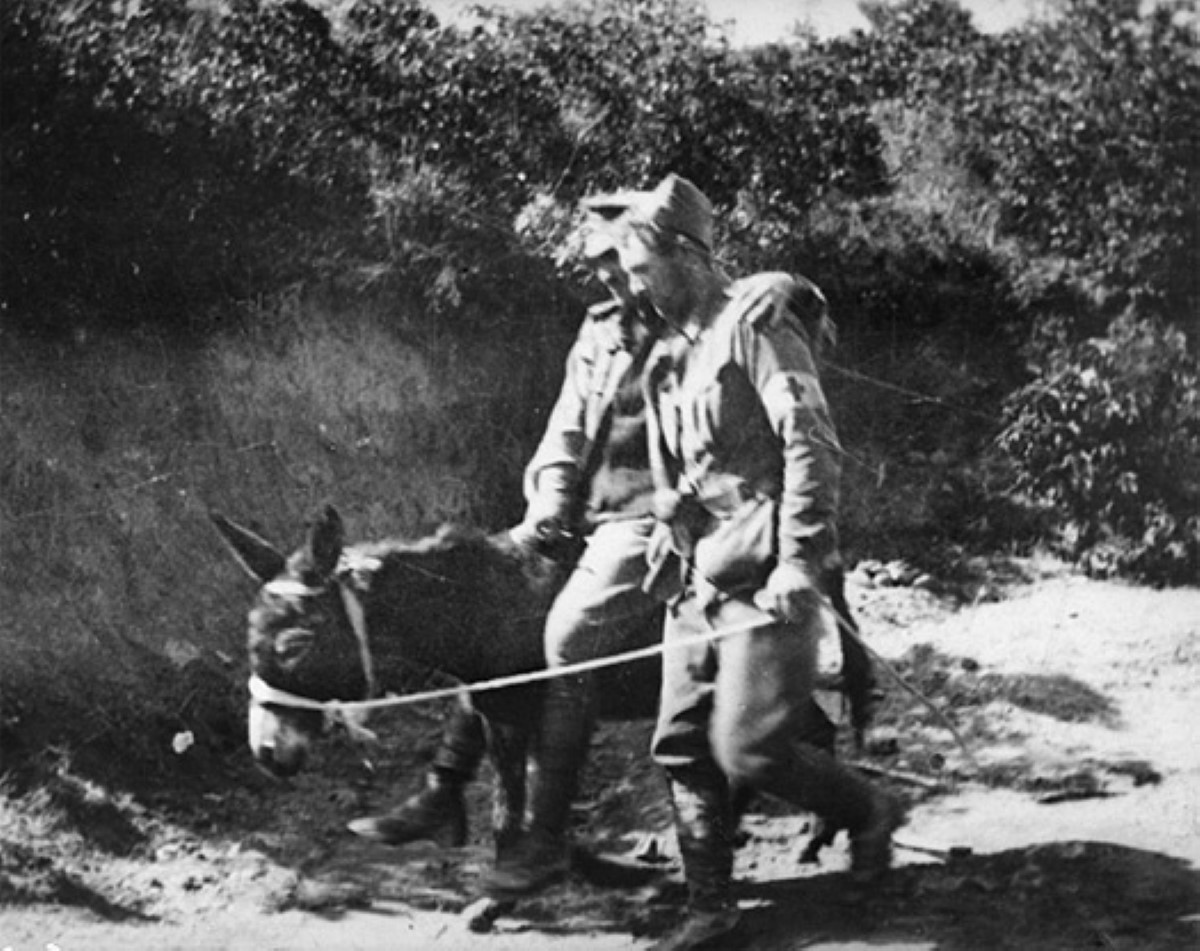 Private John Simpson in Shrapnel Gully with a wounded soldier on his donkey. [Australian War Memorial – P09300.001]
On the morning of 19 May, just three and a half weeks after his arrival, he died while moving two injured men and was buried on the beach at Hell Spit.
There had been nothing remarkable to mark Simpson as a likely hero. Remembered as independent, witty and warm-hearted, he was a battler – an average bloke with an itinerant background. That he displayed such remarkable bravery and selflessness has made him an essential element of the Gallipoli legacy.
About John Simpson

John Simpson Kirkpatrick was born in 1892 in North-East England, and like his father before him, joined the merchant navy.
Jumping ship in Newcastle, NSW in 1910, he worked variously as a cane-cutter, station hand, coalminer, gold prospector and seaman on vessels around the Australian coast.
During his time in Australia, John wrote home regularly, sending part of his wages to his mother.
He enlisted in the Australian Army at Blackboy Hill Camp, Perth, dropping the name Kirkpatrick to avoid questions about his earlier desertion.
Private Simpson expected to be sent to England, but departed from Fremantle on 2 November 1914 aboard HMAT Medic, which joined the main troop convoy from Albany en route to Egypt.
Simpson loved animals and once on Gallipoli befriended a donkey often remembered as Duffy, although also known as Abdul or Murphy.
In the habit of taking breakfast as he strode up Shrapnel Gully in the morning, Simpson also whistled nonchalantly despite the deadly gunfire.
At almost the same spot where Major General Sir William Throsby Bridges, the founder of Duntroon, had been fatally shot a few days before, Simpson was killed by a burst of machine-gun fire that hit him in the back.
His dutiful donkey escaped unharmed.
In tribute, Colonel (later General) John Monash, Australia's greatest commander of the First World War, wrote:
"Private Simpson and his little beast earned the admiration of everyone at the upper end of the valley.
They worked all day and night throughout the whole period since the landing, and the help rendered to the wounded was invaluable. Simpson knew no fear and moved unconcernedly amid shrapnel and rifle fire, steadily carrying out his self-imposed task day by day, and he frequently earned the applause of the personnel for his many fearless rescues of wounded men from areas subject to rifle and shrapnel fire."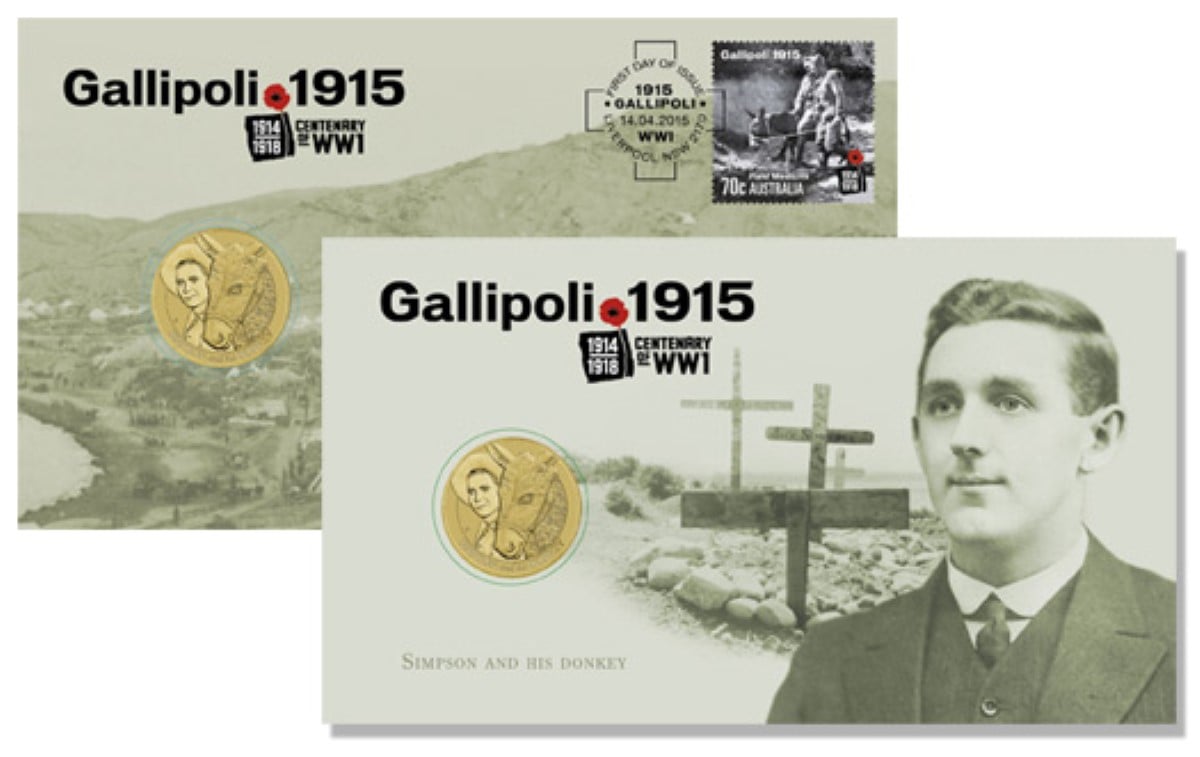 The Perth Mint and Australia Post are pleased to commemorate Private John Simpson and his donkey on this 2015 Gallipoli Stamp and Coin Cover.
As well as a $1 Australian aluminium bronze coin bearing a portrayal of the unassuming hero, it features an official Australia Post 70c stamp with a first day of issue postmark imposed on the shape of a medical cross.