Monthly sales report September 2022
Oct 6, 2022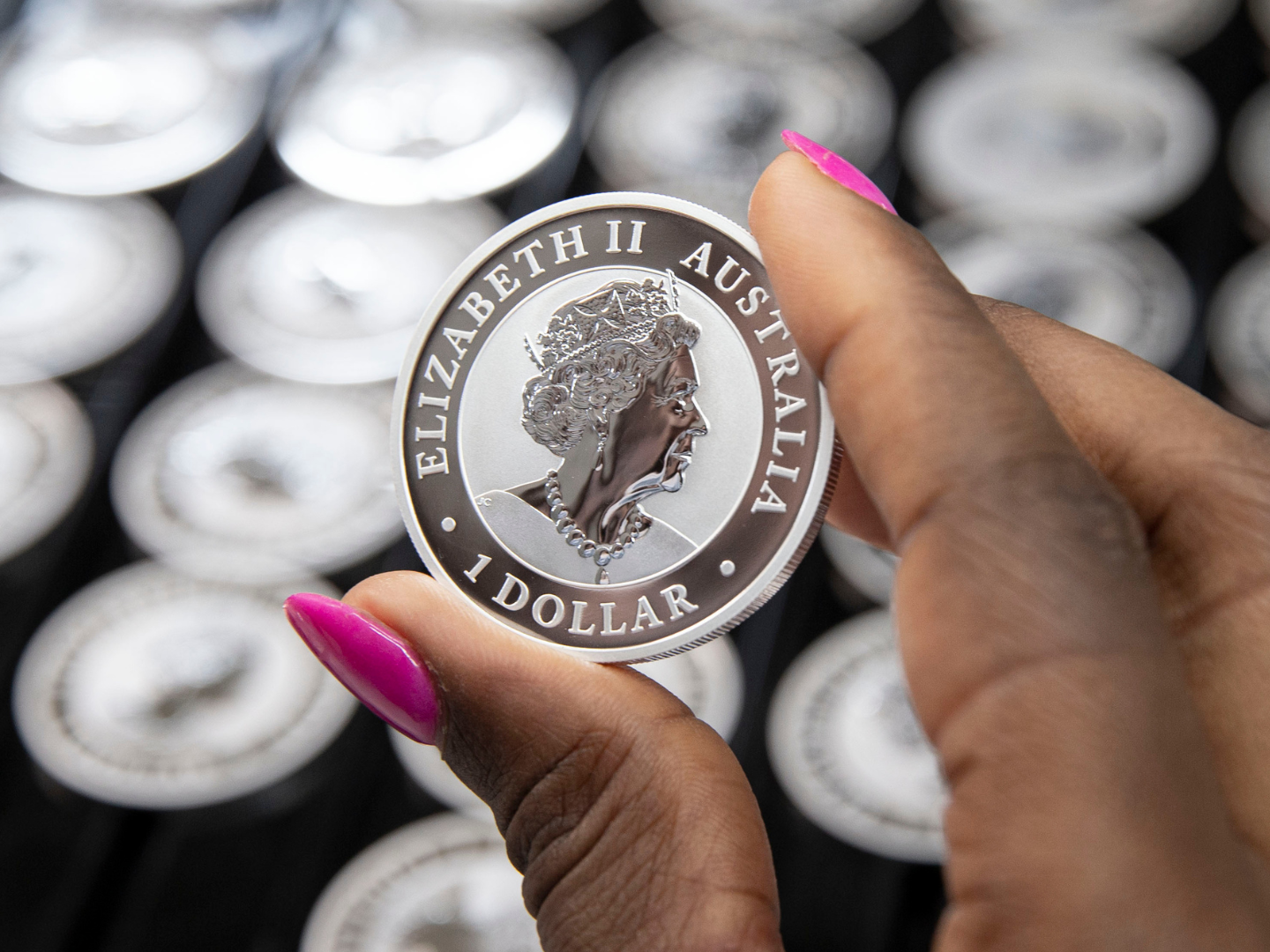 Silver coin output at The Perth Mint climbs to five-year high in September
The Perth Mint sold 88,554 troy ounces (oz) of gold and a five-year high 2,579,941oz of silver in minted product form during September.
The Perth Mint depository's total gold holdings decreased slightly by 0.42%; silver increased by 0.08% during the month.
Holdings in The Perth Mint listed ETF, ASX:PMGOLD holdings also decreased for the month, down 1.58%.
Gold began September at just under USD 1,711 per ounce. In the face of stronger US CPI data, which saw corresponding moves higher in the US dollar and US 10-year Treasury yields, the month's price action showed no sign of recovering from August's sell-off.
With continued speculation around FOMC rate hikes, gold slid to a 2.5-year low close to USD 1,643, before recovering slightly to USD 1,659 by month's end (-3.0%).
However, the news was better for local investors. Thanks to the weaker AUD/USD pair, gold in Australian dollars recovered with a strong uptrend pattern in the second half of the month. Australian gold ended the month strongly at just above AUD 2,599 (+3.90%).
Silver began September at just under USD 18.00 per ounce. Despite the post-FOMC meeting sell-off, it managed a positive finish to the month up around USD 19.00 (+5.7%). For local investors, this translated into an even more impressive result with the price closing around AUD 29.67 (+13%).
The gold silver ratio ended September at 87.
Minted products
The Perth Mint sold 88,554oz of gold and 2,579,941oz of silver in minted product form during September.
The table below highlights how these numbers compare to sales seen one month, three months and one year ago, and against monthly average sales dating back to mid-2012.
CURRENT MONTH SALES OF GOLD AND SILVER SOLD AS COINS AND MINTED BARS (TROY OUNCES) AND CHANGE (%) RELATIVE TO PRIOR PERIODS TROY OUNCES OF GOLD AND SILVER SOLD AS COINS AND MINTED BARS SEP 2019 TO SEP 2022.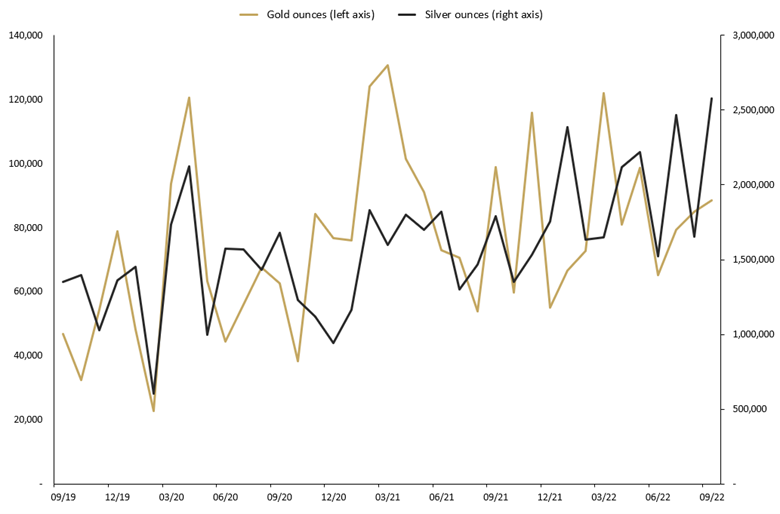 General Manager Minted Products, Neil Vance, said the Mint had an excellent month from a production viewpoint. "Improved output from the factory saw production of Australian Kangaroo 1oz silver coins up around 20% on the previous month, with other silver coins also seeing a significant jump in production," he said.
"This is the best monthly result in terms of silver ounces shipped as minted product we have recorded in five years," he added.
Gold and silver coins remain on allocation to the Mint's wholesale clients, meaning everything that is produced in the factory is required to meet immediate demand.
The Perth Mint manufactures and markets the Australian Precious Metal Coin and Minted Bar Program. Trusted worldwide for their purity and weight, the coins include annual releases of the renowned Australian Kangaroo, Kookaburra, Koala and Lunar series. For more product information visit the bullion web page.
The Perth Mint depository
Total gold holdings in The Perth Mint depository decreased by 0.42%, while silver increased by 0.08% during September. Compared to 12 months ago, gold holdings were down by 2.10% while silver holdings were up 1.18%.
Looking back to September 2019, holdings of gold have increased by approximately 26% and silver by 18%, with the strong growth evident in the chart below.
TOTAL TROY OUNCES OF GOLD AND SILVER HELD BY CLIENTS IN THE PERTH MINT DEPOSITORY sep 2019 TO sep 2022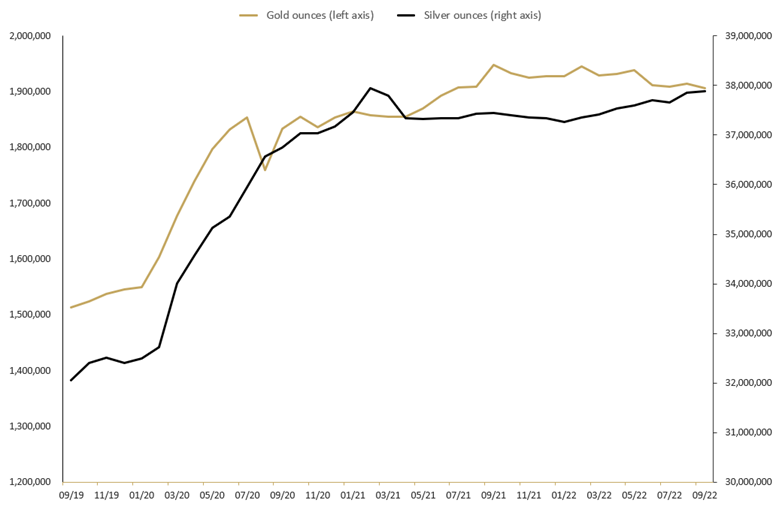 The Perth Mint depository enables clients to invest in gold, silver, and platinum, with The Perth Mint storing this metal in its central bank grade vaults. Operated via a secure online portal, a Depository Online Account allows investors to buy, store and sell their metal 24/7. For further information visit the depository web page.
Perth Mint Gold (ASX:PMGOLD)
Total holdings in Perth Mint Gold (ASX:PMGOLD) fell during September, with holdings down by 4,407oz (-1.58%). This brings total holdings in PMGOLD to 252,244oz (7.85 tonnes).
MONTHLY CHANGE IN TROY OUNCES HELD BY CLIENTS IN PERTH MINT GOLD (ASX:PMGOLD) SEP 2019 TO Sep 2022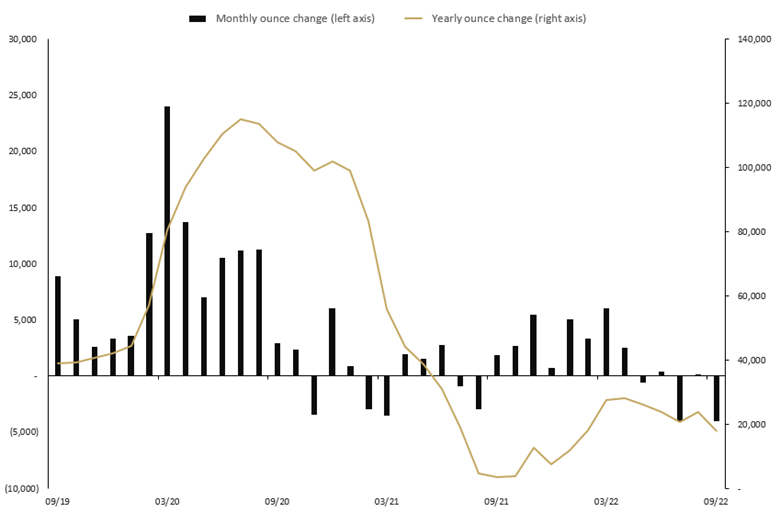 Source: The Perth Mint, ASX, World Gold Council
The total value of PMGOLD holdings ended September was AUD 646.2 million, with the gold price trading just under AUD 2,600 per ounce.
To learn more about investing in PMGOLD, visit the PMGOLD web page.