Perth Mint coin sales lower in June as overseas demand eases
Jul 7, 2022
Perth Mint coin sales lower in June as overseas demand eases
The Perth Mint sold 65,281 troy ounces (oz) of gold and 1,523,765oz of silver in minted product form during June.
The Perth Mint depository's total gold holdings decreased by -1.39%, however silver increased by 0.27% during the month.
Holdings in The Perth Mint listed ETF, ASX:PMGOLD was flat for the month, up just 0.15%.
The rising US dollar and higher interest rates weighed on gold, which began June at USD 1,838/oz. Despite two attempts early in the month to break out of its 200-day moving average, prices edged lower. Continued downward pressure and choppy price action saw it fall to an intramonth low of USD 1,808, from where it regained some losses, finishing June around USD 1,818 (-1.18%).
With silver also facing losses for the month, the gold silver ratio ended June at just under 90.
However, the picture was much brighter for local investors. Thanks to a 6% pullback in AUD/USD pair, the price of gold finished June at AUD 2,642, an overall increase of 3.11%.
Minted products
The Perth Mint sold 65,281oz of gold and 1,523,765oz of silver in minted product form during June.
The table below highlights how these numbers compare to sales seen one month, three months and one year ago, and against monthly average sales dating back to mid-2012.
CURRENT MONTH SALES OF GOLD AND SILVER SOLD AS COINS AND MINTED BARS (TROY OUNCES) AND CHANGE (%) RELATIVE TO PRIOR PERIODS
TROY OUNCES OF GOLD AND SILVER SOLD AS COINS AND MINTED BARS June 2019 TO 2022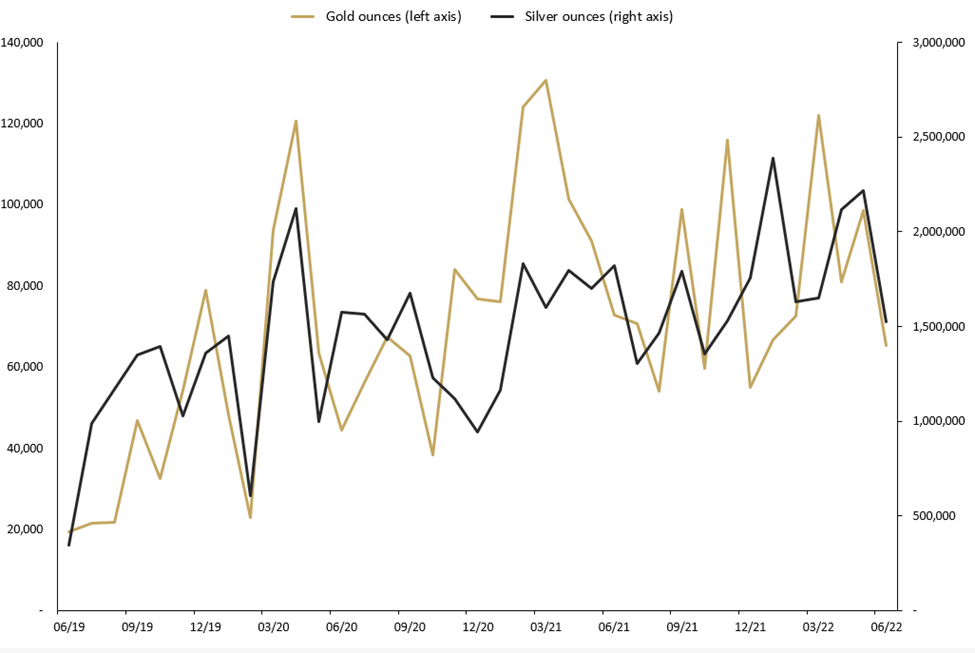 General Manager Minted Products, Neil Vance said that after many months of near record numbers, there was a notable decrease in the amount of physical product sold by The Perth Mint in June.
"We are Australia's largest exporter to Germany where there's been a significant slow-down in demand for Australian gold bullion coins. The market there has clearly taken a breather, and this is inevitably reflected in our latest sales figures," he said.
"Meanwhile, interest in Perth Mint silver products remained high even though these figures show a drop in the number of ounces sold. This is primarily because two large orders shipped during the month have fallen into July's accounting period."
The Perth Mint manufactures and markets the Australian Precious Metal Coin and Minted Bar Program. Trusted worldwide for their purity and weight, the coins include annual releases of the renowned Australian Kangaroo, Kookaburra, Koala and Lunar series. For more product information visit the bullion web page.
The Perth Mint Depository
Total gold holdings in The Perth Mint depository decreased by 1.39%, while silver rose by 0.27% during June. Over the last 12 months, holdings of gold and silver have both increased by 1%.
Looking back to June 2019, holdings of gold have increased by approximately 40% and silver by 20%, with the strong growth evident in the chart below.
TOTAL TROY OUNCES OF GOLD AND SILVER HELD BY CLIENTS IN THE PERTH MINT DEPOSITORY June 2019 TO june 2022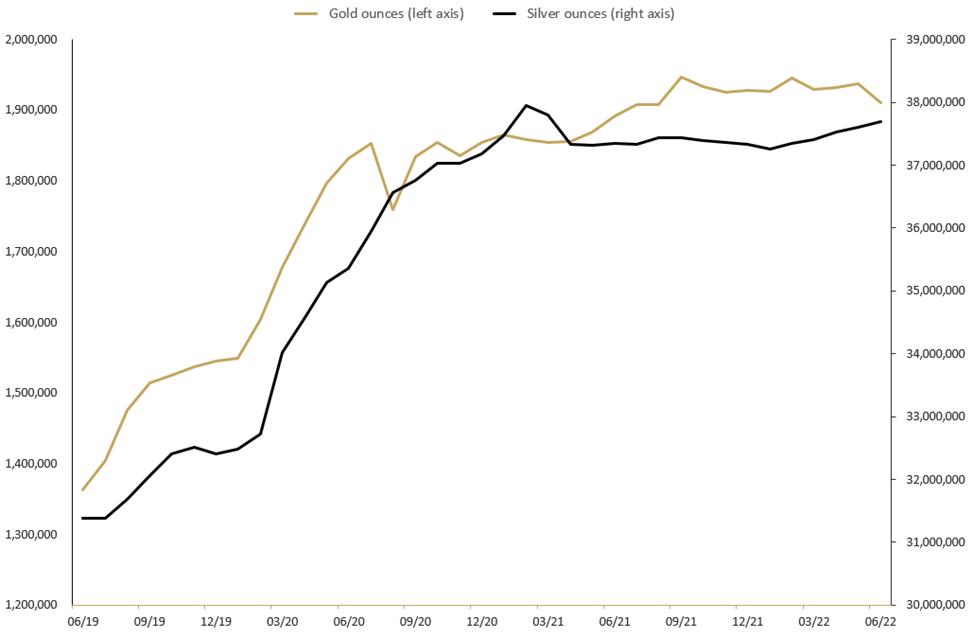 The Perth Mint Depository enables clients to invest in gold, silver and platinum, with The Perth Mint storing this metal in its central bank grade vaults. Operated via a secure online portal, a Depository Online Account allows investors to buy, store and sell their metal 24/7. For further information visit the depository web page.
Perth Mint Gold (ASX:PMGOLD)
Total holdings in Perth Mint Gold (ASX:PMGOLD) increased slightly during June, with holdings up 402 oz or 0.15%. This brings total holdings in PMGOLD to 260,141oz (8.09 tonnes).
MONTHLY CHANGE IN TROY OUNCES HELD BY CLIENTS IN PERTH MINT GOLD (ASX:PMGOLD) June 2019 TO June 2022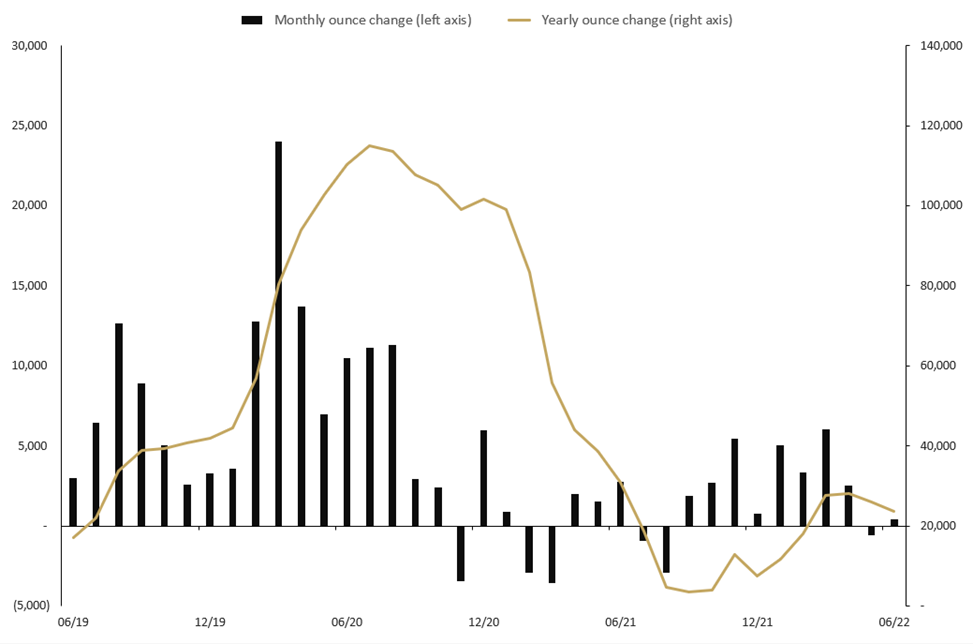 Source: The Perth Mint, ASX, World Gold Council
The total value of PMGOLD holdings ended June was AUD 687 million, with the gold price ending the month trading just above AUD 2,642/oz.
To learn more about investing in PMGOLD, visit the PMGOLD page.