Perth Mint sees solid sales in May as precious metals markets rally
Jun 1, 2021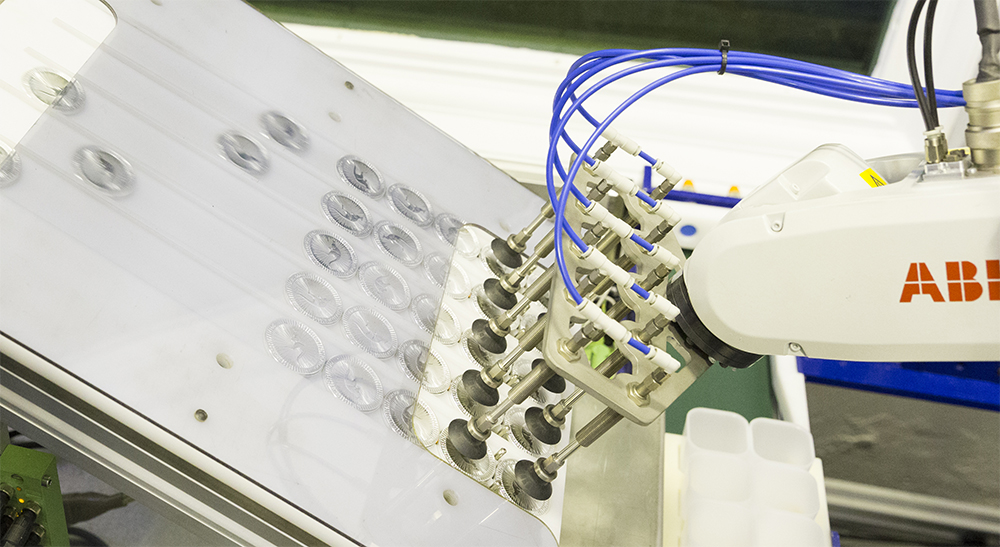 Summary
The Perth Mint's sales of gold and silver minted products hit 91,146 and 1,700,807 troy ounces respectively in May 2021
The Perth Mint's ASX listed ETF, ASX:PMGOLD, saw holdings rise modestly, increasing by 1% over the month
The Perth Mint Depository experienced minor inflows into gold products during May, with total holdings now 4% (gold) and 6% (silver) higher than they were one year ago
Commentary
Manager, Listed Products and Investment Research, Jordan Eliseo said: "A sharp rally in both gold and silver prices driven by weakness in the US dollar, a decline in bond yields and a sharp fall in cryptocurrencies, encouraged investors back into precious metal markets during May 2021.
"This was evidenced in the solid demand for gold and silver seen across The Perth Mint product range, from sales of minted bars and products through to inflows into our ASX listed ETF, PMGOLD."
Minted Products
The Perth Mint sold 91,146 troy ounces of gold and 1,700,807 troy ounces of silver in minted product form during May, continuing a strong run of demand for precious metals that has been in place for most of 2021.
These sales figures represent an increase of 44% (gold) and 71% (silver) relative to the sales seen in May 2020, and are also 95% (gold) and 86% (silver) above the long-run monthly average.
Troy ounces of gold and silver sold as coins and minted bars
December 2018 to May 2021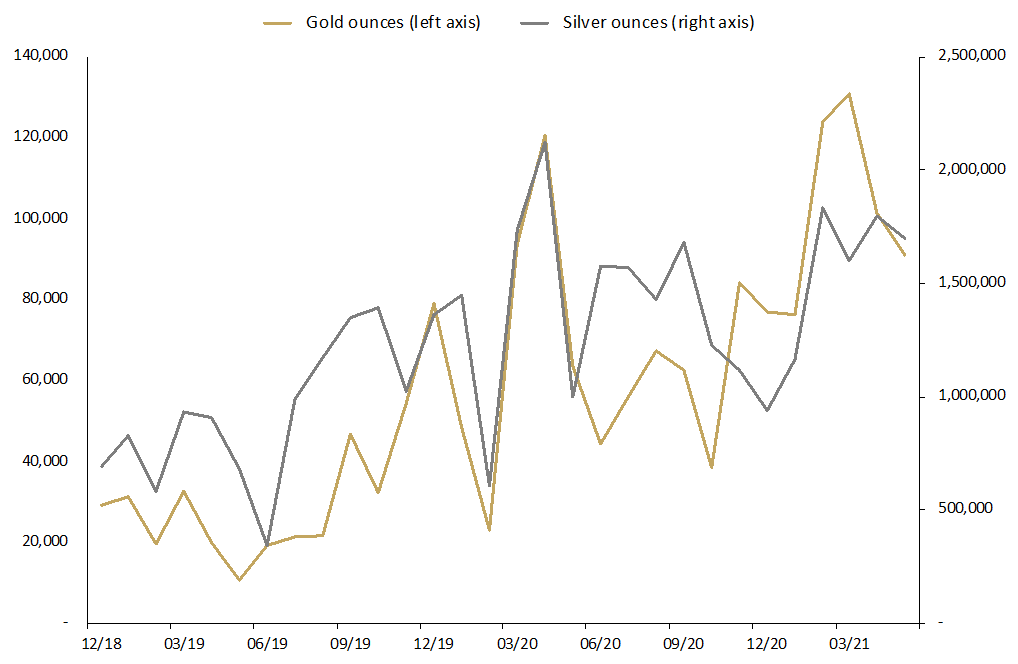 General Manager Minted Products, Neil Vance reported that FY 2020/21 was shaping up to be one of the best on record for sales of minted bullion products. "May was another extremely successful month for silver bullion coins - our capacity to produce again being challenged by the level of demand from key markets such as Germany and the United States," he said. "Wholesale demand for gold coins and minted bars out of Germany started to ease from historical highs in the second half of the month," he reported in explanation of the slight dip in May's gold figures.
The Perth Mint manufactures and markets the Australian Precious Metal Coin and Minted Bar program. Trusted worldwide for their purity and weight, the coins include annual releases of the renowned Australian Kangaroo, Kookaburra, Koala and Lunar series.
The Perth Mint Depository
Total holdings in The Perth Mint Depository were broadly flat in May, with gold holdings increasing by 1%. The value of these holdings rose by 8%, driven by an increase in both gold and silver prices, which rallied during the month.
Over the last 12 months, total holdings of gold and silver have increased by 4% and 6% respectively, with the majority of the inflows taking place in the lead up to the all-time highs seen in the US dollar gold price in August 2020.
Total troy ounces of gold and silver held by clients in The Perth Mint Depository
June 2018 to May 2021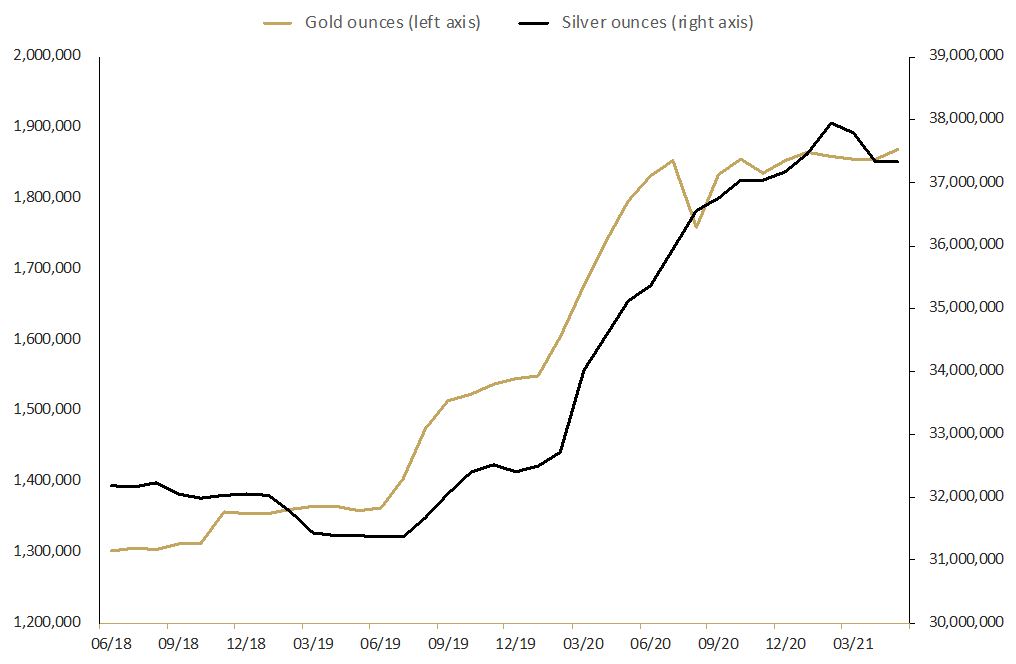 The Perth Mint Depository enables clients to invest in gold, silver and platinum, with The Perth Mint storing this metal in its central bank grade vaults. Operated via a secure online portal, a Depository Online Account allows investors to buy, store and sell their metal 24/7.
Perth Mint Gold (ASX:PMGOLD)
Total holdings in Perth Mint Gold (ASX:PMGOLD) increased by 1% in May, with these inflows seeing investors end the month with 233,770 troy ounces (7.27 tonnes) of gold backing their holdings.
The latest inflows have seen total holdings in PMGOLD return close to their all-time high, with the uptick in demand occurring alongside a broader pickup in the global gold ETF sector, which saw net inflows of approximately 50 tonnes in the first three weeks of May.
Monthly change in troy ounces held by clients in Perth Mint Gold (ASX:PMGOLD)
January 2015 to May 2021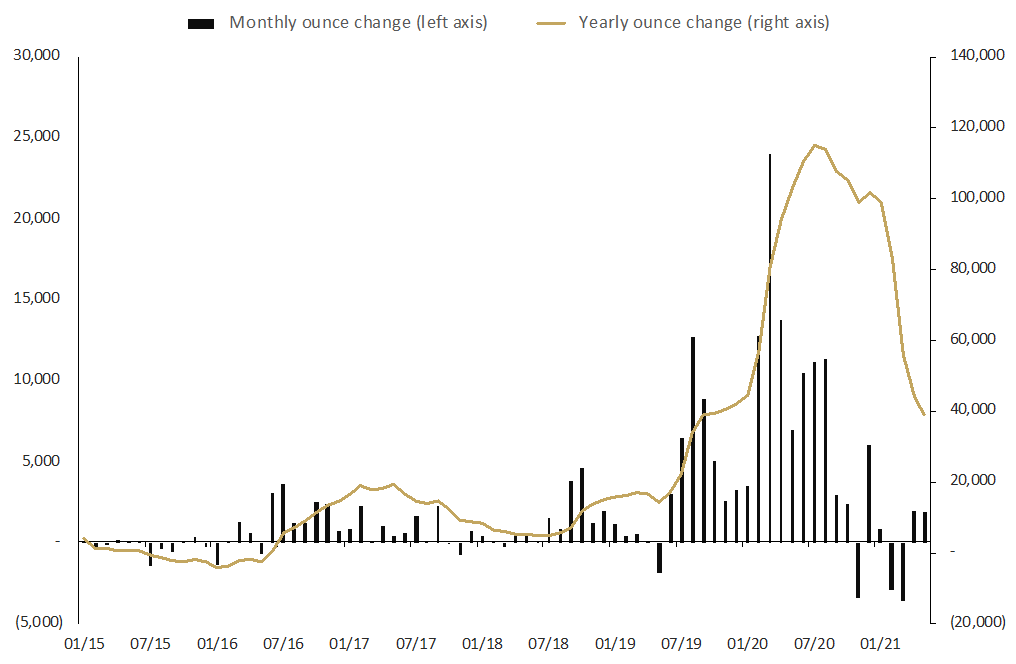 source: The Perth Mint, ASX, LBMA
The value of PMGOLD holdings also increased in May, ending the month just above AUD 575 million. The value of gold holdings backing PMGOLD has risen by 14% in the last 12 months.
To learn more about investing in PMGOLD, download our PMGOLD Factsheet