PMGOLD holdings surge while silver coin sales head higher in April
May 10, 2022

Summary
The Perth Mint sold 80,941 troy ounces (oz) of gold and 2,119,491 oz of silver in minted product form during April.
The Perth Mint depository saw marginal increases in both gold and silver holdings.
The Perth Mint's listed ETF, ASX:PMGOLD saw holdings increase 2,508 oz in April.
Market report
Gold prices began April just above the USD 1,930 oz mark, remaining bullish for the first two weeks of the month.
"With market sentiment dominated by the conflict in Ukraine, prices pushed towards USD 2,000 before dipping on markets pricing in a 25 basis points interest rate increase in the US, the first of what is expected to be an aggressive path ahead."
"With conflict in Ukraine taking a back stage in financial markets, the gold price fell lower over the last two weeks of April on the twin negatives of a stronger US dollar and the prospect of higher interest rates. The gold price fell at month's end to below USD 1,900 oz, driving the Gold: Silver ratio to a two year high of 83."
Minted Products
The Perth Mint sold 80,941 oz of gold and 2,119,491 oz of silver in minted product form during April.
The table below highlights how these numbers compare to sales seen one month, three months and one year ago, and against monthly average sales dating back to mid-2012.
CURRENT MONTH SALES OF GOLD AND SILVER SOLD AS COINS AND MINTED BARS (TROY OUNCES) AND CHANGE (%) RELATIVE TO PRIOR PERIODS
TROY OUNCES OF GOLD AND SILVER SOLD AS COINS AND MINTED BARS DECEMBER 2018 TO April 2022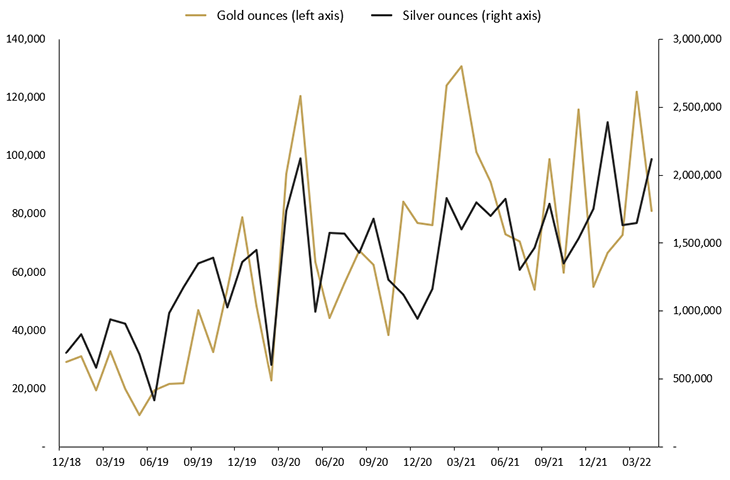 General Manager Minted Products, Neil Vance said April represented another solid month for sales of Australian bullion coins and bars on the international market.
"Demand continued to keep our silver production lines working at or near capacity for the month"
"With less machine downtime, we managed to ship more product than each of the preceding two months" he said.
"Sales of gold products slipped after tracking higher for several months," he added. "Even so, there was immediate take up of our limited Dragon coins in the unusual bar-shaped format, for which we have a strong following."
The Perth Mint manufactures and markets the Australian Precious Metal Coin and Minted Bar Program. Trusted worldwide for their purity and weight, the coins include annual releases of the renowned Australian Kangaroo, Kookaburra, Koala and Lunar series. For more product information visit the bullion web page.
The Perth Mint Depository
Total gold holdings in The Perth Mint depository increased by 0.12% during April, with silver also in positive territory. Over the last 12 months, holdings of gold have increased by 4%. Silver holdings are up by 1% compared to three months ago.
Looking back at the same month of 2019, holdings of the two metals have increased significantly: gold is up approximately 42% and silver is up 20%, with the strong growth evident in the chart below.
TOTAL TROY OUNCES OF GOLD AND SILVER HELD BY CLIENTS IN THE PERTH MINT DEPOSITORY Jan 2019 TO April 2022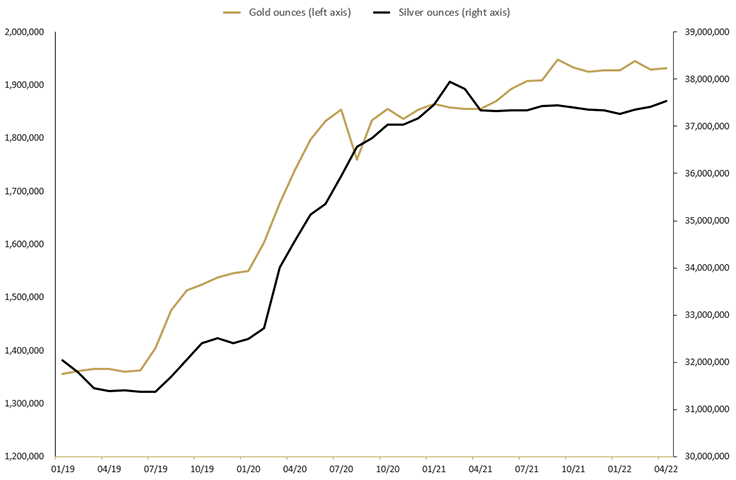 The Perth Mint depository enables clients to invest in gold, silver and platinum, with The Perth Mint storing this metal in its central bank grade vaults. Operated via a secure online portal, a Depository Online Account allows investors to buy, store and sell their metal 24/7. For further information visit the depository web page.
Perth Mint Gold (ASX:PMGOLD)
Perth Mint Gold (ASX:PMGOLD) saw continued inflows during April, with holdings increasing by 2,508 oz (+0.97%) for the month. Total holdings have now topped 260,000 oz for the first time, a new all-time high, with investors increasing holdings in each of the past eight months.
MONTHLY CHANGE IN TROY OUNCES HELD BY CLIENTS IN PERTH MINT GOLD (ASX:PMGOLD) JANUARY 2017 TO APRIL 2022
Source: The Perth Mint, ASX, World Gold Council
The total value of PMGOLD holdings ended April at AUD 700 million, also a new all-time high, with the AUD gold price ending the month trading just above AUD 2,690 oz.
To learn more about investing in PMGOLD, visit the PMGOLD page.