The opal buying guide
Sep 21, 2023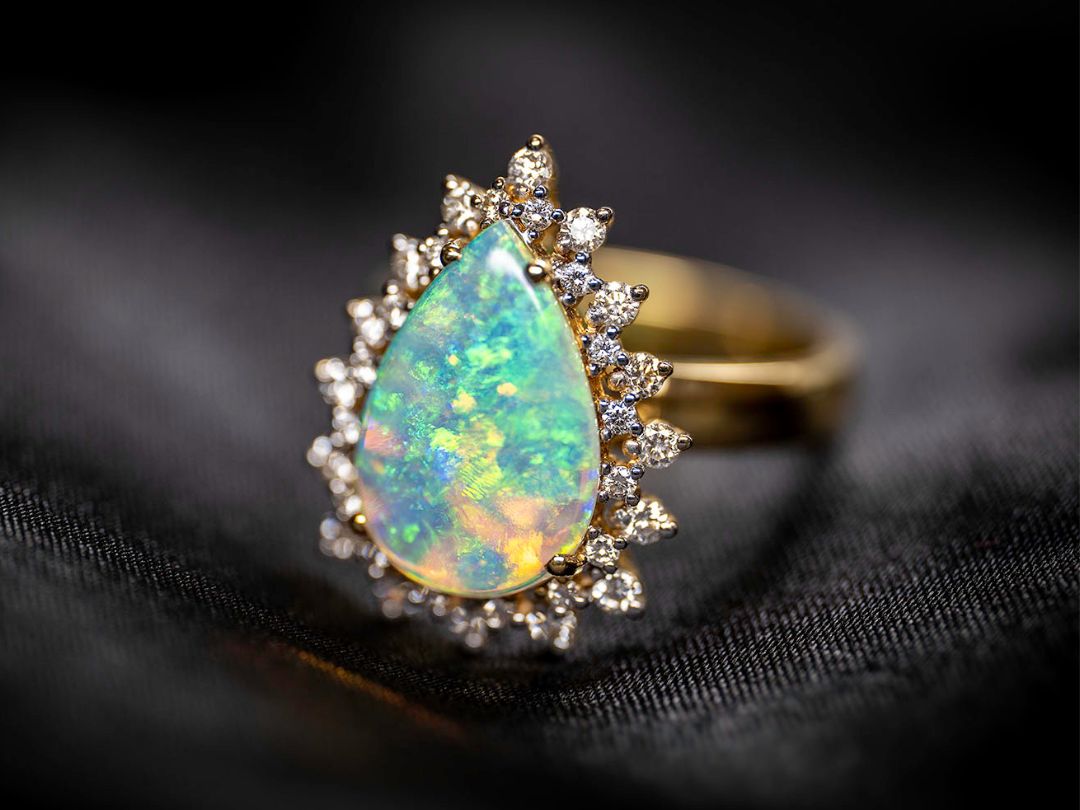 According to Aboriginal Dreaming stories, the opal is the creation of a rainbow touching the earth. It's no wonder, as brilliant colours transfix jewellery collectors and geologists across the globe.
The opal is also well known for being the birthstone for October and is considered to symbolise love, passion, purity and luck.
With Australia producing around 95% of the world's precious opal, there have been many significant finds, including the 5,000 carat Fire of Australia, the world's finest uncut opal.
Types of opal
Black opal is the rarest type of opal and has what's called a black body tone, which is the background colour and makes the colour pattern of the opal visually bright and intense. Lightning Ridge in New South Wales is the only place where black opal is commercially mined.
Following black opal, boulder opals are the second most valuable type of opal and are easily distinguished by the layer of ironstone on the back of the opal. Mined from large ironstone boulders, these colourful opals form in the cracks, meaning opal cutters need to leave the ironstone attached to the opal to form a fully sized stone.
Light opal has a light pastel body tone with the colour patterns more subtle than that of a black opal but is no less stunning.
Crystal opal gets its name because its transparency resembles crystal or glass. The body tone of this type of opal is semitransparent to transparent with a beautiful play of colour.
Fire opal is translucent with a body colour that's often red, orange or yellow – or combination of all three, depending on the light behind it.
How do you value opal?
Opals are priced per carat which is determined by a combination of influences:
Colour is the most important factor when choosing an opal. The colour refers to the background of the stone which is often white, grey or green, with black being the rarest body colour. But all opals have the kaleidoscopic play of colour which refers to the rainbow-like patterns reflected in light – the brighter the better.
Transparency refers to an opal's level of inclusions, the fewer inclusions the higher the quality.
Clarity ranges from completely transparent to opaque, but it depends on the type of opal as to which is a better investment. For example, an opaque background makes a black opal more prized, whereas a transparent background is more highly regarded in a crystal opal. A cloudy background in any opal lowers the value as it can occasionally indicate a lack of stability in the stone. When there's a lack of stability it means the stone's resistance to external factors like moisture, light and temperature changes could be affected.
How to choose an opal
Now you know the fundamentals of what to look for in an opal, it's time to choose. But which one? With a myriad of colour combinations, it really does come down to personal preference. It's worth considering what you're going to be pairing your new opal jewellery with – is it to wear daily or more of a showstopper piece?
However, as long as the play of colour in the patterns is bright without a milky background, there's no right or wrong. Similarly to deliberating over art, go with what makes you feel you can't live without.
Why choose The Perth Mint for your opal jewellery?
In our landmark heritage-listed building in East Perth, our stylish jewellery boutique is home to some of the globe's most exclusive opal, diamond and gemstone jewellery. Many pieces are accompanied by a certificate of authenticity, as well as the peace of mind that comes with purchasing from a Government of Western Australia-owned enterprise with a long-standing reputation for quality and integrity.
At The Perth Mint, we want you to be safe in the knowledge that the opal jewellery you're purchasing is of high quality and will last you a lifetime.
As Perth's premier jewellery destination, our elegantly appointed boutique offers an unsurpassed range of beautiful opal jewellery.
Book your appointment today and one of our highly trained consultants will take the time to assist you in making the perfect opal choice.