Celebrating 25 years of Perth Mint's Certificate Program
Apr 21, 2022
Gold Corporation, trading as The Perth Mint, is celebrating 25 years of its one-of-a-kind certificate program – the only government-guaranteed precious metals certificate program in the world.
PMCP was developed closely alongside one of The Perth Mint's longest-running distribution partners, US-based Asset Strategies International (ASI) – an organisation that also celebrates its 40th anniversary of operations in 2022.
The Perth Mint Acting Chief Executive Office Jane King said the dual anniversaries were a great opportunity to celebrate the longstanding PMCP partnership between the two organisations.
"The Perth Mint is immensely proud of our certificate program and equally proud of our strong historical relationship with Asset Strategies International and congratulate the business on its 40-year anniversary," she said.
"Since the program began in 1997, The Perth Mint has established a trusted network of global distributors who proudly market our product and have helped make it the success it is today.
"The Perth Mint is Australia's largest, fully integrated precious metals enterprise, and the only business of its kind in the world that is fully backed by government guarantee – meaning every ounce of gold, silver and platinum held can be exchanged for physical metal."
The Perth Mint Depository Manager Caroline Campbell-Watt said PMCP had been a success story since its inception 25 years ago.
"It's an extraordinary achievement that The Perth Mint holds more than AUD 1 billion on deposit for these clients, and testament to the value and reputation of the program."
"The Perth Mint thanks all of our valued active distributors and looks forward to working together with each of them in the future to continue to bring Australian gold to the world."
ASI Chairman and CEO Michael Checkan and ASI President and COO Rich Checkan are thrilled the program has been rewarding for their customers.
"It has been an honour to offer this amazing program to our clients for the past quarter century. We have seen firsthand the positive, life-changing good it has done for hard-working, everyday people," Rich Checkan said.
In addition to ASI, PMPC's distributors include: BFI, Euro Pacific Capital, Goldcore, Jaggard's, PMCG, Thornton, GoldSilver Central and LPM.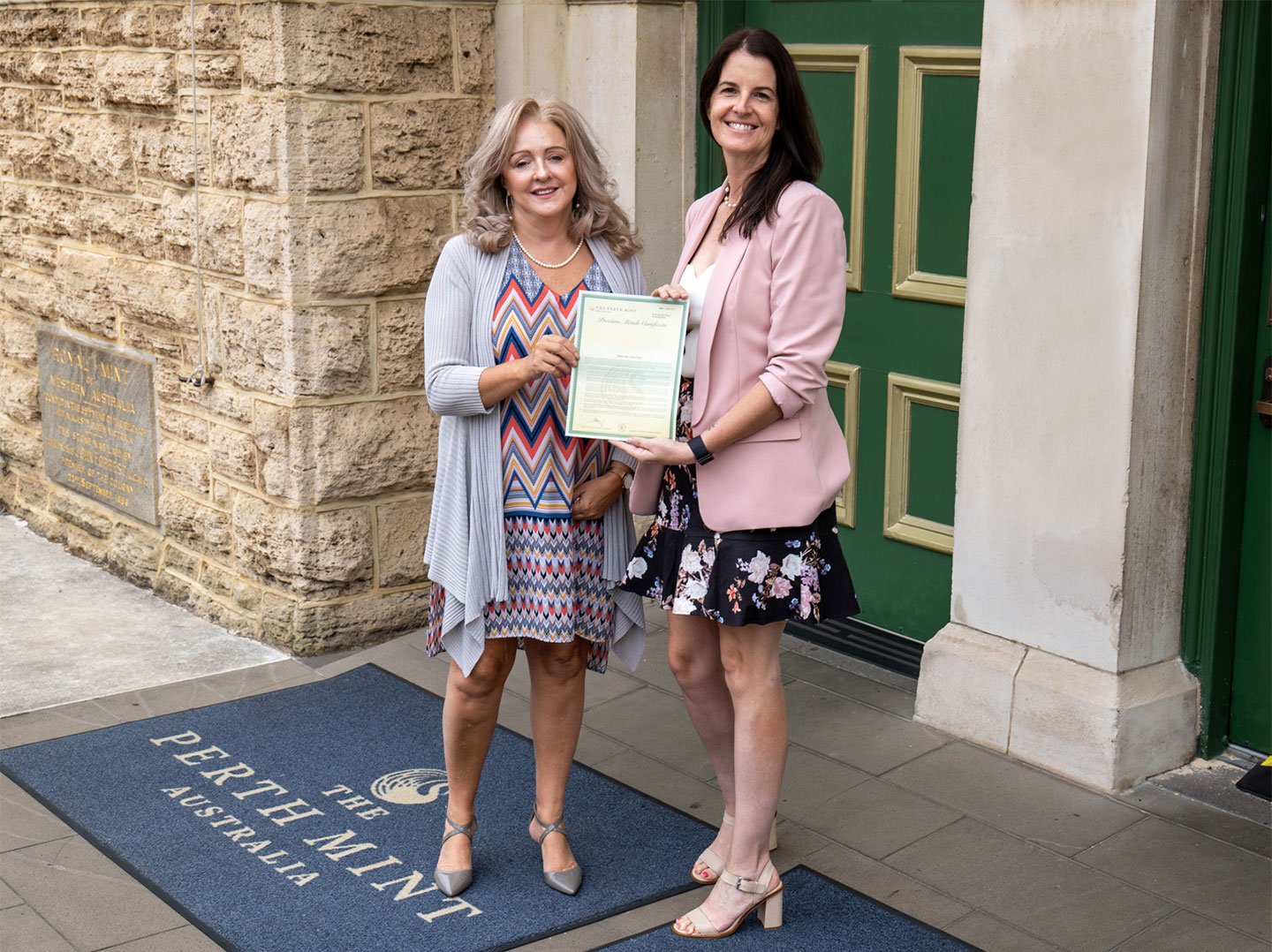 Acting CEO Jane King and Depository Manager Caroline Campbell-Watt outside The Perth Mint.
About The Perth Mint and PMCP
Asset Strategies International is the longest running active distributor of PMCP (25 years), with almost 4000 PMCP clients and USD 286 million on deposit via the program.
The Perth Mint depository stores nearly AUD 6 billion worth of gold and silver for more than 40,000 clients, ranging from central banks and sovereign wealth funds to individuals, in over 130 countries.

The Perth Mint operates one of the largest and most efficient precious metals refineries in the world, with capacity to process 800 tonnes of gold and 1000 tonnes of silver per annum.
View The Perth Mint's entire range of precious metals products and more at perthmint.com and connect on Facebook, LinkedIn, Twitter and Instagram.
Rachael Cochrane