Five of Australia's rarest and most fascinating coins
Oct 12, 2022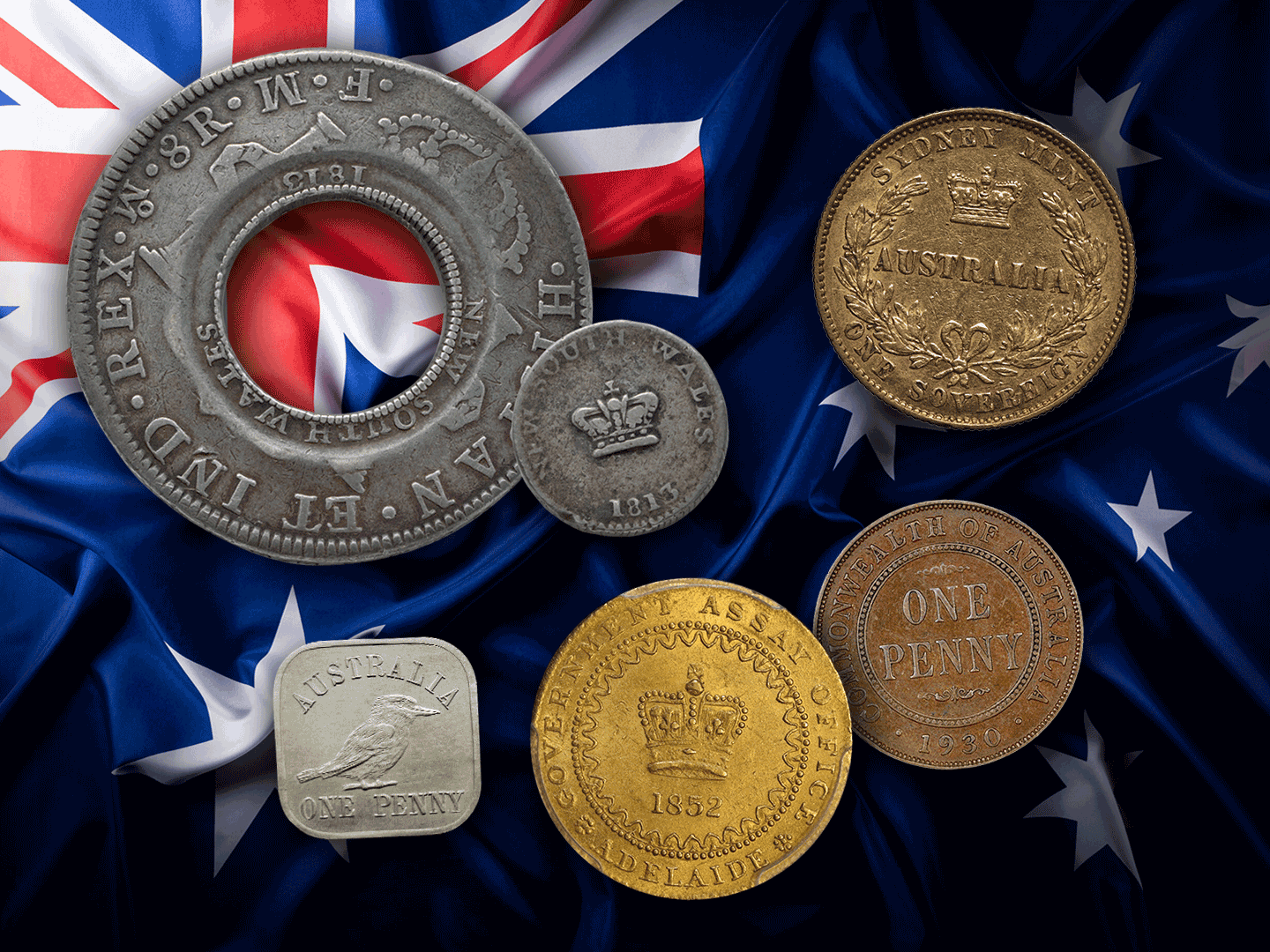 Australia punches above its weight in numismatics. For a nation that introduced its first official coinage a little over 200 years ago, we have produced many notable issues, among them some of the most desirable pieces in the world.
Before discussing five of Australia's rarest and most fascinating coins, let's briefly recap the history of our early currency system.
Money was a low priority when Britain established its penal colony of New South Wales in 1788. In the self-sufficient settlement envisioned by British authorities, convicts would work for free and both they and their gaolers would receive supplies of food and other necessities from the Commissariat (government) store. It was hardly surprising, then, that people turned to barter to acquire additional goods and services, with rum (any hard liquor) becoming a prime medium of exchange.
What coins did exist in Sydney Town arrived in the pockets of military officers, visiting traders, and early free settlers. The nascent monetary system comprised a motley collection of British specie together with a mix of Dutch ducats and guilders, Portuguese johannas, Spanish reals, as well as British East India Company rupees, mohurs and star pagodas.
The relative value of these coins was often disputed, and in an effort to provide an acceptable and stable solution for the growing population, Governor Gidley King issued a Currency Proclamation in 1800 fixing their worth in terms of British pounds, shillings and pence. Even though the Proclamation inflated their values so that the coins were worth more in the colony than in other parts of the world, trading ships continued to reduce the scant supply by accepting them as payment for cargo.
1813 holey dollar and dump
The first home grown attempt to solve the currency crisis with distinctively Australian specie was the brainchild of Lachlan Macquarie, fifth Governor of New South Wales. Credited with many achievements, one of his most important was the creation of the holey dollar and dump.
The canny Scot arranged for the importation of 40,000 Spanish dollars (pieces of eight), which arrived in Sydney from Madras aboard the Samarang on 26 November 1812. Macquarie encouraged the promotion of former convicts to positions of responsibility, and in this instance, turned to forger William Henshall to cut each coin in two by removing a central plug.
The result was a silver coin with a hole in the middle, the holey dollar; and a smaller piece known as a dump. Henshall then counterstamped both coins with the words 'NEW SOUTH WALES 1813' and their respective values - five shillings for the holey dollar and 15 pence for the dump.
Essentially, by defacing the original silver dollar coins they became less valuable to visiting traders. But with official status within the colony, they provided a welcome boost to the local money supply.
Today these pieces are highly sought after. In 2015, an especially rare 'Madrid' holey dollar sold for AUD550,000.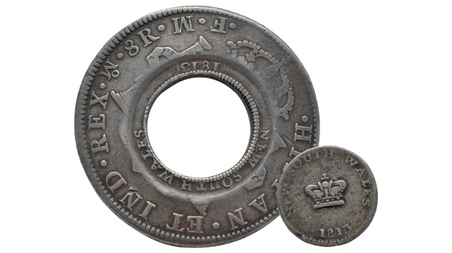 "Holey dollar and dump, first distinct coinage of New South Wales,1813" by State Library of New South Wales SAFE/R 277A is licensed under CC BY-SA 3.0 AU.
1852 Adelaide pound
Holey dollar and dumps were recalled from 1822 after the British government insisted on their replacement with sterling currency. Gold sovereigns were supplied to the growing number of colonies, including South Australia, which was proclaimed by Governor John Hindmarsh in 1836.
By 1851, Australia was in the throes of one of the greatest gold rushes in history. An estimated 8,000 men left Adelaide to join the diggings in neighbouring Victoria – taking with them almost all the sovereigns in circulation, a situation that pushed South Australia to the cusp of financial ruin.
To alleviate this new crisis, the Adelaide Assay Office was hastily established under the 1852 Bullion Act. Enticing miners to bring their gold to South Australia with attractive payments, it began production of 22-carat Adelaide pounds with the face value 'ONE POUND' boldly stamped on the reverse.
Even though it was made before official approval was received from Britain and was therefore technically illegal, the Adelaide pound was an historic achievement: the first coin produced in Australia from Australian gold with an entirely Australian design.
Few of the roughly 25,000 produced survive today. It is hardly surprising that when these rare examples become available they command top dollar.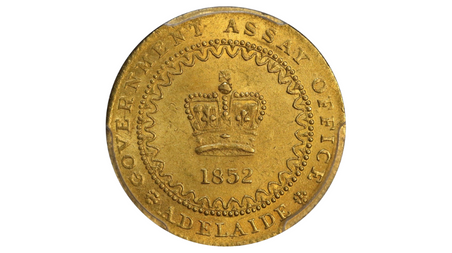 Image of the 1852 Adelaide pound reproduced with permission of Andrew Crellin, Sterling & Currency.
1855 Sydney Mint sovereign
Australia's gold rush of the 1850s unearthed vast quantities of precious metal. To turn this enormous wealth into coinage, the first overseas branch of Britain's Royal Mint was opened in Sydney, capital of New South Wales, in 1855. Enjoying a privilege historically reserved for the mother mint in London (and later shared with branches in Melbourne and Perth), it was empowered to turn gold into official sovereigns.
In the early years of production, Sydney sovereigns were differentiated from Imperial versions (those featuring Benedetto Pistrucci's classic St George and the dragon) with alternative obverse and reverse designs. Created by Leonard Charles Wyon, one of the famous dynasty of 19th century engravers, the Sydney Type I reverse featured elements representing radical departures from tradition.
For the first time the denomination ONE SOVEREIGN was included on the reverse which also comprised depictions of St Edward's Crown and a laurel wreath. The word AUSTRALIA was prominently positioned, even though this was a geographical concept in European eyes at the time rather than today's fully-fledged nation. To underline the point that these coins were not struck in London, 'SYDNEY MINT' was also incorporated into the novel design.
A youthful portrait of Queen Victoria with a braid in her hair by James Wyon appeared on the obverse.
Among Australia's most sought-after numismatic treasures, Sydney sovereigns were produced until 1870, after which all Australian made versions featured Imperial designs with the addition of a small 'S', 'M' or 'P' mintmark.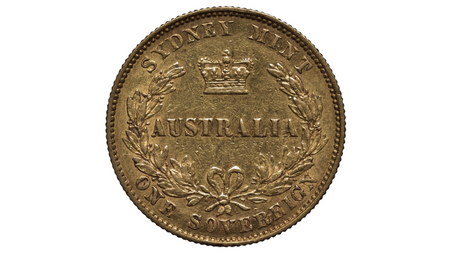 The Sydney Mint Sovereign.
1919 Kookaburra pattern penny and halfpenny
A new era of coinage began following the Federation of Australia on 1 January 1901. Under the new Constitution, the control of currency was vested in the Commonwealth Government. British coins continued in circulation until steps to introduce distinctive Australian issues were taken under the 1909 Coinage Act. Comprising a silver florin, shilling, sixpence, and threepence, as well as the copper penny and halfpenny, they remain beloved by thousands of pre-decimal coin collectors to this day.
An interesting experiment was undertaken between 1919 and 1921 as part of a move towards a smaller and thus more cost-effective national coinage. Bearing an image of an iconic Australian kookaburra, pattern (test) penny and halfpenny pieces were struck in London and Melbourne from lighter, hard-wearing cupro-nickel. Most noticeable was their square shape, designed to avoid confusion with sixpenny and threepenny pieces.
Several hundred trial coins were distributed to officers of the Treasury, parliamentarians, industry and selected members of the public to gauge their reaction. Ultimately, the square shape proved their undoing, as coin vending machine operators successfully demonstrated how easily they jammed in the coin acceptor mechanism.
The exact number in existence remains a mystery. Royal Mint records from the period do not indicate how many were produced, and so numismatists are left to guess just how many are still around. With valuations of up to AUD300,000, the 'square kookaburra' is a prized coin rarity.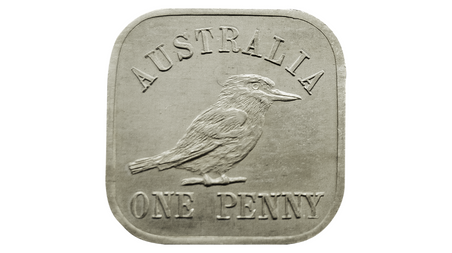 A square kookaburra pattern penny.
1930 Australian penny
Fascination with the 1930 penny, our final addition to this particular list, stems from the mystery surrounding its accidental minting. The Melbourne Mint's records report that the coin was never struck for circulation. It was not until the 1940s that its existence was revealed, with the mintage subsequently estimated to be between 1,500 and 2,000.
Interest in the coin went way beyond numismatists and collectors. By the 1960s, the public discovery of 'the coin that never was' whipped the nation into a frenzy. Contemporary newspaper headlines like 'A Penny could be worth £500' captured the public's imagination as they rushed to get their hands on these elusive pieces at rapidly escalating prices.
Proof quality examples, showpieces made to the very highest standards, number just six. In 2019, a Sydney collector was reported to have paid AUD1.15 million for a proof 1930 penny, ranking it as the nation's most valuable coin.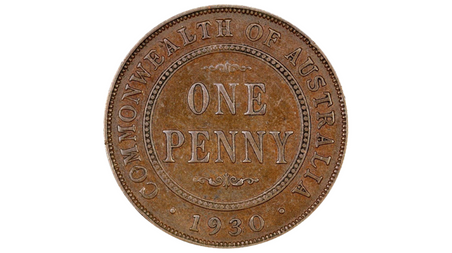 Image of the 1930 Australian penny reproduced with permission of Andrew Crellin, Sterling & Currency.
Never ending stories
We could go on. From Australia's 1920 Sydney sovereign, Australia's rarest collectable, to the 1966 round 50 cents decimal coin, made from 80% silver, there's countless amazing stories out there which help account for the extraordinary interest in the fascinating history of our coinage.
Here at The Perth Mint we love telling these stories and have a few special ones ourselves. Inside the exhibition you'll find many extraordinary pieces, including our 1899 Perth sovereign, the first coin ever made in Western Australia, and the One Tonne Gold Kangaroo Coin, a Guinness World Record holder.
That's bigger than them all!