From the vault: William Branwhite Clarke Science Medal
Jun 2, 2011
This magnificent example of a William Branwhite Clarke 1878 bronze medal came into the custody of The Perth Mint when the Sydney Mint closed in 1926.
Awarded by the Royal Society of New South Wales for work in natural science, it is the oldest of Australia's scientific medals. Recipients include Sir Richard Owen, Edward John Eyre and Sir Douglas Mawson. It remains a highly-prized award among modern Australian scientists.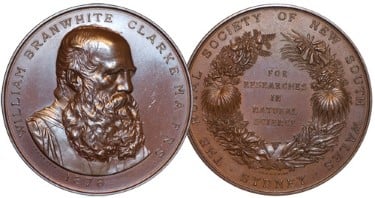 William Branwhite Clarke was an Anglican churchman who arrived from England in 1839. It was as a geologist, however, that he left his mark in Australia.
Working in the Blue Mountains in 1841, he was possibly the first European to find gold embedded in quartz rocks. Clarke, who predicted that New South Wales was 'abundantly rich in gold', was warned by Governor Gipps to keep quiet "or we shall all have our throats cut".
The Australian gold rush did not begin until Edward Hargraves' well publicised discovery of gold near Bathhurst 10 years later.
In recognition of his investigation of Australia's gold resources, Clarke was elected a fellow of the Royal Society of London in 1876. The medal designs are by J.S. and A.B. Wyon, members of the eminent family of English coin and medallion engravers.