Her Majesty Queen Elizabeth II – a celebration in coins
Oct 27, 2022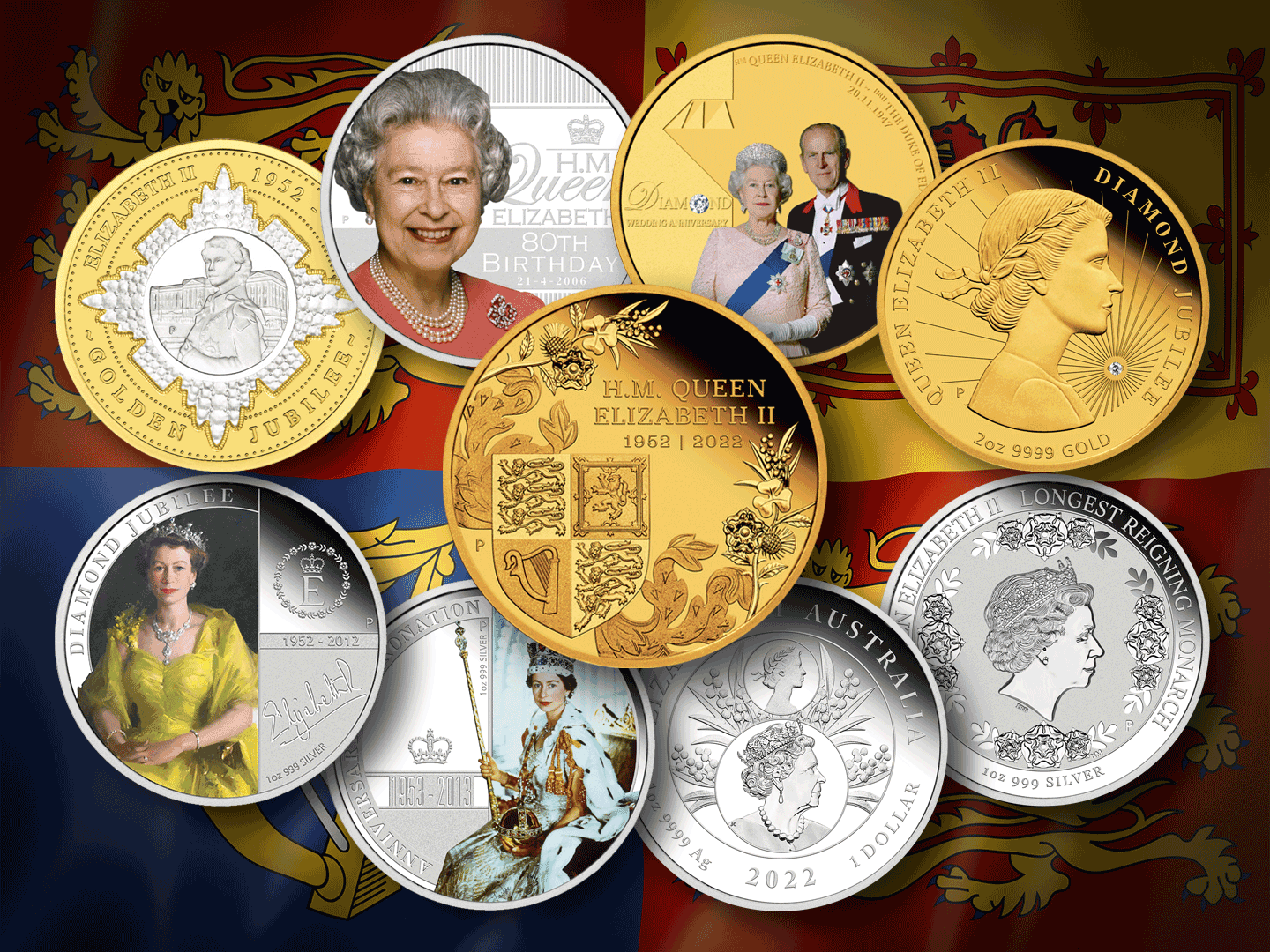 Extraordinary scenes unfolded at The Perth Mint following the sad news that Her Majesty Queen Elizabeth II passed away in September.
Queues of admirers waited patiently for the Mint to open, hoping to secure a royal memento in what we now know to be the final year of her tenure as Britain's longest serving monarch.
We have struck many coins featuring Her Majesty's coin effigies since 1953, including many millions of pennies, halfpennies, 1 cent and 2 cent coins.
In the modern numismatic era, our gold and silver collectables have delighted thousands of devoted followers.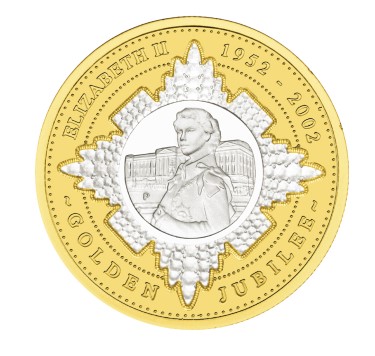 Twenty years ago, we released a superb example of coin craftsmanship celebrating the Golden Jubilee of Accession. Struck from pure gold and silver, the bi-metal piece featured The Queen dressed for the annual Order of the Garter Service on an intricate centerpiece modelled on the Order of the Thistle badge.
Rare as hen's teeth, just 1,338 of these stunning coins were sold to collectors who can congratulate themselves for such an astute purchase.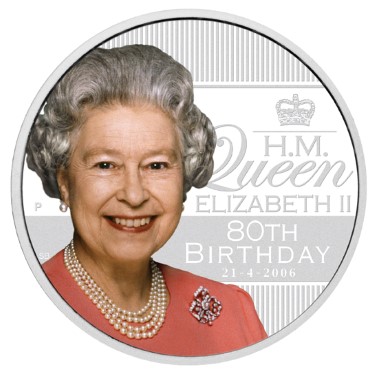 In Western Australia and several other States, we have been fortunate enough to celebrate The Queen's Birthday with a public holiday. Inspired by the popularity of this break, we have issued a number of special tributes marking Her Majesty's major birthday milestones, including this 80th birthday silver coin in 2006.
It portrays a delightful portrait of the happily smiling Queen by George Bodnar, who made his name photographing well-known musicians and who later was awarded a Royal Warrant by the then HRH Prince Charles.
Undoubtedly a source of happy memories for The Queen's devotees, a total of 5,823 of these coins were issued.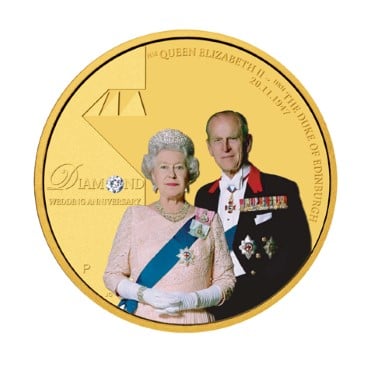 Her Majesty's abiding love for Prince Philip meant she was to enjoy 74 years of happy marriage with the man she first met aged 13. In 2007, we celebrated the royal couple's diamond wedding anniversary on a gold coin featuring a diamond insert in the letter 'O' of the word 'DIAMOND'.
The reverse included a coloured photograph of The Queen and Prince Philip by John Swannell. Awarded the Fellowship of The Royal Photographic Society in 1993, Swannell was said to have photographed all leading members of the Royal Family during his decorated career, except Princess Margaret.
Owners with an eye on rarity will no doubt be delighted to learn that they hold an exclusive royal memento with a maximum mintage of just 411.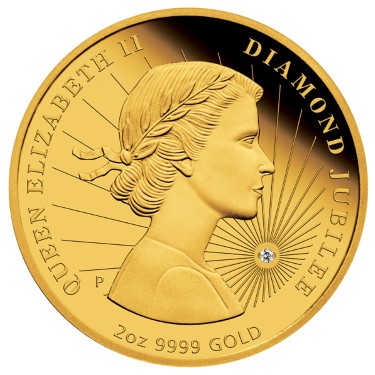 For Her Majesty's Diamond Jubilee in 2012, we were granted permission to re-create her original coin effigy. Sculpted by Mary Gillick in 1953, the graceful portrait depicted the head and shoulders of the young, uncrowned monarch wearing a simple laurel wreath. A fresh and vital work, it was said to reflect the optimism at the start of the new Elizabethan era.
Struck from 2oz of gold, this version featured a diamond insert. With a maximum mintage of just 60, it quickly sold out and these days makes exceedingly rare appearances on the secondary market.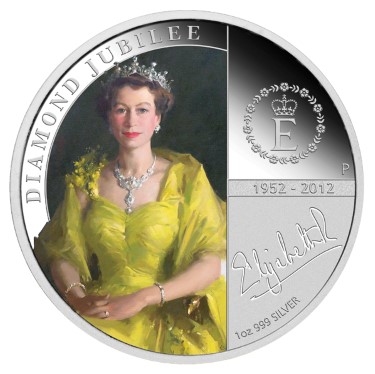 Another 2012 Diamond Jubilee commemorative with an interesting story was this silver release with an image of Australian artist Sir William Dargie's famous 'wattle painting' of The Queen, completed in 1954.
Eight-times winner of the Archibald Prize, Dargie was said to have quickly established a rapport with The Queen over five sittings at Buckingham Palace. The resulting portrait is regarded as one of the most recognisable and treasured examples of 20th century Australian portraiture.
For such an iconic piece of Australian-made royal memorabilia, it is little surprise that enthusiastic collectors purchased 11,422 of these coins.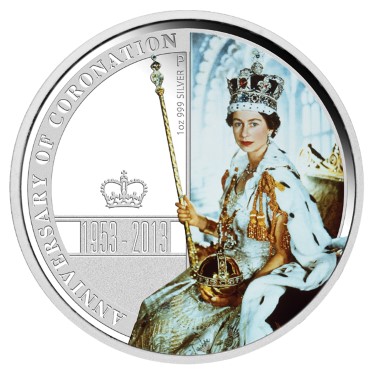 This 2013-dated silver piece celebrated the 60th anniversary of The Queen's coronation at Westminster Abbey. Another memorable image was chosen to mark the occasion – this time by society photographer Sir Cecil Beaton. His dramatic shots certainly pleased then Prime Minister Winston Churchill, who said they showed The Queen as "The gleaming figure whom Providence has brought to us in times when the present is hard and the future veiled".
Similarly enthusiastic collectors soon accounted for the coin's full mintage of 5,000.
The Queen's great grandmother, Queen Victoria, reigned for longer than all of her predecessors – an astonishing 23,226 days between 1837 and 1901. But that record was surpassed on 9 September 2015 when Queen Elizabeth II took the title of Britain's longest reigning monarch.
Another extraordinary achievement by the recently deceased Queen, the moment was captured for coin collectors on our first 'intaglio' release. While coins usually display raised motifs, this technique presses designs into the coin surfaces. The result was an interesting variation on the Ian Rank-Broadley effigy of The Queen, which is surrounded by flourishes of Tudor roses.
An historical memento to be proud of, the silver coin's mintage of 3,144 makes it yet another highly-desirable rarity.
And so to the final releases in this review of some of the special royal commemoratives we've released during the course of the past two decades. Some might even say they're the most significant to date.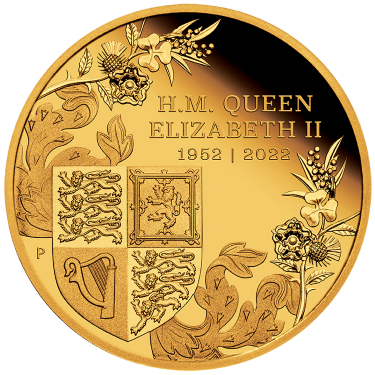 On 6 February this year Her Majesty The Queen became the first British monarch to celebrate a Platinum Jubilee, marking 70 years of service to the people of the United Kingdom, the Realms and the Commonwealth.
To mark this unprecedented moment in history, our coin designers set out to reflect the esteem in which she was held as a symbol of strength, stability, unity and grace in an ever more uncertain world.
Adorning these gold and silver coins are representations of the Shield of the Royal Coat of Arms featuring three lions passant, a harp, and a lion rampant – ancient heraldic symbols of England, Ireland and Scotland.
In recognition of Australia's profound appreciation of her devotion to duty, a figurative flower stem combining stylised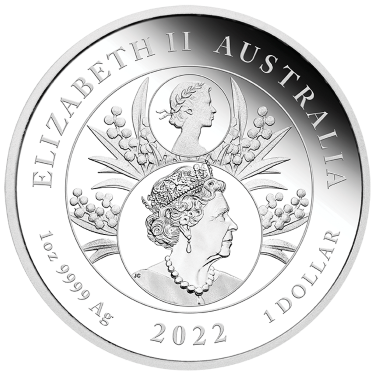 representations of an English rose, Irish shamrock and Scottish thistle come together with Australian wattle.
For the unique obverse design, a fan of wattle is overlaid with Her Majesty's first and final coin effigies.
Perfect mementos for those attending the Mint in the days following the sad announcement of her death, they will forever be poignant reminders of a monarch the like of which may never be seen again.