Perth Mint commemorates Queen Elizabeth II's Platinum Jubilee
Apr 4, 2022
The Perth Mint is delighted to announce the release of a series of limited-edition, highest-quality commemorative coins to celebrate Her Majesty Queen Elizabeth II's Platinum Jubilee.
Since Queen Elizabeth II's ascension to the throne following the death of her father King George VI, her reign has become a symbol of strength and stability. Her Majesty the Queen is the longest-reigning monarch in British history.
On 6 February 2022, Queen Elizabeth II became the first British monarch to celebrate a Platinum Jubilee, commemorating 70 years on the throne.
The Perth Mint is joining the celebrations with the release of a series of three specially minted, limited-edition gold and silver coins featuring Queen Elizabeth II.
The Perth Mint Acting Chief Executive Officer Jane King said Queen Elizabeth II's Platinum Jubilee was a historic moment and the organisation was delighted to be able to join the commemorations.
"Queen Elizabeth II has one of the longest and most successful reigns in history and has been loved and highly respected the world over for the past seven decades, which is why it is important to The Perth Mint to issue a coin program in Her Majesty's honour," Ms King said.
"Her Majesty has spent her lifetime as an upstanding icon of the monarchy and the Platinum Jubilee is a worthy celebration of everything she has achieved in that time."
The Perth Mint's special release is three coins minted in proof quality of 99.99% pure gold and 99.99% pure silver. The release comprises a 1oz silver coin limited to 5,000 pieces, a 1/4oz gold coin limited to 1,000 pieces and a 2oz gold coin limited to 200 pieces.
All three coins are Australian legal tender and will be available for purchase from The Perth Mint globally, as well as its network of authorised dealers.
Designed to capture Queen Elizabeth II's reign as head of the Commonwealth, the coins' reverse portrays the Shield of the Royal Coat of Arms featuring symbols of England, Ireland and Scotland surrounded by a figurative flower stem that combines stylised representations of an English rose, Irish shamrock, Scottish thistle and Australian wattle. Her Majesty's first and current coin effigies are featured on the coins' obverse, overlaid on a fan of wattle. Also included on the obverse are the coin's weight, purity, monetary denomination and year-date.
Each coin is housed in a classic display case with a clear or wooden lid, packaged within an illustrated shipper and accompanied by a numbered Certificate of Authenticity.
Ms King said The Perth Mint was proud to be offering these stunning commemorative coins, designed to be worthy of Queen Elizabeth II's significant lifetime achievements and a valuable addition for coin collectors all around the world.
The Perth Mint's celebratory coins will be released on 5 April 2022.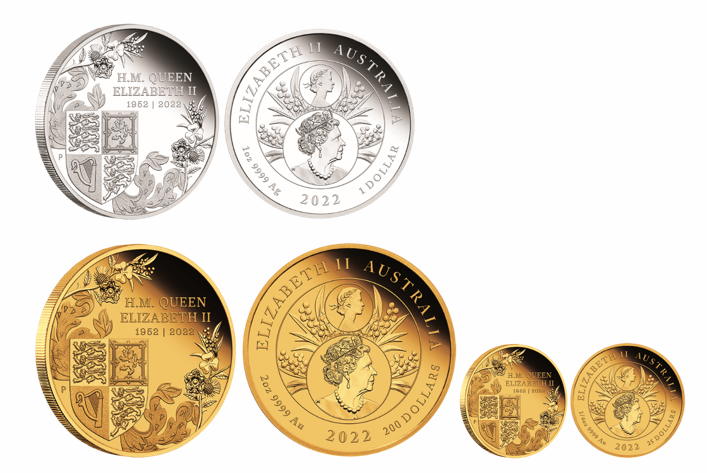 (Top) The Queen's Platinum Jubilee 2022 1oz Silver Proof Coin. (Bottom left to right) The Queens's Platinum Jubilee 2022 2oz Gold Proof Coin and The Queens's Platinum Jubilee 2022 1/4oz Gold Proof Coin
About The Perth Mint
One of the world's leading precious metals enterprises, The Perth Mint:
Processes almost 10 per cent of annual global gold production and the vast bulk of gold mined in Australia, with Australia being the world's second largest producer of gold after China.
Operates one of the largest and most efficient precious metals refineries in the world, with capacity to process 800 tonnes of gold and 1000 tonnes of silver per annum.
Provides the world's only government guaranteed precious metals storage program and range of investment solutions.
Safeguards wealth worth almost $6 billion for clients, ranging from central banks and sovereign wealth funds to individuals, in its central bank grade vaults.
Manufactures and delivers a wide range of precious metal bars and coins worth in excess of $26.35 billion to more than 130 countries annually.
Rachael Cochrane