Historic medal captures Earl Grey to a T
May 22, 2017
This medallion in The Perth Mint's historic collection celebrates Earl Grey, who fought hard for the reform of the British House of Commons in the 19th century, paving the way for the form of parliamentary democracy enjoyed in Britain and emulated in nations around the world, including Australia.
Charles Grey is popularly known for the tea named in his honour. Believed to have been introduced to the Whig politician by a Chinese government envoy, 'Earl Grey' is a blend of tea flavoured with bergamot oil.
Grey became Prime Minister in 1831 following the resignation of the Duke of Wellington on the question of parliamentary reform. At the time, few people had the vote and rapidly growing industrial towns had little or no representation.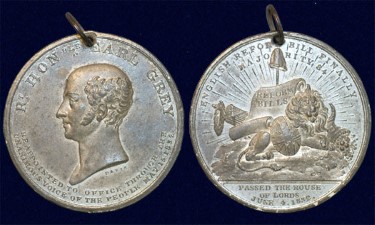 One of the most astonishing inequities was the existence of 'rotten' boroughs. Once a flourishing port on the Suffolk coast, Dunwich had long been submerged by the encroaching sea – and yet still returned two Members of Parliament! Another notorious constituency, Old Sarum in Wiltshire, was little more than an uninhabited hill, yet it too returned two MPs.
In the face of strong Tory opposition, the passage of the Reform Bill required all Grey's determination and guile to ensure that the public's widespread anger was placated. The Act swept away more than 50 rotten boroughs, created dozens of new constituencies, and increased the number of people eligible to vote. Even though these achievements turned out to be relatively modest, it proved that change was possible, paving the way for further reform in the future.
Grey's other reforming measures included restrictions on the employment of children, and the abolition of slavery in the British Empire. A respected figure, this likeness was created by Birmingham medallist Joseph Davis, who was noted for his reform and anti-slavery medals.
The symbolic composition on the reverse comprises a British lion sejant (on its haunches) with shield; fasces (from a Roman bodyguard's bundle of rods surrounding an axe); cap of Liberty (an emblem of the French revolution); and the cornucopia (horn of plenty).
Quite how this fascinating medallion ended up in Western Australia remains something of a mystery. The most probable explanation is that it once belonged to A. M. Le Souef, deputy master of the Melbourne Mint. A passionate collector, he donated 36 medals to The Perth Mint in 1926 as the basis of a historic collection which subsequently thrived.