What do maximum mintage, declared mintage and issue limit mean?
Nov 15, 2016
Welcome to new collectors who might be wondering about coin mintages and are stumped by some of the language associated with the topic.
For example, if you've pondered 'maximum mintage', 'declared mintage', and 'issue limit', this article is here to help.
Mints keep historical records of how many coins they strike and issue. The total number for each coin is known as the mintage. Thanks to mintage records at The Perth Mint, for instance, we know that we issued precisely 4,096,771 gold sovereigns 100 years ago in 1916.
Mintage figures are valuable to collectors because they provide guidance about 'rarity'.
What is maximum mintage?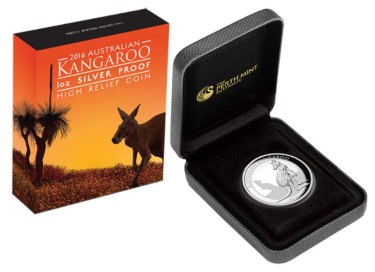 Today, the vast majority of our modern collectables are issued with a specific mintage limit. Take the Australian Kangaroo 2016 1oz Silver Proof High Relief Coin – it has a maximum mintage of 20,000. This means The Perth Mint will issue up to 20,000 of these coin as Australian legal tender.
Say we receive orders over the next few months for the maximum mintage, production will cease immediately and we'll announce the coin as 'sold out'. Collectors can be 100% certain that we'll never make any more.
What is declared mintage?
But what happens if the maximum mintage is not taken up by collectors? Obviously it does not make sense for any Mint to keep making a coin if the mintage is unlikely to be sold out.
If after a reasonable period of time we judge the market no longer has any interest in the coin, or for some other reason it is no longer viable, we close-off production and declare the mintage.
A declared mintage is the final number that will ever be made available for sale, even though the declared figure falls short of the original maximum mintage stated by the Mint.
In this way, some declared coins end up being much rarer than their original mintage limits would indicate. To find examples of this, visit the Numismatic Mintages page on our website.
What is issue limit?
Even though the Australian Kangaroo 2016 1oz Silver Proof High Relief Coin has a maximum mintage of 20,000, you may have spotted that it has an advertised issue limit of 18,000.
Issue limits refer to the format in which the coin is packaged. In this instance, up to 18,000 coins are being offered in individual coin cases. As a result, 2,000 coins remain available within the maximum mintage for sale in a distinctively different format.
This year, 1,000 of these coins are being made available in a spectacular three-coin collection which also includes 1,000 each of our 2016 Kookaburra and Koala silver proof high relief coins.
Released earlier this month, the 2016 Australian High Relief Silver Proof 2016 Three-Coin Collection is accompanied by a numbered Certificate of Authenticity stating the maximum mintage of each coin – as well as its own specific issue limit of 1,000.
If collectors buy 1,000, we will announce the issue limit as sold out. If the market only requires 500, we will declare that number as the total ever issued.
Mintage policy
You can read more about Perth Mint definitions, including 'unlimited mintage' and 'mint-to-order' in our formal Mintage Policy.