Medal marks Australia's first 100 years of settlement
Jan 21, 2016
The 11 ships of the First Fleet set sail from Portsmouth, England on 13 May 1787. Aboard were more than 1,300 colonists, including approximately 730 male and female convicts from Britain's overcrowded prisons.
The expedition was under the command of Captain Arthur Phillip, who had accepted instructions from the British Home Secretary, Lord Sydney, to establish Britain's first colony in Australia.
The ships began arriving in Botany Bay on 18 January 1788, which 17 years earlier had been charted by Lieutenant James Cook. Despite Cook's indication that the land was suitable for cultivation, Phillip quickly determined that the area would not support a settlement. Within days the First Fleet moved north to Port Jackson, anchoring at Sydney Cove on 26 January.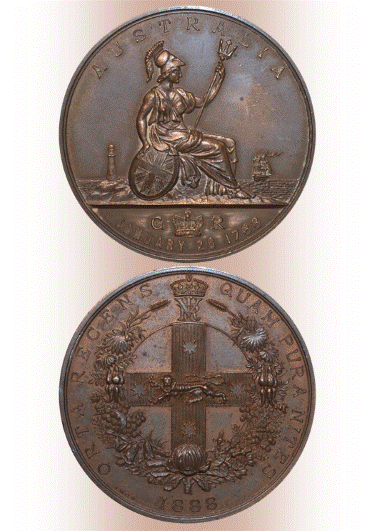 By the 100th anniversary of Phillip's landing in 1888, the population numbered almost three million and the first centenary of white settlement was celebrated with enormous enthusiasm. In a forerunner of Australia Day, most capitals declared Anniversary Day a public holiday with fireworks, banquets, regattas and other festivities taking place throughout each colony.
Medal making was an important way of recognizing progress and prosperity, which had developed in leaps and bounds since the discovery of Australian payable gold in 1851. In Sydney, the colonial government jumped at the chance to commemorate important achievements and historic events – none more significant than the arrival of Phillip's mission.
W.J. Amor produced the dies for this bronze medal struck at the Sydney Mint – which was following the established tradition of medal making at its venerable parent, the Royal Mint in London. Distributed to "prominent citizens" as part of official celebrations in 1888, the medal is now a prized part of The Perth Mint's historic collection.
The obverse portrays a familiar symbolic figure of 'Australia' (Britannia) seated with a sailing ship and lighthouse in the background. The word 'Australia' appears above the main image; beneath it can be seen the initials GR (King George III – reigned 1760-1820) separated by a crown, and the momentous date of the settlers' arrival.
The reverse depicts the Arms of New South Wales within a wreath of native flora headed by a crown and the monogram VR. The motto ORTA RECENS QUAM PURA NITES translates to recently risen how bright thou shineth.