Flinders medal pays tribute to remarkable navigator
Mar 15, 2016
This medallion in The Perth Mint historic collection portrays Matthew Flinders, an exceptional navigator and explorer who made remarkable contributions to the European discovery and naming of Australia.
Born on this day (16 March) in 1774, Flinders joined the Royal Navy at the age of 15. Between 1791 and 1793 he served as a midshipman on a voyage to Tahiti under Captain William Bligh, who later became Governor of New South Wales.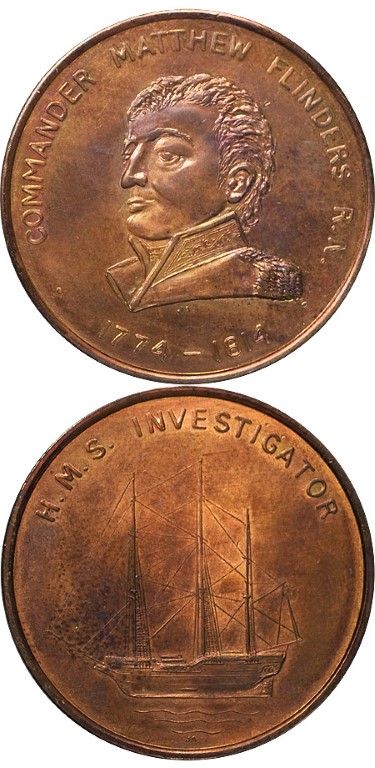 Flinders' first sailed for the colony himself in 1795 where he explored Botany Bay and George's River with his close friend, George Bass. In 1798/9, the pair famously circumnavigated Van Diemen's Land in the sloop Norfolk, proving it to be an island. The strait separating the future Tasmania from the mainland was named in honour of Bass and the largest island in Bass Strait would be named Flinders Island.
Recognising Flinders' outstanding abilities, the British Admiralty in 1801 gave him command of Investigator, a 334-ton sloop, in which to chart the whole Australian coastline – large parts of which remained a mystery to European explorers.
In an extraordinary incident while sailing along the unknown southern coast, he sighted the French corvette Le Géographe under Captain Nicolas Baudin. Despite deep hostility between their two nations, Flinders boarded his rival's vessel where their meeting was reported as cordial. The location is known as Encounter Bay.
Despite Investigator's increasing unseaworthiness during the epic voyage, Flinders became the first commander to circumnavigate the continent then comprising New South Wales and New Holland.
Subsequently he was subject to extraordinary misfortune. In 1803 he boarded HMS Porpoise under the command of Lieutenant Fowler, bound for England. But the ship grounded and sank on the Great Barrier Reef. With superb skill, Flinders navigated the ship's cutter 800 miles back to Sydney and arranged for the rescue of the marooned crew.
His second attempt to return home was even more fraught. Once again he found himself in command of a ship in poor condition, making it necessary for the Cumberland to put into the French controlled Isle de France (Mauritius) for repairs. With Britain back at war with her European neighbour, the suspicious French governor thought he was a spy and detained Flinders indefinitely – delaying his journey by more than six years!
Flinders eventually arrived home in 1810 and set to finalising his journal A Voyage to Terra Australis for publication. Ignoring the terms New South Wales and New Holland, he declared a preference for 'Australia' so that the whole of the Southern Land could be known by one name in a manner similar to "the names of other the great portions of the earth."
On 19 July 1814, the day after the book was published, Matthew Flinders died of kidney failure, aged 40. He never knew his recommendation of 'Australia' was formally adopted by the Admiralty a decade later after having consistently been used by no less a figure than Governor Macquarie.