Historic medallion struck for shipwreck relief
Sep 11, 2012
This striking bronze medallion was delivered to the safekeeping of The Perth Mint's historic coin and medallion collection on closure of the Sydney Mint in 1926.
It exists because of a terrible maritime tragedy that occurred at Newcastle, NSW on the 15 July 1877.
The 337 tons paddle steamer SS Yarra left harbour that day in strengthening winds that soon turned gale force. Attempting to re-enter port, she was wrecked with the loss of all hands.
Four days later, a public meeting of citizens under the chairmanship of the Reverend Dr Lang at the Royal Exchange, Pitt Street, Sydney, decided to form a Society "for the relief of the widows, orphans and others dependent upon men lost in the marine service of our coast, or elsewhere. "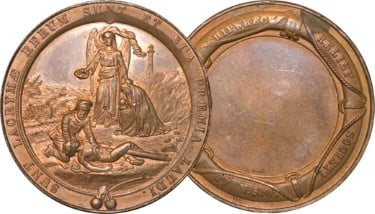 Known originally as the National Shipwreck Relief Society of New South Wales, it became the Royal Humane Society of New South Wales in 1968.
Designed by J.W. Sayer for production by the Sydney Mint, the medal was first struck in 1879. The portrayal includes a sailor wearing an early life-jacket examining a ship-wrecked man who has been cast ashore holding a piece of wreckage. Behind, an angel consoles a woman weeping and holding a child while crowning the sailor with a wreath.
On a broad rim appears SUNT LACRYMAE RERUM SUNT ET SUA PRAEMIA LAUDI – The tears of misfortunes will be assuaged and praised.
On the reverse, the Society's name appears on a lifebouy around space for engraving details of an award.