Classic high relief from 1932
Sep 17, 2012
This 37mm bronze medal from the Mint's historic collection is notable on several fronts, not least the remarkable depth of its design which instantly brings to mind our modern-day high relief coins.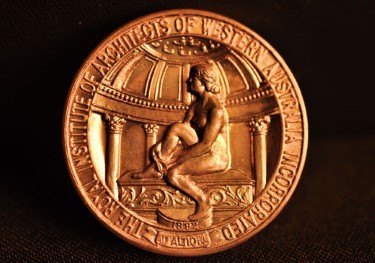 It was originally commissioned from The Perth Mint in 1932 by the Royal Australian Institute of Architects WA. Although the organisation was officially founded in 1896, its medal bears the year-date 1892. On investigation we discovered that an earlier attempt to establish RAIAWA took place four years earlier – and presumably that was considered its foundation date for the purposes of the medal.
It was customary for the Perth branch of the Royal Mint to send examples of its work to England and we discovered archived correspondence dated 19th December 1932 from the Keeper at the British Museum's Department of Coins and Medals acknowledging receipt of this and several other medals "which you have been so good as to present to the Trustees."
The collection database on the museum's website offers the following concise description:
(obverse) Female nude (Architecture) seated in pilastered apse.
(reverse) Laurel wreath.
In addition to the obverse inscription THE ROYAL INSTITUTE OF ARCHITECTS OF WESTERN AUSTRALIA is AD ALTIORA – meaning "towards higher things".
Modern high-relief coins are minted on concave surfaces, which our die-making colleagues say ensures the most effective flow of metal during the striking process. On the medal, the hemispherical apse occupies a similarly indented shape.
Most amazing, however, is the dramatically raised figure, which is so prominent above the rim that it is impossible to describe it in any way other than "ultra" high relief.