How to collect the historic 1852 Adelaide ingot
Nov 13, 2014
Wh​en gold was discovered at Mount Alexander in November 1851, it is estimated that more than 8,000 men decamped from the fledgling city of Adelaide to the goldfields – taking with them most of the colony's sovereigns.
The Adelaide Assay Office was hastily established under the Bullion Act of 1852 to meet the urgent need for currency in South Australia. At first it made irregularly-shaped ingots, each stamped to indicate its weight and purity, with the idea that they would be taken to one of the banks and offered as security against an issue of currency notes to the value of the gold.
These enigmatic slabs of gold, produced exclusively between March 4th 1852 and late September 1852, are now incredibly rare.
Six Adelaide ingots are in public collections around the world, and the only two in private hands held pride of place in the Quartermaster collection – easily the finest collection of Australian gold coins ever formed.
They're rightly regarded as being integral to the history of Australian numismatics and are highly coveted by collectors the nation over.
But the only real way most mortal collectors will ever be able to include a representative Adelaide ingot in their collection is via the ownership of an "electrotype".
What is an electrotype?
An electrotype coin is a reproduction made by a process combining chemicals and electricity.
Although electrotypes are not original coins, they are not regarded in the same class as counterfeits, forgeries or replicas. The electrotype process has been used by collectors around the world ever since the process was first invented in 1838 to create examples of rare and historic coins that were otherwise unobtainable.
Not only are electrotypes used to complete a set or collection that would otherwise have a glaring omission, they are also used for study purposes. Experienced collectors of ancient coins have been known to include an electrotype in their collection in order to completely tell the story of the coinage of a particular region or era. Museums have been known to include an electrotype in a display for the same reason, or to minimise the risk of loss in the event of vandalism or theft.
Several numismatists have created legitimate electrotype duplicates of Adelaide Ingots over the years. While these electrotype duplicates are nowhere near as rare as the original ingots, they are still a scarce and desirable collectable that allows a collector to display the story of the early days at the Adelaide Assay Office.
Setting aside some modern reproductions in gold, most Adelaide Ingot electrotypes traded on the collector market are from one of two sources:
Edwin Sawtell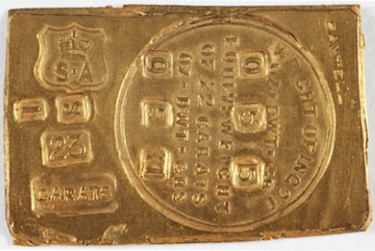 Sawtell was a highly respected "chronometer and nautical instrument maker" who operated several businesses in Adelaide between 1853 and 1889. Reportedly he jointly-owned an Adelaide Ingot with politician Thomas Reynolds and headmaster Thomas Walters, who quite conceivably came together to preserve a unique item of South Australia's heritage. Today their ingot is held in the Dixson Collection, part of the State Library of New South Wales.
Sawtell's electrotypes are extremely accurate duplicates, made within 40 years of the ingots being in circulation. They are readily identified by the name 'SAWTELL' being punched into one corner of the electrotype, and remain prized by collectors to this day for their rarity and historical importance.
George Wilkins
Wilkins has been described as one of the more "colourful" dealers that were active when coin collecting was at its peak in the mid-1960s. His electrotypes feature a small 'GW' within a circle, punched into one corner on the front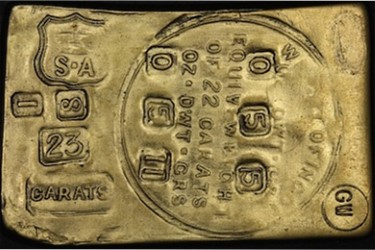 The genuine ingot that Wilkins duplicated has been held by the State Library of NSW in the Dixson collection since 1912, suggesting he either had direct access to items in the Dixson collection, illicit access to the Dixson collection, or produced his electrotypes from an existing electrotype, as produced by Sawtell.
Made in base metal and uniface (blank reverse), they're somewhat softer in the detail. Comparing one with the level of detail on an electrotype produced by Sawtell, we can also see that sections of the legend are missing. Nevertheless, Wilkins' versions are highly sought-after.
Electrotypes of the Adelaide ingots at Auction
Electrotypes of the Adelaide Ingots have been seen at numismatic auctions since at least 1973. In March of that year, auctioneers Geoff K Gray sold two versions from the collection of Gilbert Heyde, former President of the Australian Numismatic Society.
Both items made $310 – equivalent to several Kookaburra pattern pennies, and more than a complete set of 1938 proof coins. In more recent years, Adelaide Ingot electrotypes have sold for up to $6,000 via auction.
Each of the Adelaide Ingot electrotypes that are available to collectors today has a unique appeal, depending on the original ingot it was duplicated from, and depending on the producer of the electrotype. They all remain an affordable and accurate representation of one of Australia's rarest and most historic numismatic items.
- By Andrew Crellin
Andrew Crellin's numismatic career began at The Perth Mint. Subsequently he spent over a decade in Sydney with two of Australia's leading numismatic dealers. In that time he wrote two acclaimed books on Australian numismatics, appraised The Perth Mint's archival collection and was nominated to the position of Secretary of the Australasian Numismatic Dealer's Association. Back in Perth, his company Sterling and Currency specialises in Australian coins and banknotes, from the Holey Dollar of 1813 through to the modern coin sets.