Why the 1918 Perth Mint half sovereign doesn't 'exist'
May 24, 2012
Officially, it's a Perth Mint coin that doesn't exist. We're talking about a 1918 half sovereign. And yet, here's an example in our historic coin and medal collection.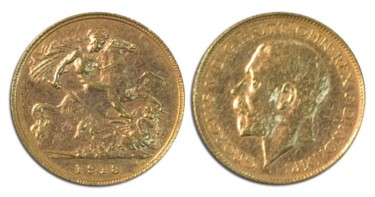 Bizarrely, several more of these exceptionally scarce gold coins came to light more than 50 years after their supposed manufacture – discovered in a gold bracelet, possibly fabricated in India
Half sovereigns were made in Perth in 1900, 1904, 1908, 1909, 1911, 1915, 1919 and 1920 for a total of 735,000. In 1918, according to the Annual Report, Perth made 3,812,884 sovereigns and 'no' half sovereigns. So how can the coin's existence be explained?
Our historic records confirm that the coins were actually made in 1919 and 1920 using 1918 dies.
By this time, of course, the half sovereign was represented locally by the ten shilling note. It's logical to deduce, therefore, they were made expressly for export.
Interpreting the records as best we can, the coins left for the United States, handled by the Gold Producers Association, a company exempt from international gold trade restrictions imposed during World War I.
Ultimately, it seems, America re-exported the Australian-made coins to India, where the Bombay Mint had recently closed.
Because so much time has elapsed, it's a remote possibility that anymore 1918 'P' half sovereigns will be discovered. Any that do, of course, will cause an instant numismatic sensation!