Kangaroo office 'token' one of Australia's great rarities
May 15, 2012
Continuing the theme of early coin manufactories in colonial Australia, 1854 saw the opening of a private mint known as the Port Phillip Kangaroo Office. Its issues are exceptionally rare and highly desirable, while its 'kangaroo' obverse anticipated the use of our unique fauna on later Australian coinage.
Established in Melbourne at the height of the Victorian gold rush, the Kangaroo Office was the brainchild of London engraver William Taylor. While gold abounded in the colony, there was little in the way of hard currency; Taylor hoped to buy gold cheaply on the fields and then issue it at full value in the form of 1/4oz, 1/2oz, 1oz and 2oz gold 'tokens' for use in daily business.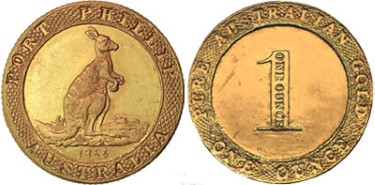 Reginald Scaife, the Kangaroo Office's manager arrived in Port Phillip on 26 October 1853 aboard the clipper Kangaroo. Unfortunately, due to the primitive docking facilities, it took months to dismantle and bring ashore the minting press, and then reassemble it at the site eventually secured for the venture in Franklin Street West.
By the time the mint was ready to go into production, gold was significantly more expensive and the project was effectively doomed with the arrival of a large number of official sovereigns. Despite efforts to strike silver and copper tokens, the Kangaroo Office closed in 1857.
The exact output of the Kangaroo Office is impossible to calculate.
One of Australia's great rarities, an original Port Phillip gold token could fetch many hundreds of thousands of dollars.