Silver coin from the world's bloodiest shipwreck
May 13, 2012
On the morning of 4 June 1629, the Dutch East India Company ship Batavia was wrecked on Morning Reef in the Abrolhos Islands, off the coast of Western Australia.
It was the prelude to an extraordinary tragedy laced with depravity and barbarity.
Commander Francisco Pelsaert, the ship's senior officers as well as some crew and passengers, deserted 268 survivors on two arid islands whilst they went in search of water. Abandoning their hunt on mainland Australia, the party instead made their way to Batavia (modern Jakarta), to obtain help. The journey took 33 days.
On arrival, the high boatswain was executed on Pelsaert's indictment for outrageous behaviour before the loss of the ship. Skipper Adrien Jacobsz was arrested for negligence.
The Governor General of Batavia dispatched Pelsaert in the 'jacht' Sardam to rescue the survivors. With extraordinary bad luck, it took 63 days to find the wreck site, almost double the time it took the party to get to Batavia.
Once at the Abrolhos, Pelsaert discovered that mutiny had taken place. A small group of mutineers had massacred 125 men, women and children. Pelsaert arrested the mutineers and executed a number of them.
When the Sardam finally returned to Batavia, some of the lesser offenders, who had been flogged, keelhauled and dropped from the yard-arm as punishment on the voyage, were executed. Out of 316 people originally aboard the ship Batavia, only 116 survived.
The wreck of the Batavia was discovered some 300 years later in 1963. Around 9,000 coins were retrieved from the seabed, and only 1,442 (16%) of them are officially in private hands.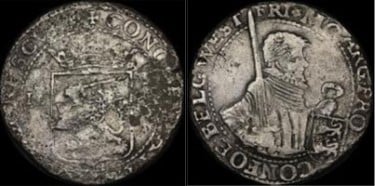 Consider the above statistics and you'll see just how rare these coins truly are. This example of a silver rijksdaalder clearly has a porous planchet (with a crack redolent of the 17th century production process), however the flan is full and round, and all of the major design elements on the obverse remain clear.
For mine, the knight's portrait, with the dress and regalia that is unique to the period, really is evocative of all of the history that this coin has.
The story of the Batavia is so compelling that it has inspired numerous books, documentaries and even scripts for a feature film or two.
You may recall I featured a rijksdaalder in a short video recently entitled 'What is Western Australia's first coin?'
- Andrew Crellin
Andrew Crellin's numismatic career began at The Perth Mint. Subsequently he spent over a decade in Sydney with two of Australia's leading numismatic dealers. In that time he wrote two acclaimed books on Australian numismatics, appraised The Perth Mint's archival collection and was nominated to the position of Secretary of the Australasian Numismatic Dealer's Association. Back in Perth, his company Sterling and Currency specialises in Australian coins and banknotes, from the Holey Dollar of 1813 through to the modern coin sets.