Sydney Mint strikes 'oarsome' medal
Nov 30, 2012
This medal from The Perth Mint's historic collection demanded further research – what possibly prompted the old Sydney Mint to strike such a dramatic portrayal of a Viking longship?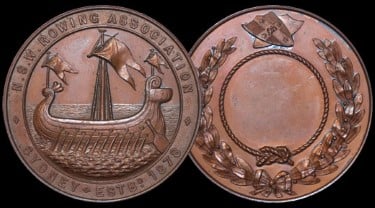 The inscription N.S.W ROWING ASSOCIATION SYDNEY ESTBD 1878 provided the obvious starting point for an investigation. What emerged was a fascinating story about the rise of rowing as an amateur sport in Australia – one of the most successful nations at modern Olympic and World regattas.
The first intercolonial rowing events in Australia took place in Hobart during the 1830s between whale boat crews. The development of four-oared gigs soon provided competitive oarsmen with a more streamlined craft in which to test their prowess.
But rowing's blue riband event is 'eights'. In The Victorian Oarsman, John Lang reported that the longer boat emerged on the intercolonial rowing scene during the 1870s.
"In October, 1877, the year in which eight-oared boats may be said to have first come into general use in many of the rowing centres in Australia, a challenge was sent by the Victorian Rowing Association to the Sydney and Mercantile [now Mosman] Clubs in New South Wales.
This was taken up with spirit by the-last-named club, and the first eight-oared race took place on the 6th March, 1878."

(Image courtesy State Library of Victoria)
The crews raced over four-miles on the 'old Lower Yarra course' in what is now considered to be the first Australian Championship.
The Victorian oarsmen triumphed at the end of an exciting race. In response, the New South Wales Rowing Association was formed in November 1878. When the second intercolonial race for eights took place over 3 miles 330 yards on the Parramatta at Ryde in May 1879, the home crew was better prepared.
According to a contemporary press report:
In the course of our research we discovered this image of a stunning silver version of our medal. Its inscription demonstrates that these medals were presented to members of winning crews during this era.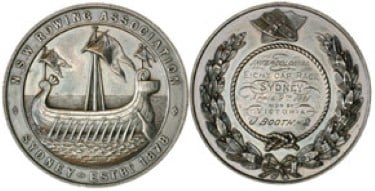 Inscription:
INTERCOLONIAL EIGHT-
OARED RACE
SYDNEY APRIL 9TH 1881
WON BY VICTORIA
J. BOOTH. – 2
(Image courtesy Noble Numismatics)
Fitted with oars along almost its entire length, the Viking longship is characterized as a graceful, long, narrow, light, wooden boat with a shallow draft hull designed for speed. What better inspiration could the designer of a medal for Australia's elite rowers have asked for?