Masterpieces scale greater heights with The Jewelled Snake
Mar 23, 2023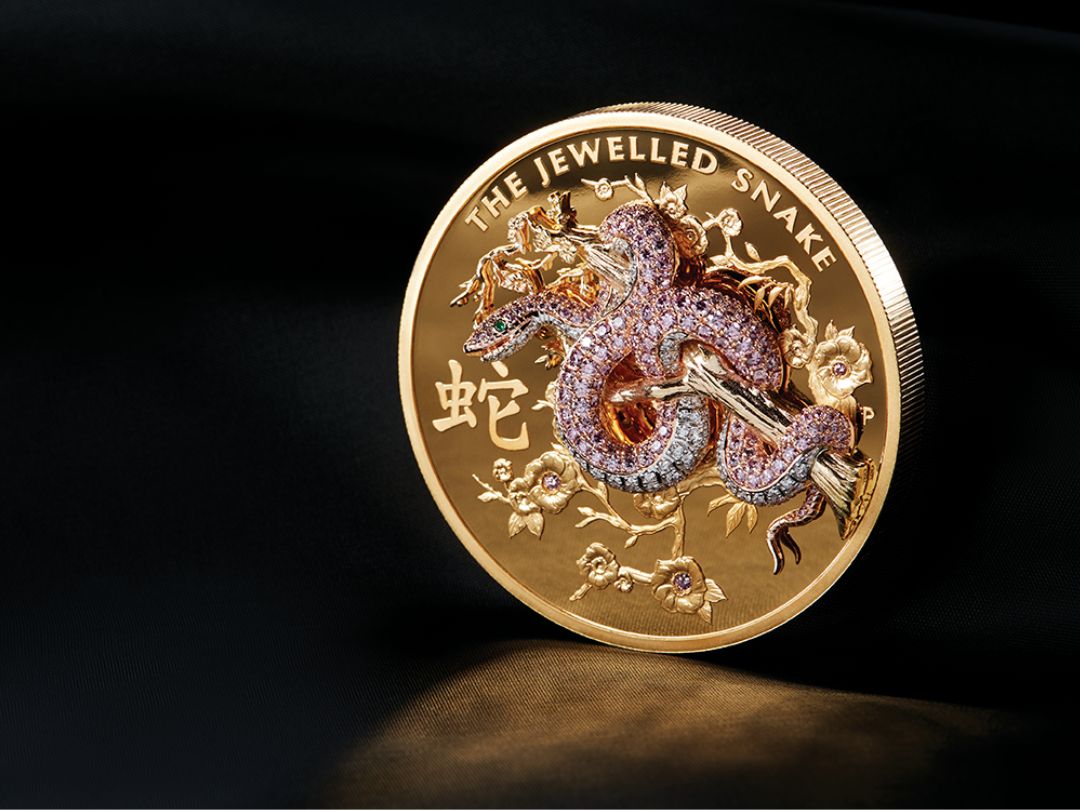 If you thought last year's fifth addition to The Jewelled Series was spectacular, the 2023 coin will leave you totally mesmerised.
Issued once a year, The Perth Mint's most artistically sophisticated creations celebrate specially chosen animals in a dazzling profusion of gold and diamonds.
It's remarkable gold and diamonds too. The 10oz of highly refined 99.99% pure gold is finished to mirror-like proof quality. The diamonds include world-renowned Argyle Pink Diamonds™, the rarest, most sought after fancy coloured gemstones in the world.
In 2022, The Jewelled Koi shimmered with 1.26 carats of pink diamonds and another 1.18 carats of fine white diamonds in a captivating tribute to the auspicious fish.
The sixth coin in the prestigious series exudes even greater allure. Hand-set in pavé-style with an astonishing 2.66 carats of Argyle Pink Diamonds™ and 1.36 carats of white diamonds, with two Columbian emeralds for its eyes, The Jewelled Snake is a hypnotic spectacle.
But why go to such extraordinary lengths to embellish a snake in this way?
Tina Kircher, The Perth Mint's Group Manager – Retail has been involved with the project since the first release in 2018. She explains that the five animals preceding The Jewelled Snake were the phoenix, dragon, tiger, horse, and koi. "It's an eclectic mix of fabled and actual creatures, but they share significant cultural importance in many Eastern cultures," she says.
"Mythological stories attributed special status to these animals which are still honoured for their perceived ability to attract wealth, good fortune, longevity, harmony and other benefits that enhance people's well-being.
"Not only do coins expressing these ideas resonate with our Asian clients, but many in the West have become equally fascinated. An obvious example is the Yin and Yang symbol, often portrayed as two koi fish," she says.
In Eastern mythology, the snake has for millennia been considered one of the wisest animals. In feng shui philosophy, it is said to help attract wealth, while lunar astrology ascribes strong leadership skills to those born under the sign of the snake.
Across many cultures, the snake is associated with rebirth and renewal (thanks to the act of shedding its skin), while snake motifs have been used to represent medicine and healthcare since the time of the ancient Greeks.
Like the other animals in the series, the snake is modelled in three dimensional form from 18-carat gold. The time taken to hand set 286 individual diamonds representing its scales is testament to the extraordinary precision and care with which the coin is crafted.
"With each release we've pushed the envelope of what is thought achievable in numismatic design," adds Tina. "Such is their beauty that in many respects these issues have transcended coin status, becoming timeless objets d'art for connoisseurs of highly desirable collectables."
With a mintage of only eight, The Jewelled Snake 2023 10oz Gold Proof Coin is extremely rare. The price of each individual piece is AUD 289,000.00. All previous releases are sold out. For further information visit www.perthmint.com/campaigns/jewelled-snake