Why is gold important at Diwali?
Sep 14, 2021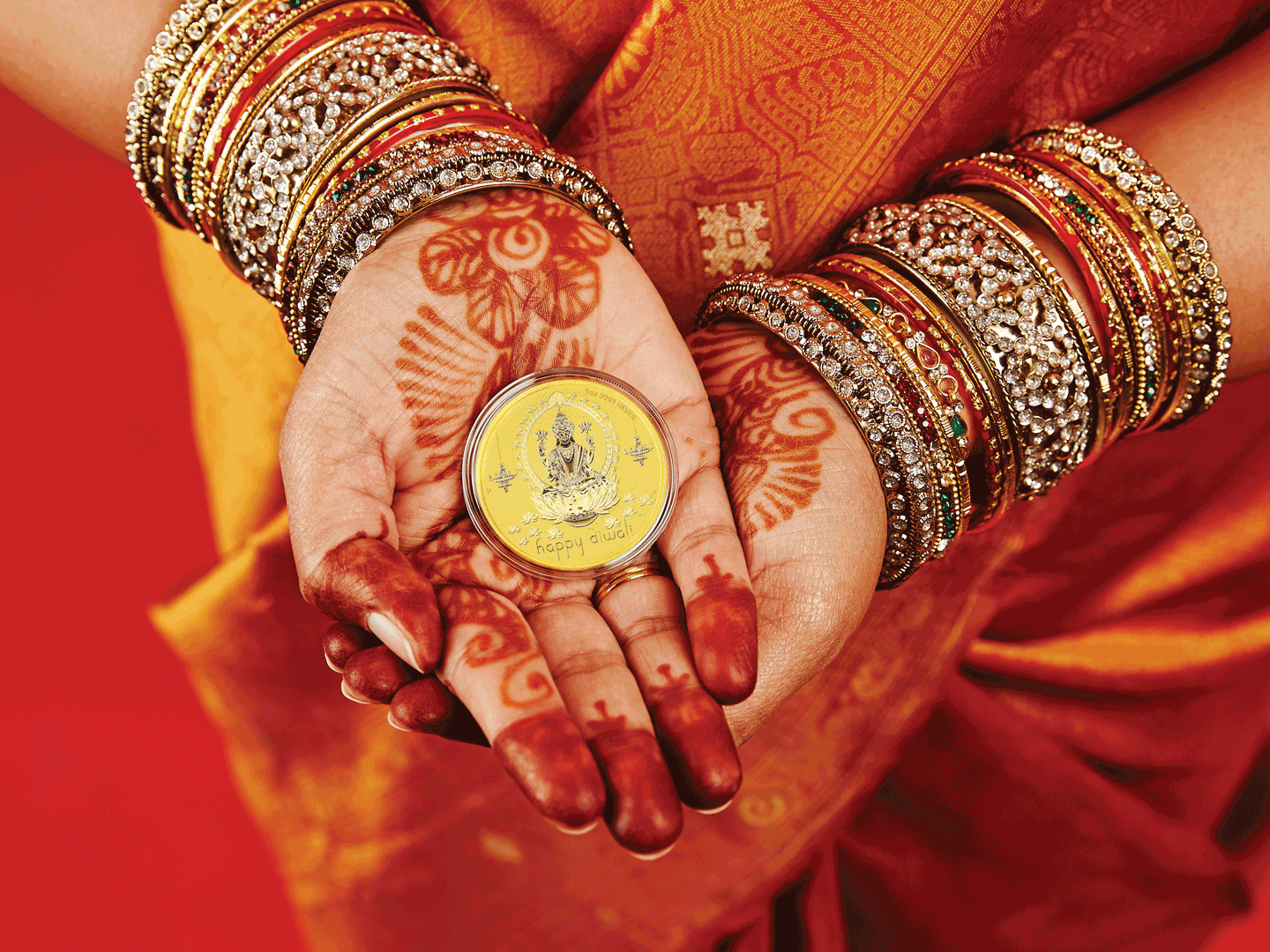 The popular five-day festival of Diwali (or Deepavali) celebrates the victory of light over darkness, good over evil, knowledge over ignorance, and hope over despair.
Known as the festival of lights, it is marked by millions of people in India as well as Hindu and other communities all over the world with candles, fireworks and gifts of gold.
In Australia, more and more people are embracing the occasion
Here at The Perth Mint we've seen significant numbers of Indian visitors in recent years keen to buy gold during the run up to Diwali. Thanks to the fact that people of Indian heritage are well represented among Mint employees, we're in a good position to understand their needs.
For example, the Mint has issued several Diwali-themed precious metal coins and medallions – but not before consulting employees on suitable design themes. Our portrayals of both Lakshmi and Ganesha were both influenced in this way.
A long cultural association with gold
The importance of gold at Diwali cannot be underestimated. India, one of the world's top two gold-consuming nations, develops an insatiable appetite for the shiny yellow metal at this time of year. According to estimates, Diwali accounts for approximately one-fifth of its annual gold purchases — more than any other time of the year.
This demand reflects the nation's long cultural association with gold, which has been part of its worship, culture and mythology for thousands of years.
According to one legend, ancient law-giver Manu decreed that gold ornaments should be worn for important ceremonies and occasions. During India's famous wedding season, brides love to take gold jewellery to extravagant levels, many wearing spectacular hair accessories, nose rings, earrings, necklaces and amulets.
Another ancient story recounts a prophecy that the king's son would be killed by a snake on Dhanteras, the first day of Diwali. The prince's wife laid gold ornaments, coins and many lamps at the entrance to his chamber to distract the venomous creature and save his life. Buying gold on this day is said to ensure good luck.
Hand in hand with the ancient belief that it brings happiness and good fortune, gold is regarded as an important symbol of wealth and status. Moreover, it's also considered a safe investment and practical savings vehicle, particularly in rural areas where demand invariably spikes whenever monsoonal rains boost farm incomes.
New Diwali medallion
The Perth Mint is Australia's most trusted source of gold and other precious metals for investors, collectors and gift buyers. Among a wide range of coins, bars and jewellery, offerings include a new medallion dedicated to the two hallowed Hindu deities central to Diwali.
Made from 1oz of 99.99% pure silver and entirely gilded in 24-carat gold, it portrays Lakshmi, the goddess of wealth and prosperity, sitting on a lotus flower, the symbol of enlightenment. Coins tumble from her palm into a bowl.
Also represented is Ganesha, the god of good fortune. The elephant-headed figure is attended by a mouse, one of his traditional mounts, who offers a sweet as a symbol of generosity.
Both sides of the medallion include the wish for a 'happy diwali'.
A perfect gift or family keepsake, the medallion comes in a presentation display case accompanied by a numbered certificate of authenticity.
Further information: Diwali 1oz Silver Gilded Medallion