Depository clients rekindle lust for gold in February 2023
Mar 8, 2023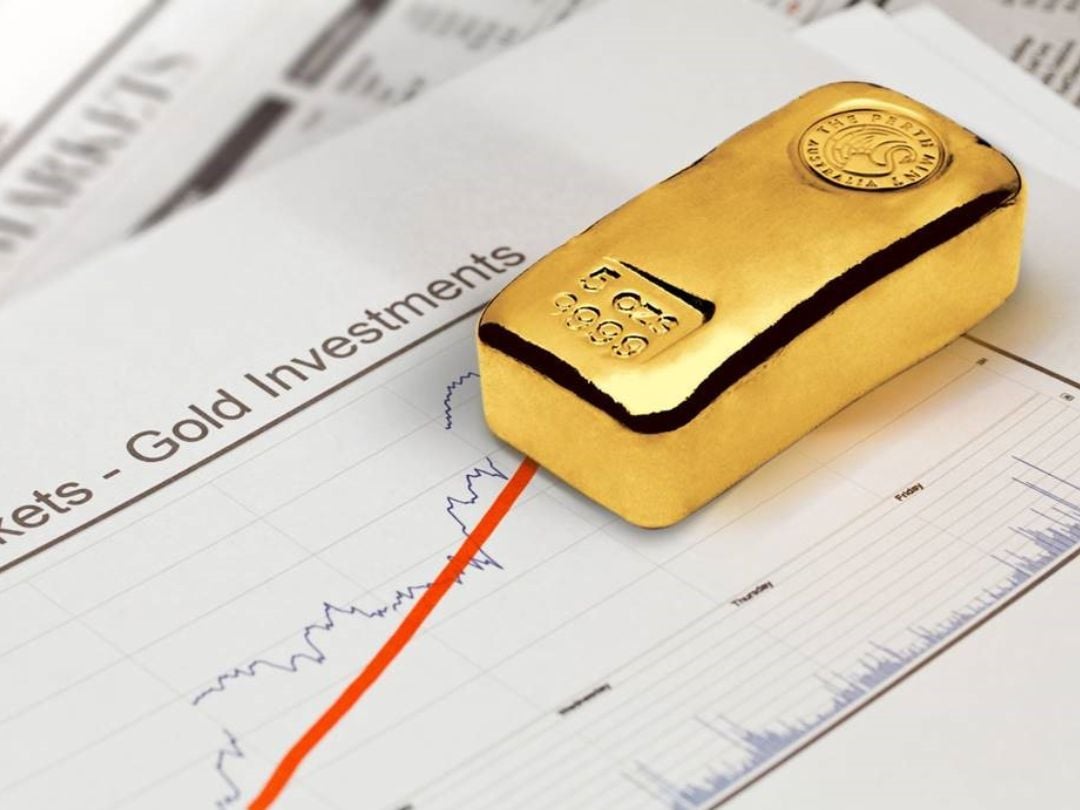 Depository clients renew appetite for gold; physical investors favour silver in February
The Perth Mint sold 52,241 troy ounces (oz) of gold and 1,484,936 oz of silver in minted product form during February 2023.
The Perth Mint Depository's total gold holdings increased by 0.80% while silver holdings dropped by 0.29% during the month.
Holdings in The Perth Mint listed ETP, ASX:PMGOLD, increased in February, up 0.17%.
Gold continued to post price gains in early February hitting its highest level in almost a year at near USD 1,960 per oz. However, after the release of minutes from the Fed's latest policy meeting in which officials stressed that inflation remained too high, and stronger US non-farm payrolls, gold dropped by nearly USD 100. The precious metal drifted lower over the remainder of the month, hitting a low of just under USD 1,810 before recovering slightly.
Gold in Australian dollars ended the month a little under AUD 2,700, the local price supported by the weakening of the Australian dollar to the US dollar.
In a similar pattern, silver hit a monthly high early in the month at just under USD 24.50, but then fell sharply hitting a low near USD 20.50. Locally, silver ended the month just over AUD 30.50 supported by the drop in the Australian dollar.
The gold silver ratio increased throughout the month, ending February at 88.
Minted products
The Perth Mint sold 52,241 oz of gold and 1,484,936 oz of silver in minted product form during February.
The table below highlights how these numbers compare to sales seen one month, three months and one year ago, and against monthly average sales dating back to mid-2012.
MONTHLY SALES OF GOLD AND SILVER SOLD AS COINS AND MINTED BARS (TROY OUNCES) FEB 2020 TO FEB 2023.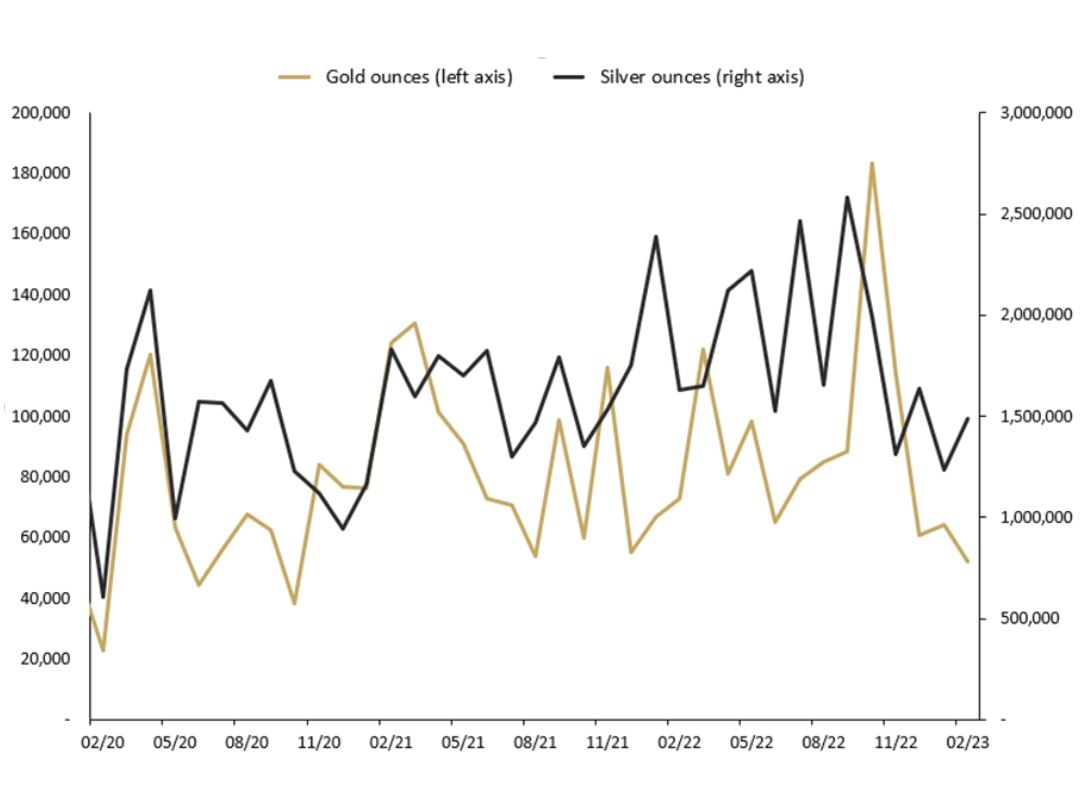 General Manager Minted Products, Neil Vance said that sales of Australian gold bullion products slowed in February after a small uptick the previous month. "While still buoyant in historical terms, the result to some extent reflected the fact that we did not unveil any new gold investor coins during the month," he said. On the other hand, silver sales bounced higher, with available press time fully utilised over the course of the period. As a result, the Mint shipped everything it produced in February.
The Perth Mint manufactures and markets the Australian Precious Metal Coin and Minted Bar Program. Trusted worldwide for their purity and weight, the coins include annual releases of the renowned Australian Kangaroo, Kookaburra, Koala and Lunar series. For more product information visit the bullion web page.
The Perth Mint Depository
Total gold holdings in The Perth Mint Depository increased by 0.80%, while silver holdings were down 0.29% in February. Compared to 12 months ago, gold holdings were down 5.35%, while silver holdings were down by 0.94%.
Looking back to February, 2020 holdings of gold have increased by approximately 15% and silver by 13%, maintaining strong performances evident since mid-2020.
TOTAL TROY OUNCES OF GOLD AND SILVER HELD BY CLIENTS IN THE PERTH MINT DEPOSITORY FEB 2020 TO FEB 2023
The Perth Mint Depository enables clients to invest in gold, silver, and platinum, with The Perth Mint storing this metal in its central bank grade vaults. Operated via a secure online portal, a Depository Online Account allows investors to buy, store and sell their metal 24/7. For further information visit the depository web page.
Perth Mint Gold (ASX:PMGOLD)
Total holdings in Perth Mint Gold (ASX:PMGOLD) increased during February, with holdings up by 405 oz (0.17%). This brings total holdings in PMGOLD to 245,159 ounces (7.63 tonnes).
MONTHLY CHANGE IN TROY OUNCES HELD BY CLIENTS IN PERTH MINT GOLD (ASX:PMGOLD) FEB 2020 TO FEB 2023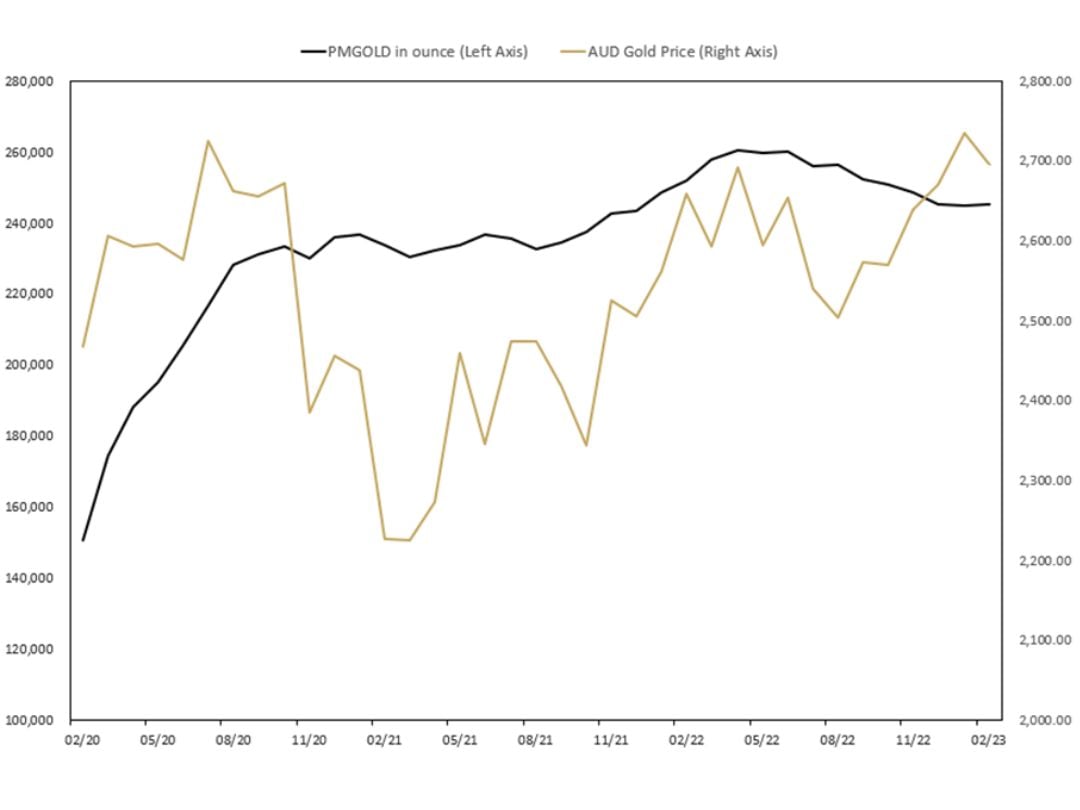 The total value of PMGOLD holdings ended February was AUD 661 million, with the gold price trading just under AUD 2,700 oz.
Perth Mint Gold is an exchange traded product (ETP) that allows investors to trade in gold via a stock broking account as they would shares on the ASX. To learn more, visit the PMGOLD web page.
DISCLAIMER
Past performance does not guarantee future results. The information in this article and the links provided are for general information only and should not be taken as constituting professional advice from The Perth Mint. The Perth Mint is not a financial adviser. You should consider seeking independent financial advice to check how the information in this article relates to your unique circumstances. All data, including prices, quotes, valuations and statistics included have been obtained from sources The Perth Mint deems to be reliable, but we do not guarantee their accuracy or completeness. The Perth Mint is not liable for any loss caused, whether due to negligence or otherwise, arising from the use of, or reliance on, the information provided directly or indirectly, by use of this article.