The price of gold in Australian dollar terms achieves record-breaking month
Apr 4, 2023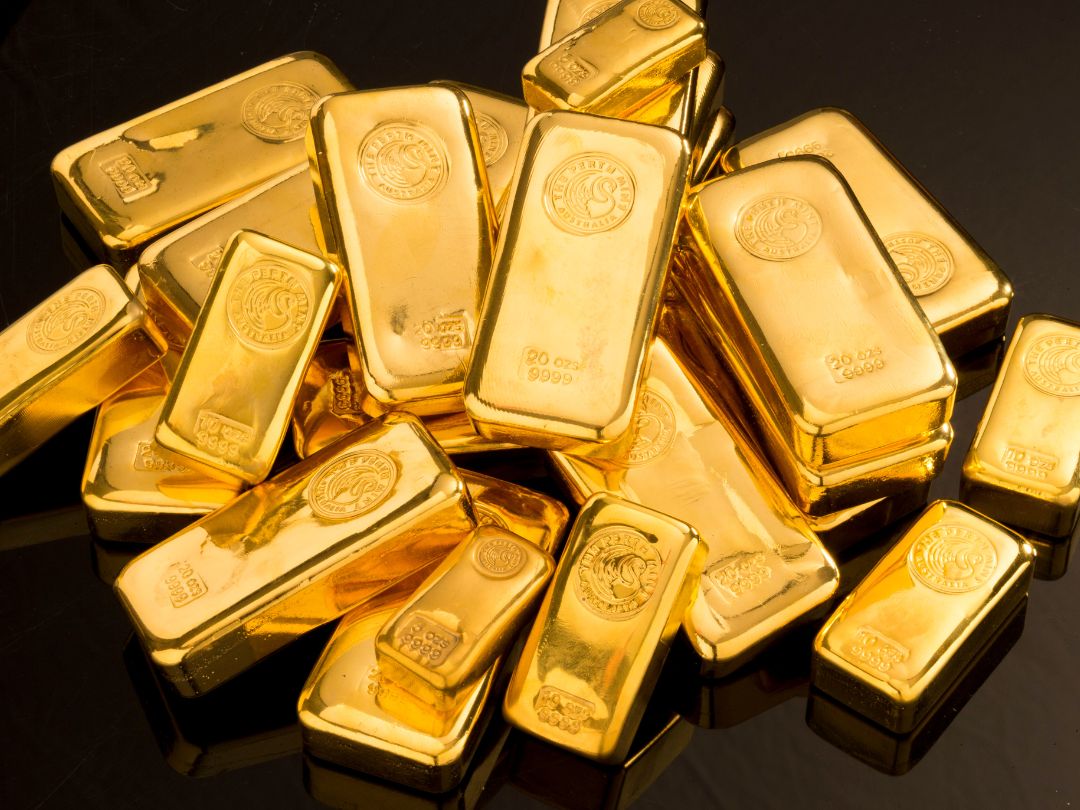 Sales of Perth Mint bullion jump on bank collapse, price of gold hits record
The Perth Mint sold 80,541 troy ounces (oz) of gold and 1,823,096 oz of silver in minted product form during March.
The Perth Mint Depository's total gold holdings decreased by 1.61%. Silver holdings dropped by 0.29% during the month.
Holdings in The Perth Mint listed ETP, ASX:PMGOLD, decreased for the month, down 1.56%.
Gold drifted lower in the first week of March to near USD 1,810 following Chair Powell's testimony to Congress during which he said the Fed may be prepared to increase the pace of interest rate rises. However, attention quickly turned to the collapse of Silicon Valley Bank (SVB), the swift takeover of Credit Suisse by its Swiss rival UBS, and fears of a wider financial crisis. Gold leapt to USD 2,000, representing a 10.5% bounce from month low to high, ending the month at near USD 1,970 as the immediate threat appeared to have passed.
The price of gold in Australian dollar terms had a record-breaking month, breaching the AUD 3,000 mark for the first time as a result of instability in the global market and a weakened Australian dollar. By the end of March gold was trading near the AUD 2,950 mark, representing one of the best monthly returns on record.
In a similar story, the price of silver hit a monthly low in the first week of March before increasing significantly to end the month near USD 24, up approximately 15%. Locally, silver ended the month at just over AUD 35, its highest price point in six months.
The Gold Silver Ratio decreased from its mid-month peak to finish March at 82.
Minted products
The Perth Mint sold 80,541 oz of gold and 1,823,096 oz of silver in minted product form during March.
The table below highlights how these numbers compare to sales seen one month, three months and one year ago, and against monthly average sales dating back to mid-2012.
MONTHLY SALES OF GOLD AND SILVER SOLD AS COINS AND MINTED BARS (TROY OUNCES) MAR 2020 TO MAR 2023.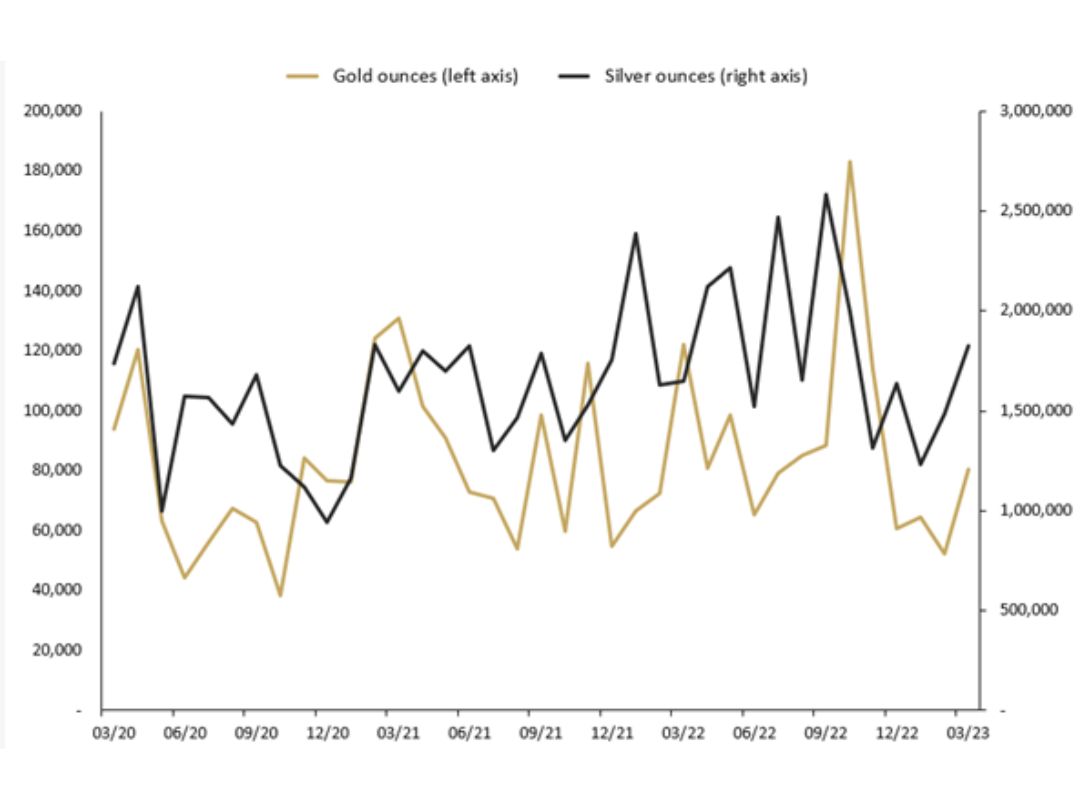 General Manager Minted Products, Neil Vance reported a big pick up in sales of Australian bullion to US customers. "North American distributors reacted swiftly to developments in the banking sector, increasing the overall level of orders for both gold and silver minted products," he said. "The local market also reflected the safe haven appeal of precious metals with a sharp uptake from our Australian clients."
The Perth Mint manufactures and markets the Australian Precious Metal Coin and Minted Bar Program. Trusted worldwide for their purity and weight, the coins include annual releases of the renowned Australian Kangaroo, Kookaburra, Koala and Lunar series. For more product information visit the bullion web page.
The Perth Mint Depository
Total gold holdings in The Perth Mint Depository decreased by 1.61%, while silver holdings were down 0.29% in March. Compared to 12 months ago, gold holdings were down 6.14%, while silver holdings were down by 1.38%.
The drop in gold holdings during March 2023 can be attributed to investors selling out at times of record high gold prices in Australian dollar terms.
TOTAL TROY OUNCES OF GOLD AND SILVER HELD BY CLIENTS IN THE PERTH MINT DEPOSITORY MAR 2020 TO MAR 2023.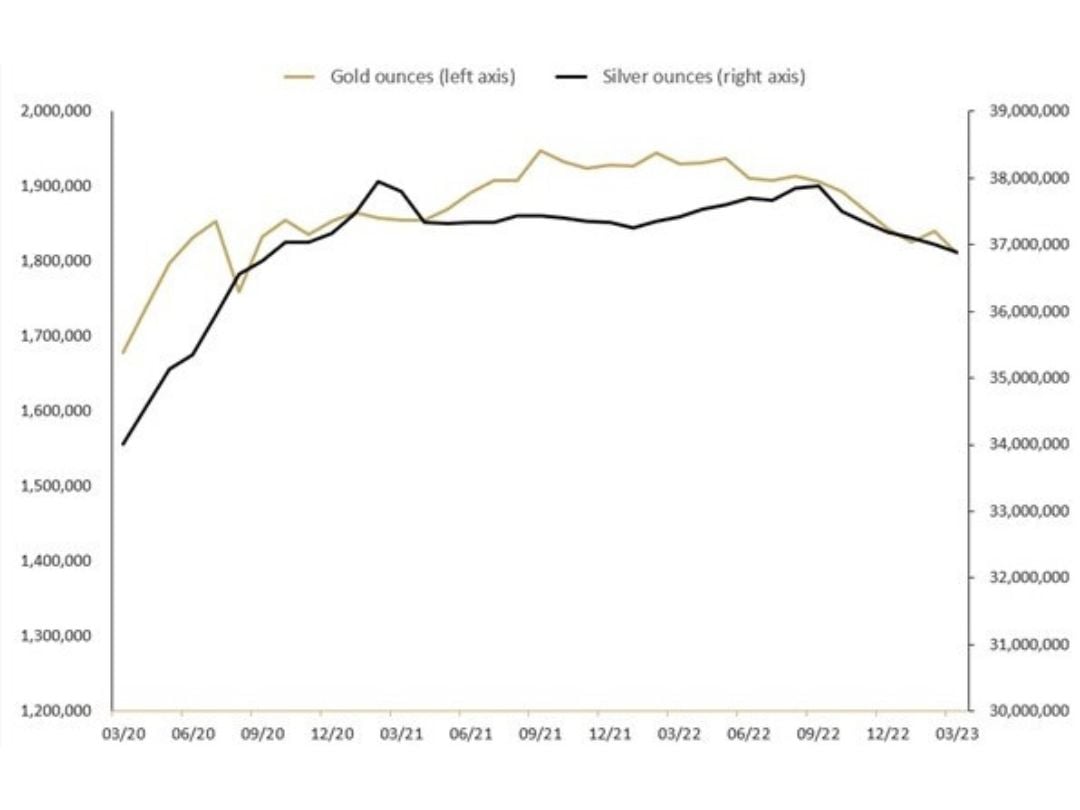 The Perth Mint Depository enables clients to invest in gold, silver, and platinum, with The Perth Mint storing this metal in its central bank grade vaults. Operated via a secure online portal, a Depository Online Account allows investors to buy, store and sell their metal 24/7. For further information visit the depository web page.
Perth Mint Gold (ASX:PMGOLD)
Total holdings in Perth Mint Gold (ASX:PMGOLD) decreased during March, with holdings down by 3,815 oz (1.56%). This brings total holdings in PMGOLD to 241,344 oz (7.50 tonnes).
MONTHLY CHANGE IN TROY OUNCES HELD BY CLIENTS IN PERTH MINT GOLD (ASX:PMGOLD) MAR 2020 TO MAR 2023.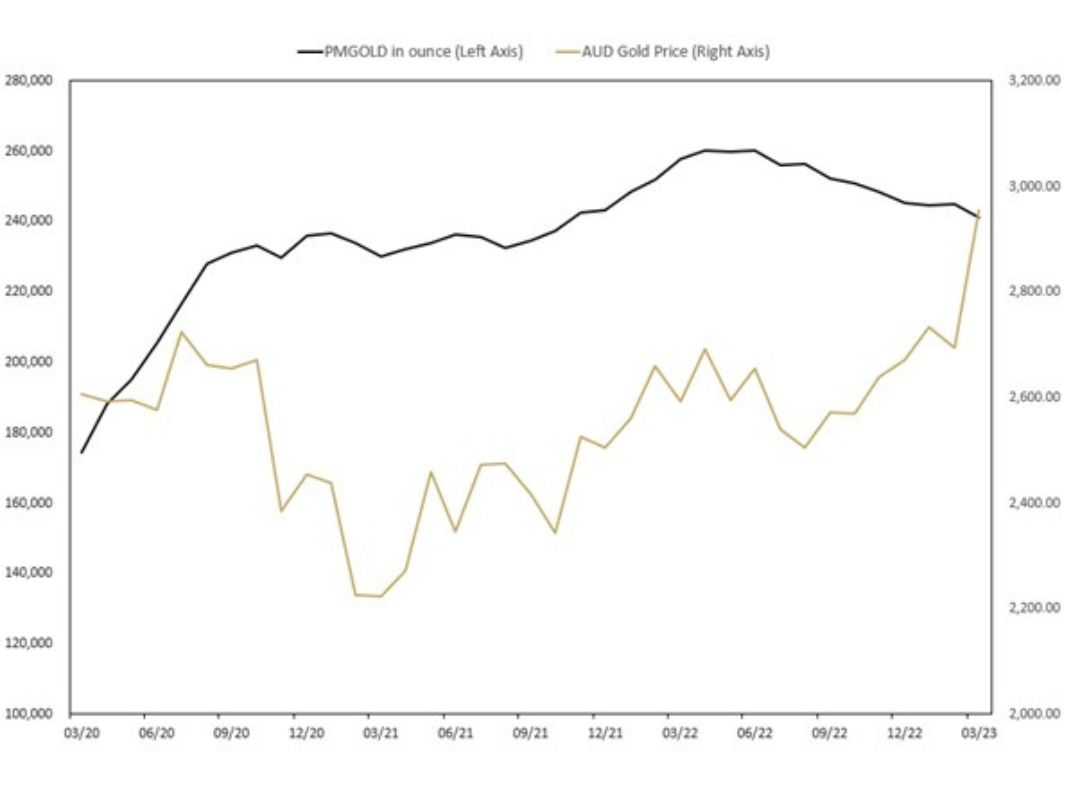 The total value of PMGOLD holdings ended March was AUD 710 million, with the gold price trading over AUD 2,950 oz.
Perth Mint Gold is an exchange traded product (ETP) that allows investors to trade in gold via a stock broking account as they would shares on the ASX. To learn more, visit the PMGOLD web page.
DISCLAIMER
Past performance does not guarantee future results. The information in this article and the links provided are for general information only and should not be taken as constituting professional advice from The Perth Mint. The Perth Mint is not a financial adviser. You should consider seeking independent financial advice to check how the information in this article relates to your unique circumstances. All data, including prices, quotes, valuations and statistics included have been obtained from sources The Perth Mint deems to be reliable, but we do not guarantee their accuracy or completeness. The Perth Mint is not liable for any loss caused, whether due to negligence or otherwise, arising from the use of, or reliance on, the information provided directly or indirectly, by use of this article.