September sees sharp rebound in demand for Perth Mint silver bullion
Oct 5, 2023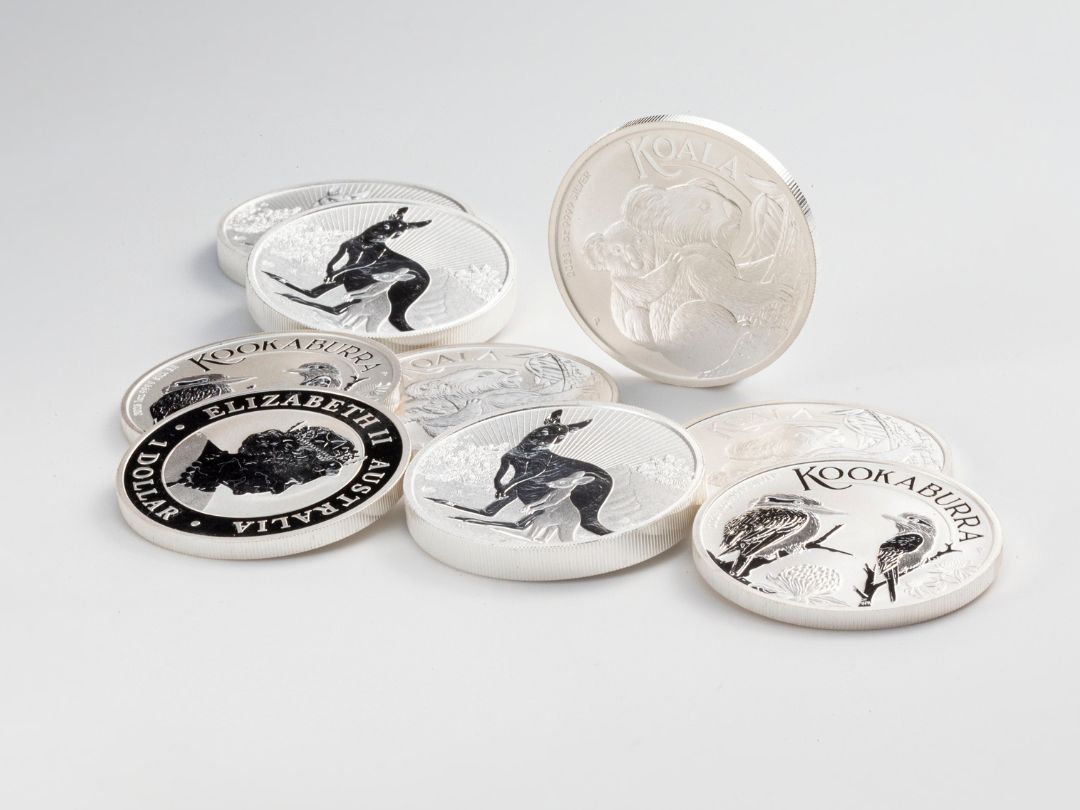 The Perth Mint sold 36,530 troy ounces (oz) of gold and 1,116,779 oz of silver in minted products form during September.
Gold and silver prices declined in September with gold falling to a near six-month low.
Starting September at a little under USD 1,950, gold traded in a narrow downward range during the early part of the month driven by a stronger US dollar and higher yields. Despite the mid-month release of August Producer Price Index (CPI data) showing headline inflation rose 0.6%, the largest gain since June 2022, gold was unmoved and continued to trade a little above USD 1,910. The Fed kept interest rates on hold and late September was less kind to gold, with the price dropping to a near six-month low. With rising US government bond yields, which saw the two-year yield rise above the 5% threshold and 10-year yields hitting the highest levels since 2007, the market began pricing in higher rates for longer and the impacts of such an outcome.
The gold price in Australian dollar terms dropped in September in line with the decrease experienced in US dollars, ending at just under AUD 2,900. The Reserve Bank of Australia continued to keep interest rates on hold.
Silver experienced a correction in September, reversing recent monthly gains. Like gold, silver was impacted by the market narrative of higher interest rates for longer and a cooling of economic sentiment. The silver price at month's end was around USD 23.00.
The silver price in Australian dollar terms was also materially lower in September, down near 6.5% for the month.
During September, the Gold Silver Ratio increased and ended the month on 83.50.
Minted products
The Perth Mint sold 36,530 oz of gold and 1,116,779 oz of silver in minted product form during September.
The table below highlights how these numbers compare to sales seen one month, three months and one year ago, and against monthly average sales dating back to mid-2012.
SEPTEMBER 2023 SALES OF GOLD AND SILVER SOLD AS COINS AND MINTED BARS (TROY OUNCES) AND CHANGE (%) RELATIVE TO PRIOR PERIODS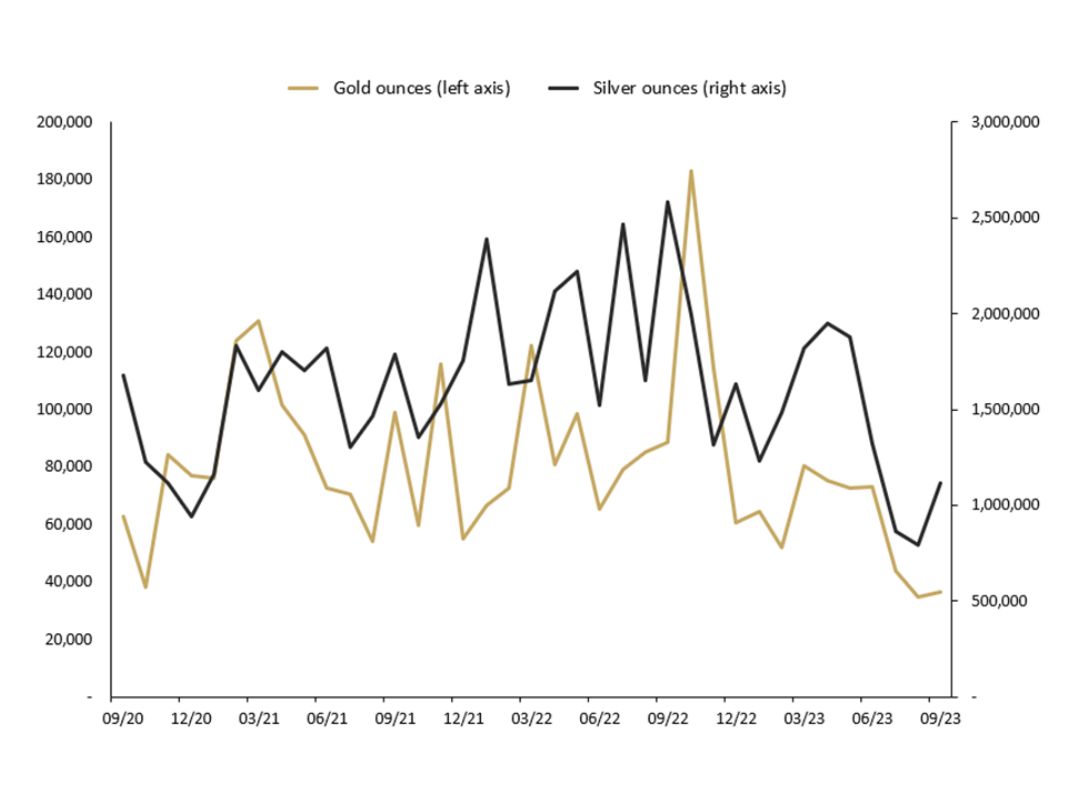 General Manager Minted Products Neil Vance said demand for Australian gold bullion remained muted after the highs experienced by The Perth Mint during the COVID-19 emergency. "Interestingly, however, we had a much improved month for silver," he said. "Despite slower overall market conditions, there was an upsurge in interest for 2oz denominated silver coins. A more unusual size, we delivered almost 550,000 pieces to clients in the United States."
The Perth Mint manufactures and markets the Australian Precious Metal Coin and Minted Bar Program. Trusted worldwide for their purity and weight, the coins include annual releases of the renowned Australian Kangaroo, Kookaburra, Koala and Lunar series. In addition, periodic releases and series offer investors a choice of alternative design themes.
Bullion coins released in September 2023
The Pride of Australia Nugget 2023 1oz Gold Bullion Coin
Super Pit 2023 1oz Silver Bullion Coin
Super Pit 2023 1oz Gold Bullion Coin
Super Pit 2023 5oz Gold Bullion Coin
For more new product information visit the bullion web page.
Bullion coins 'sold out' at The Perth Mint in September 2023
Dragon 2023 1oz Silver Rectangular Bullion Coin – Mintage 250,000
Australian Lunar 2023 10kg Silver Bullion Coin – Mintage 100
Please note: The figures stated in this article are for total monthly ounces of gold and silver shipped as minted products by The Perth Mint to wholesale and retail customers worldwide during September 2023. They exclude sales of cast bars and other activities including sales of allocated/unallocated precious metals for storage by The Perth Mint Depository.
DISCLAIMER
Past performance does not guarantee future results. The information in this article and the links provided are for general information only and should not be taken as constituting professional advice from The Perth Mint. The Perth Mint is not a financial adviser. You should consider seeking independent financial advice to check how the information in this article relates to your unique circumstances. All data, including prices, quotes, valuations and statistics included have been obtained from sources The Perth Mint deems to be reliable, but we do not guarantee their accuracy or completeness. The Perth Mint is not liable for any loss caused, whether due to negligence or otherwise, arising from the use of, or reliance on, the information provided directly or indirectly, by use of this article.