Demand for minted bars accounts for higher Perth Mint gold sales
Nov 3, 2023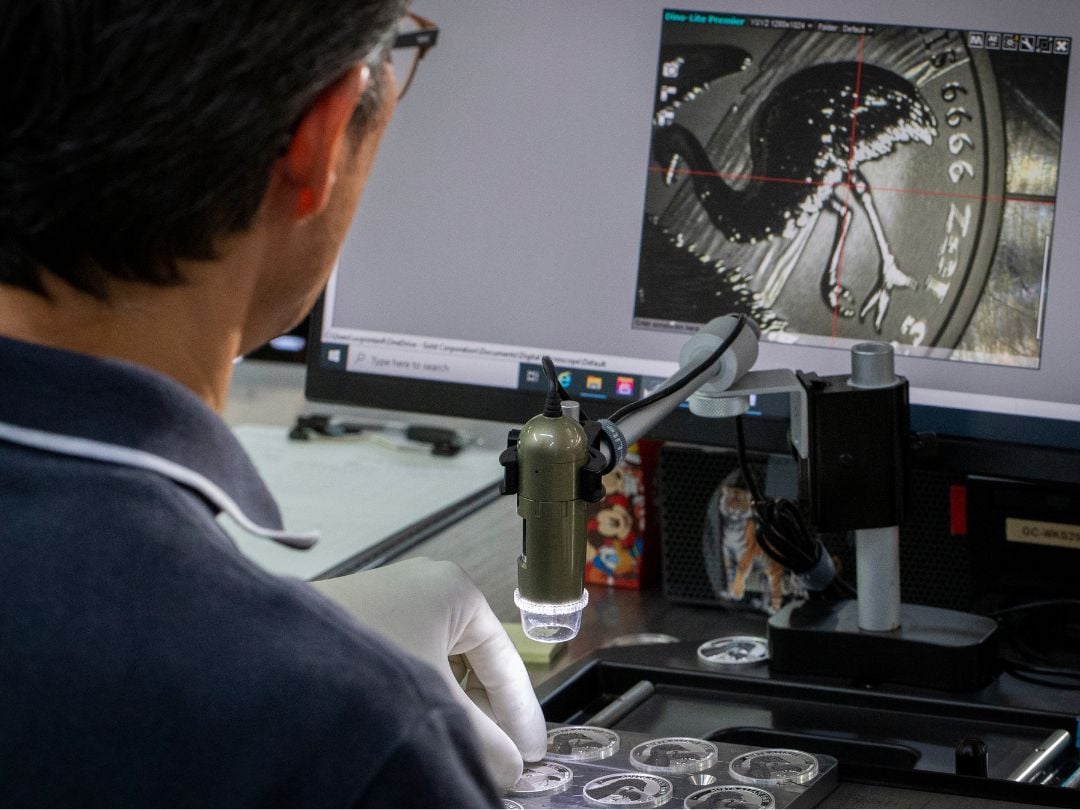 The Perth Mint sold 42,302 troy ounces (oz) of gold and 1,073,553 oz of silver in minted product form during October 2023.
Gold demand was driven significantly higher by the outbreak of conflict in the Middle East.
The gold price began the month of October in a downward slide with falls for a number of sessions on worries over higher US interest rates. The outbreak of conflict in the Middle East on 7 October, however, saw the gold price reverse course from levels around USD 1,820 per ounce. In line with the standard response to events such as the conflict in the Middle East, the gold price rose in line with investors' flight to safe-haven assets. The price was trading at more than USD 2,000 per ounce by 27 October, a level not seen since May 2023, or a near 10% increase from gold's early-month lows.
The gold price in Australian dollar terms hit a record high of AUD 3,150 per ounce on 20 October. Aided by the continued weakening of the Australian currency, it increased by more than AUD 150 during a month in which the RBA continued to keep official interest rates on hold.
Silver gained modestly in October. Not generally classified by the market as a safe-haven asset, silver ended the month around USD 23.20 per ounce.
In Australian dollar terms, however, silver jumped 2.5% because of the weakening AUD FX rate, finishing October at around AUD 36.50.
The Gold-Silver Ratio increased and ended the month on 86.85.
Minted products
The Perth Mint sold 42,302 oz of gold and 1,073,553 oz of silver in minted product form during October.
The table below highlights how these numbers compare to sales seen one month, three months and one year ago, and against monthly average sales dating back to mid-2012.
OCTOBER 2023 SALES OF GOLD AND SILVER SOLD AS COINS AND MINTED BARS (TROY OUNCES) AND CHANGE (%) RELATIVE TO PRIOR PERIODS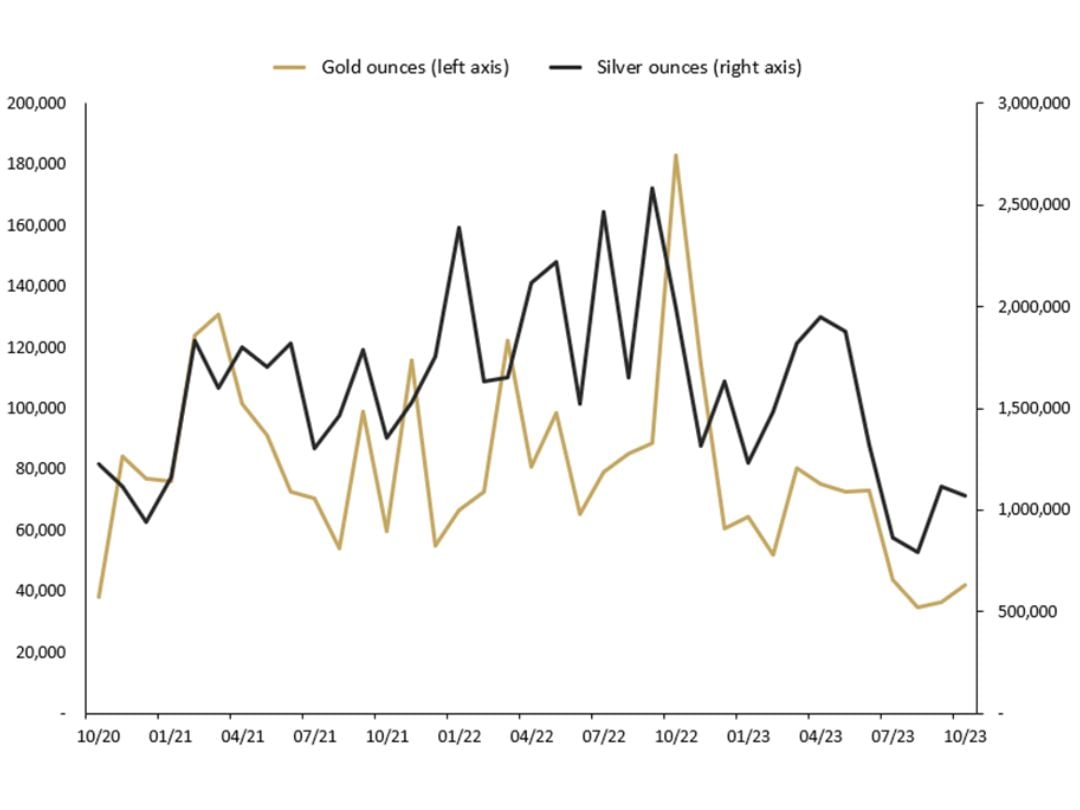 The Perth Mint's General Manager Minted Products, Neil Vance, said demand for sales of silver bullion coins remained reasonably strong in the United States following an uptick in September. "This month, we also saw stronger sales of gold minted bars in North America. Struck from 99.99% pure gold with The Perth Mint's LBMA registered mark, our minted gold bars offer investors highly competitive premiums."
The Perth Mint manufactures and markets the Australian Precious Metal Coin and Minted Bar Program. Trusted worldwide for their purity and weight, the coins include annual releases of the renowned Australian Kangaroo, Kookaburra, Koala and Lunar series. In addition, periodic releases and series offer investors a choice of alternative design themes.
Bullion coins released in October 2023
Australian Quokka 2023 1oz Silver Bullion Coin
Australian Koala 35th Anniversary 2023 1oz Platinum Bullion Coin
Australian Brumby 2023 1oz Silver Bullion Coin
For more new product information visit the bullion web page.
Bullion coins 'sold out' at The Perth Mint in October 2023
Australian Lunar Series III 2023 Year of the Rabbit 10 Kilo Silver Bullion Coin
Please note: The figures stated in this article are for total monthly ounces of gold and silver shipped as minted products by The Perth Mint to wholesale and retail customers worldwide during October 2023. They exclude sales of cast bars and other activities including sales of allocated/unallocated precious metals for storage by The Perth Mint Depository.
DISCLAIMER
Past performance does not guarantee future results. The information in this article and the links provided are for general information only and should not be taken as constituting professional advice from The Perth Mint. The Perth Mint is not a financial adviser. You should consider seeking independent financial advice to check how the information in this article relates to your unique circumstances. All data, including prices, quotes, valuations and statistics included have been obtained from sources The Perth Mint deems to be reliable, but we do not guarantee their accuracy or completeness. The Perth Mint is not liable for any loss caused, whether due to negligence or otherwise, arising from the use of, or reliance on, the information provided directly or indirectly, by use of this article.