Strong start to 2021 marked by leap in silver coin sales
Feb 4, 2021

January summary
Perth Mint silver coin sales rose by 23% in January, with more than 1.1 million troy ounces sold. The strong sales figures also represented a 32% increase relative to long-run average monthly silver sales
The Perth Mint also sold 76,103 troy ounces of gold minted product in January. This number was essentially unchanged over the previous month, though does represent an increase of almost 60% relative to sales one year ago.
Perth Mint Depository holdings of gold and silver rose by 1% in January, continuing a period of inflows that saw holdings increase by 20% (gold) and 15% (silver) in the past 12 months.
Perth Mint gold ETF holdings rose marginally, ending January just below 237,000 troy ounces.
Minted Products sees strong demand for silver
The Perth Mint shipped 1,162,884 troy ounces of silver coins in January 2021, an increase of 23.48% relative to sales in December 2020. Meanwhile, shipments of gold minted products were relatively unchanged in January, down just 0.92% to 76,103 troy ounces compared to the previous month.

The Perth Mint's General Manager Minted Products, Neil Vance, said maintenance issues that previously restricted manufacturing capacity had unwound during the month.
"January was a better month for coin production at The Perth Mint. Even so, we are still selling everything that we can currently make in silver,"
"We also focussed on re-building stocks of our main gold bullion coins following strong sales in November and December," he added.
Troy ounces of gold and silver sold as coins and minted bars December 2018 to January 2021
The Perth Mint manufactures and markets the Australian Precious Metal Coin and Minted Bar program. Trusted worldwide for their purity and weight, the coins include annual releases of the renowned Australian Kangaroo, Kookaburra, Koala and Lunar series. For more product information visit The Perth Mint
Bullion.
The Perth Mint Depository records rise in gold and silver holdings
Holdings of both gold and silver in The Perth Mint Depository rose by 1% in January 2021, ending the month at 1.865 million troy ounces (gold) and 37.5 million troy ounces (silver).
Since June 2019, total holdings of gold and silver have risen by 37% and 19% respectively, as investors continue to build their precious metal portfolios.
Total troy ounces of gold and silver held by clients in The Perth Mint Depository December 2018 to January 2021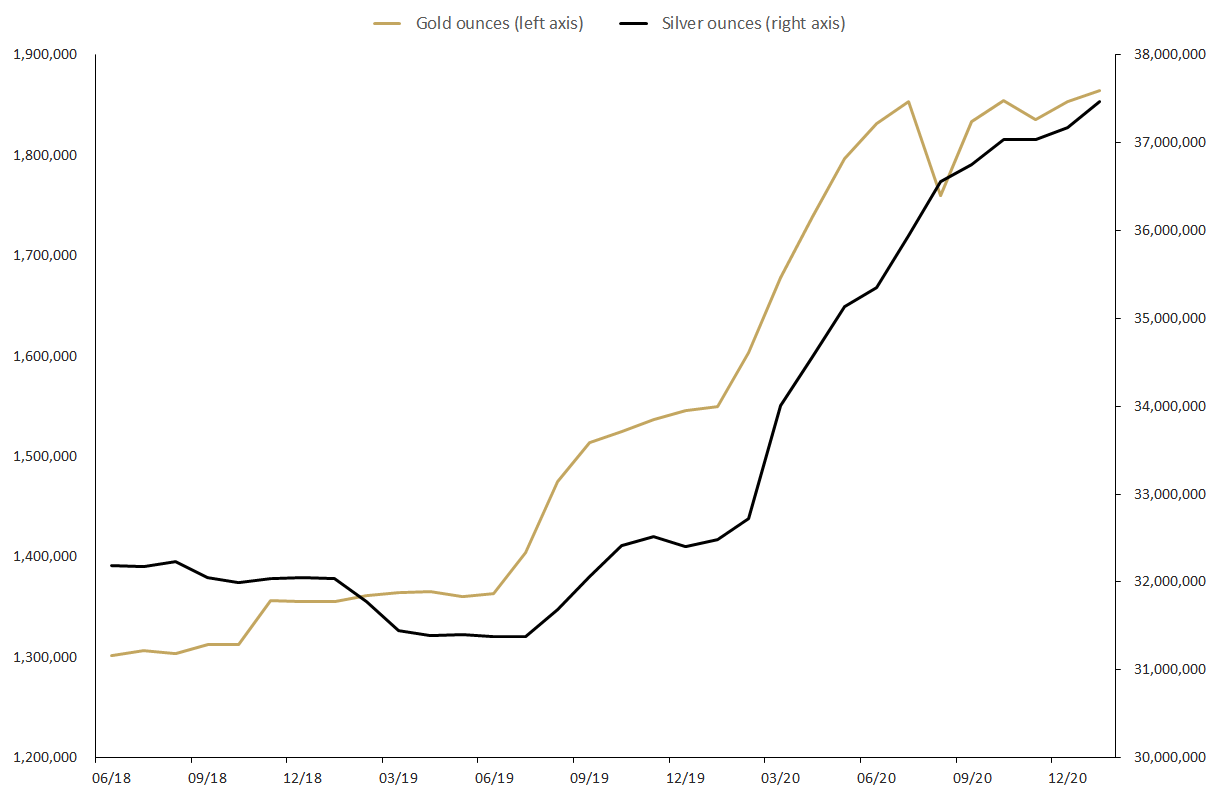 The Perth Mint Depository enables clients to invest in gold, silver and platinum without the need to take physical delivery of their metal. Operated via a secure online portal, a Depository Online Account allows investors to buy, store and sell their metal 24/7. For further information visit Investment products.
Perth Mint Gold (ASX: PMGOLD) has small increase in holdings
Holdings of Perth Mint Gold (ASX: PMGOLD) increased marginally during January 2021, increasing by almost 1,000 troy ounces for the month. The inflows saw total holdings in PMGOLD hit 236,786 troy ounces, or just over 7.34 tonnes.

Monthly flows for PMGOLD and the yearly change in total troy ounces can be seen in the chart below, with holdings rising by more than 70% in the last twelve months.
Monthly change in troy ounces held by clients in Perth Mint Gold (ASX:PMGOLD) December 2018 to January 2021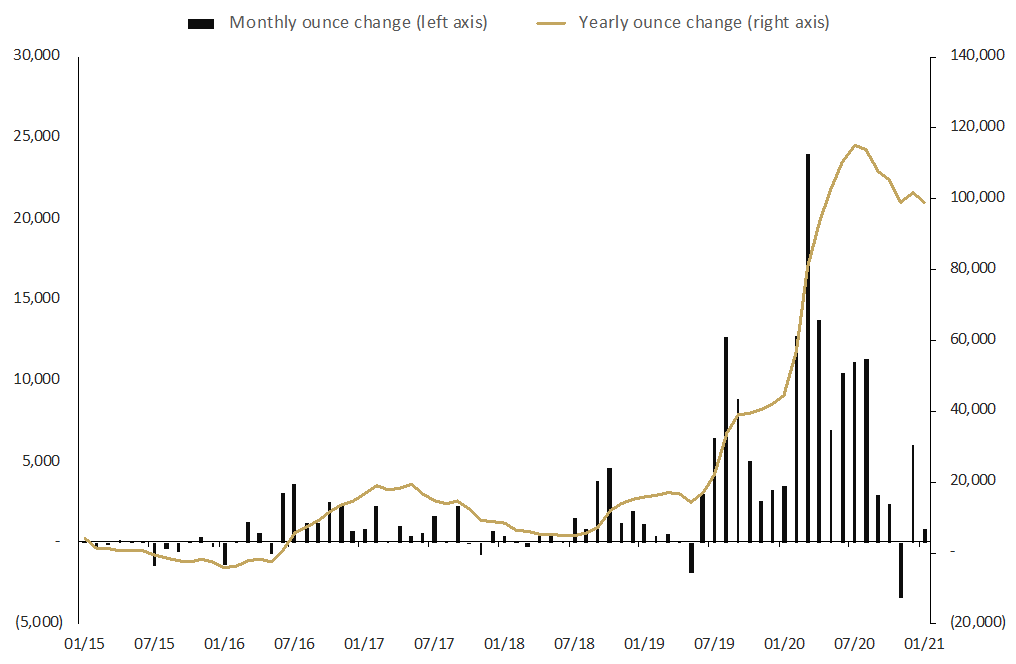 The value of PMGOLD holdings declined marginally to end January at just over AUD 577 million. The fall was due to the small decline in the AUD gold price over the month.
Despite the small decline seen in January, the value of gold holdings backing PMGOLD has risen by almost 80% in the last 12 months.
"Investors continued to allocate money to precious metals in January, with The Perth Mint seeing continued inflows into depository products and ETFs, albeit at a more moderate pace relative to the demand seen in 2020."
Looking forward to the rest of 2021, Mr Eliseo said there a multiple tailwinds supporting investor demand for precious metals including the ongoing threat posed by COVID-19.
"The global pandemic is still causing significant dislocation in the global economy. Accommodative monetary policy is another factor supporting gold and silver, with investors looking beyond traditional defensive assets given continued negative real yields on cash and many government bonds," he added.