New talent for Project Engineering team
Sep 7, 2023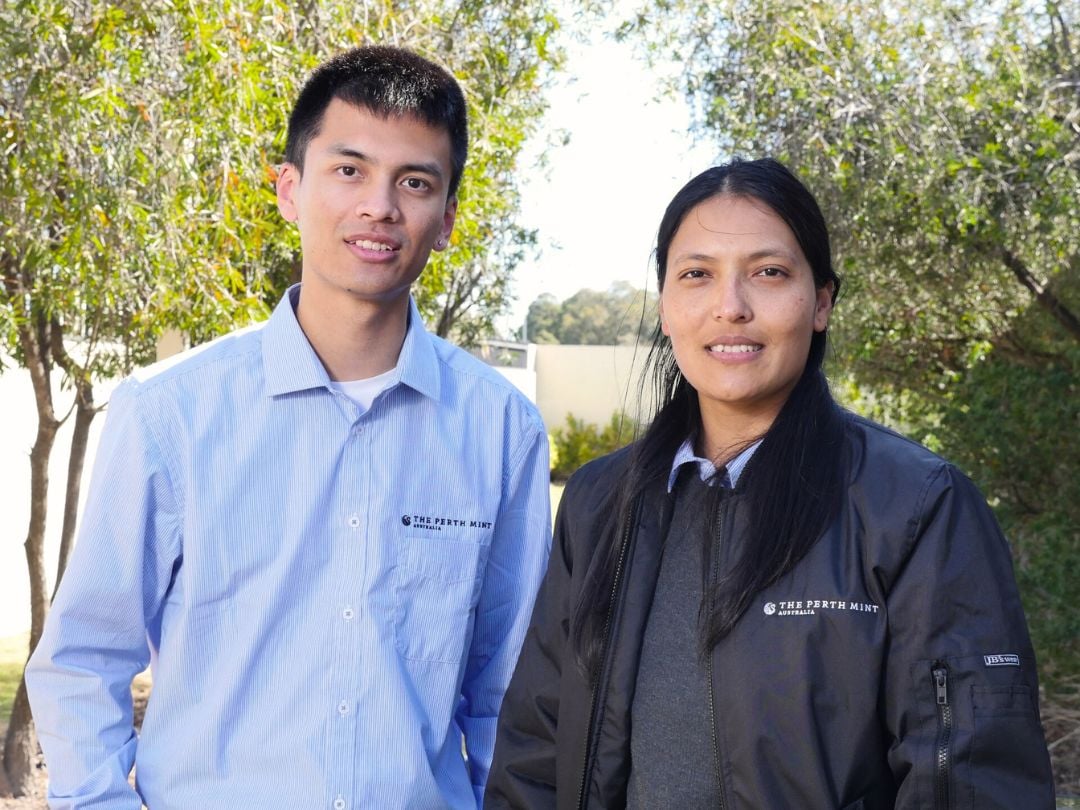 The Project Engineering team at The Perth Mint Refinery is tackling an exciting programme of works.
Under the leadership of Manager Engineering Tom Mullery, the team will upgrade, automate and enhance our infrastructure to improve sustainability and increase output.
Recently we welcomed new recruits Project Engineer Sujata Pujari and Assistant Project Engineer Eddie Win who have transferred from the coining division. Together they bring specialised skills that are invaluable in the Project Engineering team.
Eddie – the engineering student
At only twenty-six years old, Eddie Win has a colourful and wide-ranging resume.
Straight out of school, he had a varied academic career, with studies in computer science, psychology, nursing and health sciences.
Unsure which way to go next, he found a job in The Perth Mint Coining Division where his mum Aye-Aye has worked for 17 years.
In the CD he worked in the gold fabrication team with Supervisor Gold Fabrication Azlan Azlak for two years, eventually assisting with the responsibilities of a leading hand.
In his new engineering role, Eddie is learning and applying skills that are enriching his studies. As he pursues a Bachelor of Engineering part time, he is gaining practical experience with CAD (computer-assisted design), 3D modelling and 3D printing. Being a practical learner, Eddie says that it's a huge benefit for his study to be trusted with these kinds of tasks.
Eddie believes that the experience he gained working in CD production has helped in the new role. The communication skills that he picked up in the acting leading hand position have helped in an office environment. He knows how people on the floor have a more intimate understanding of machinery and work procedures, so he's quick to consult people operating the tools to get the full picture. Eddie says it's vital to be out on site, talking to operators, understanding the processes, and creating an open conversation.
Sujata – the project professional
When Sujata joined The Perth Mint in January 2023 her life in Australia had only just begun.
As a recent migrant, Sujata had struggled to find a job in her area of expertise. She had moved to Perth in mid-2022 as a qualified electronic engineer with an MBA and extensive project management experience. But unfortunately, despite having a 10-year career and several degrees under her belt, it was hard for her to find specialised work without citizenship or permanent residency.
Sujata says that it's difficult for professionals to move from a developing country like her home country of Nepal. Without permanent residency (PR), companies often don't have the confidence to hire you. But it's a double-edged sword, because to get the PR you often need to have a job in your chosen field.
After a short stint working in a supermarket, Sujata joined The Perth Mint in a production role. Despite her extensive engineering background, she was new to metallurgy and found plenty of interesting new processes to discover.
Shortly after beginning the job, Sujata used The Perth Mint Talent Community portal to upload her resume. She saw this as a way to let the company know about her skills, in case any relevant jobs came up.
Chief Operating Officer Justin Kees noticed Sujata's qualifications and brought her in for a chat. The result was a move to the role of Project Engineer at the refinery.
Sujata is a special asset in the Project Engineering team, being The Perth Mint's only dedicated electronics engineer. And her project management experience is vital in handling the large slate of works currently underway.
Careers at The Perth Mint
If you're interested in finding out more about the diverse careers at The Perth Mint visit: https://www.perthmint.com/about/careers/