What is the traditional birthstone for June?
Jun 1, 2023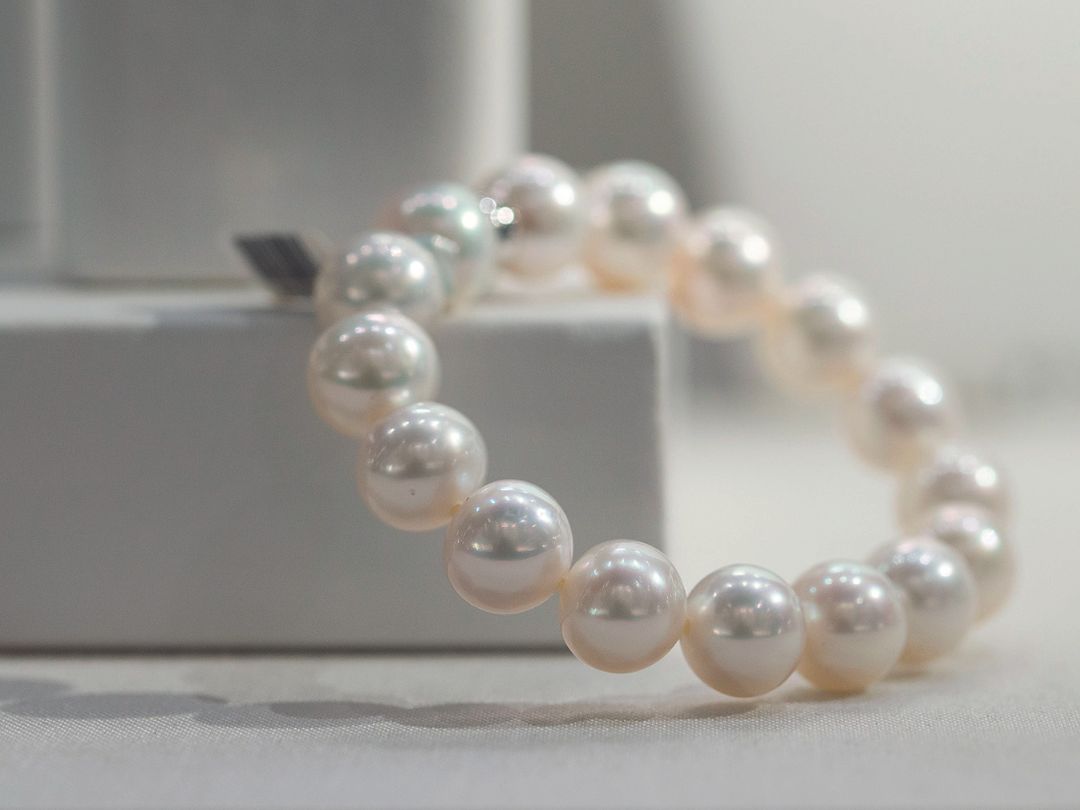 As the only gemstones created by living creatures, pearls have captivated societies for hundreds of years.
What do pearls symbolise?
With the belief that these flawless, evenly coloured stones are associated with purity, innocence and prosperity, it's no wonder pearls have long been thought of as the traditional birthstone for June.
Even as far back as 1,200 BC, pearls were written into the Atharvaveda (an ancient collection of Hindu scriptures) where they were said to give long life and prosperity. In Chinese folklore, a mystical dragon carrying a pearl in its mouth represents wisdom, prosperity and good luck.
Traditionally, pearls are given as wedding gifts because they symbolise innocence, purity and love. They're even the 30th wedding anniversary gift as they signify growth.
Pearls are one of three birthstones for June, which also includes alexandrite and moonstone. However, and arguably, pearl would be considered the most precious of all three.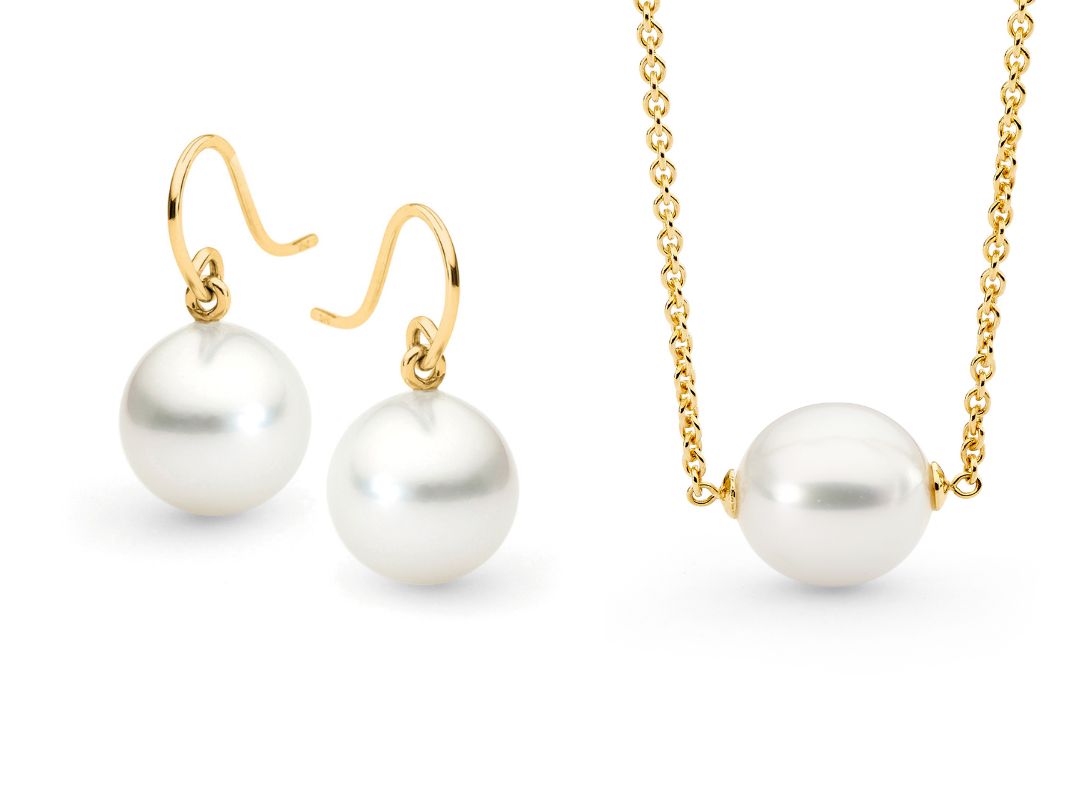 Featured pieces: Allure 18ct Yellow Gold Fine French Hook Articulated Pearl Earring and Allure 18ct Yellow Gold Fine Metal Floating Pearl Necklace
How are pearls made?
Pearls grow inside marine oysters or freshwater mussels, which are types of molluscs. Natural pearls form when the mollusc produces nacre (also known as mother of pearl), a substance secreted when an irritant has slipped in through the shell.
Cultured pearls are created similarly, but the 'irritant' is introduced by technicians who use a small shell bead and tissue from a sacrificed mollusc as the 'irritant'. The oyster or mussel then tries to neutralise the 'irritant' by covering the bead with nacre. Cultured pearls are raised in pearl farms where the molluscs are protected and eventually harvested.
Most pearls on sale today are cultured, simply because they are so rare in nature due to over farming in the 18th and 19th centuries.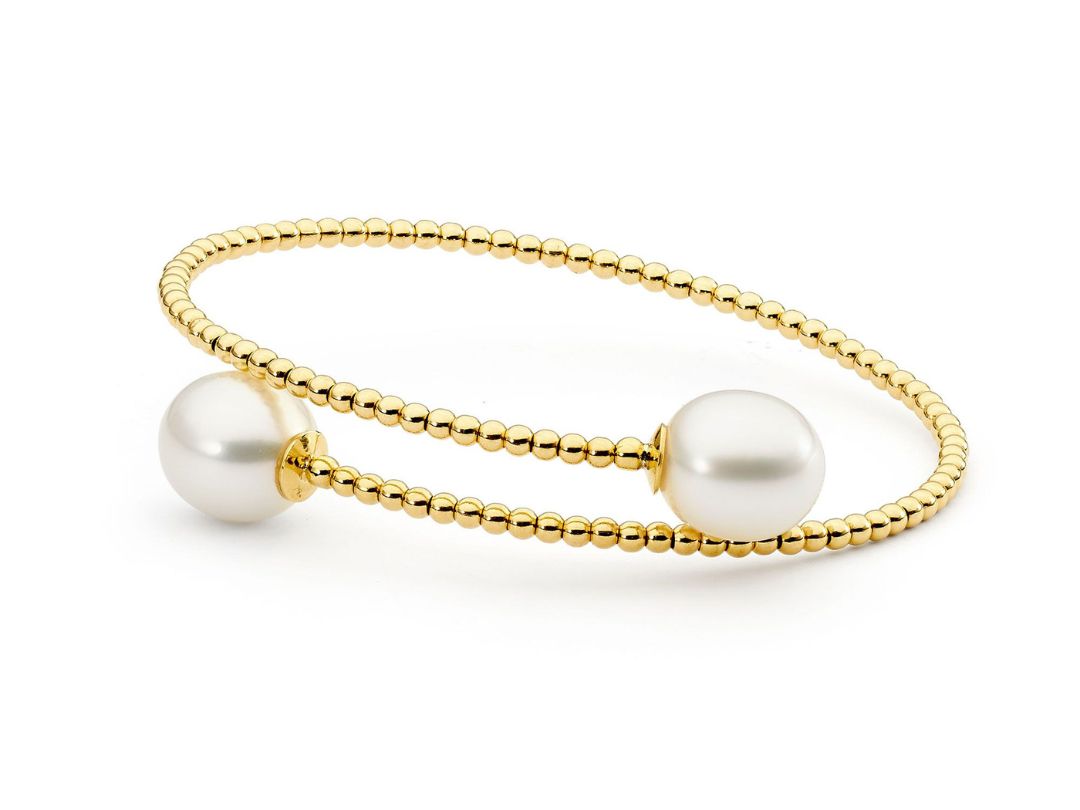 Featured piece: Allure 18ct Yellow Gold Beaded Pearl Bangle
Where can you find pearls?
Pearl-bearing molluscs are found in warm, un-polluted waters around the world. Here in Australia, the beautiful and remote Kimberley coastline is the perfect location for South Sea pearls. However, different pearl types are farmed in different locations. For instance, Akoya pearls are generally cultivated in Japan, with Tahitian pearls farmed around the islands of French Polynesia. China is the predominant source of freshwater pearls.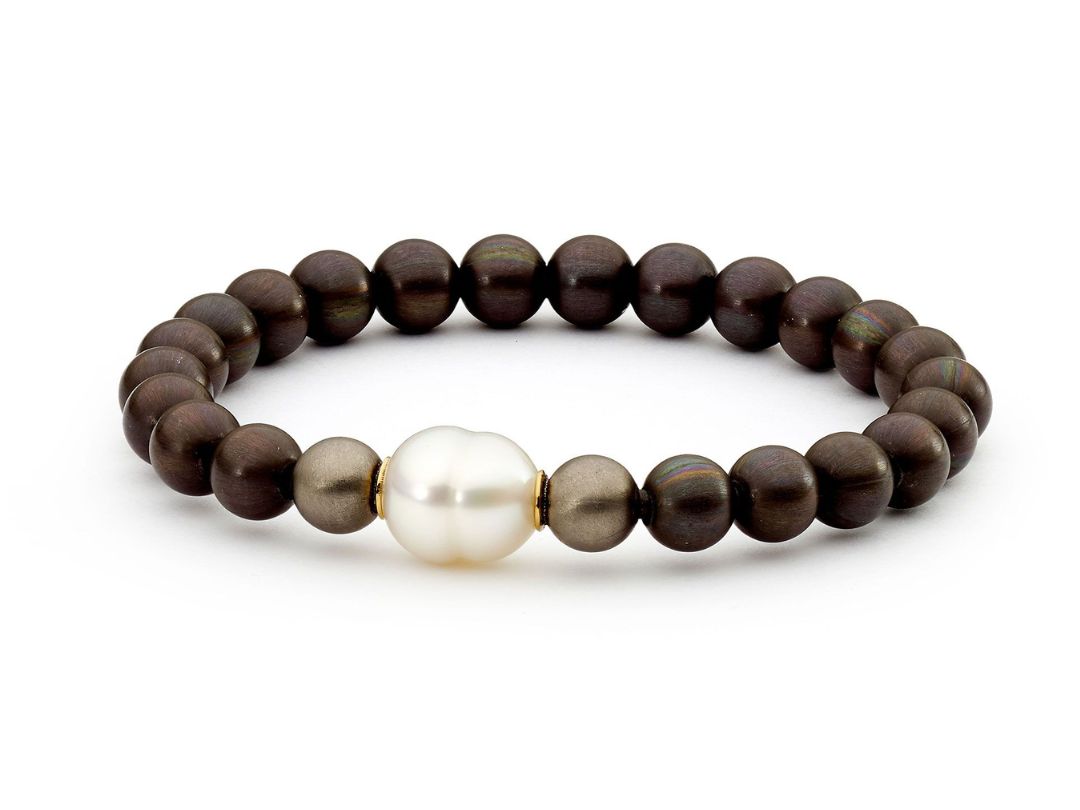 Featured piece: Allure Titanium Beaded Pearl Bracelet
Caring for pearls
Pearls are a comparatively soft gem, ranking 2.5 to 3.0 on the Mohs Scale of hardness. This means they need special attention and care to protect them for wear.
When storing pearls, it's a good idea to keep them separate from other jewellery, or in their own fabric jewellery bag to prevent them from being scratched. Never store pearls in plastic as this can produce a chemical damaging to their surface.
It is also recommended to not store pearls in a safety deposit box or any airtight environment as this can cause the pearl to dehydrate and crack.
As with other precious jewellery, perfume, cosmetics and hairspray should always be applied before wearing pearls. The saying with pearls is: "Last thing on, first thing off."
Prior to storing pearls it's best to wipe them with a soft, damp cloth and dry them. This will keep the lustre looking reflective and bright. As pearls are made up of 5% water, it is recommended to store them near a small glass of water. The moisture in the air will keep the pearls hydrated and avoid cracking.
Featured piece: Allure 18ct Yellow Gold Oval Detachable Pearl Earrings
The Perth Mint jewellery boutique
You can find The Perth Mint's jewellery store inside our landmark heritage listed building, established by Britain's Royal Mint in 1899 at our iconic East Perth site in Hay Street.
Our elegant jewellery boutique is home to some of the world's most exclusive pearl jewellery. Many of our high-end, hand-selected jewellery pieces are accompanied by a certificate of authenticity, as well as the peace of mind that comes with choosing to make a purchase from a Government of Western Australia-owned enterprise with a long-standing reputation for quality and integrity.
Our experts will be happy to assist you to try on beautiful pearl jewellery of your choice. See how it looks against your skin, ensuring your masterpiece reflects your true individuality.
Come and explore today or book an appointment now.
Sources
https://www.gia.edu/birthstones/june-birthstones
https://www.gemsociety.org/article/birthstone-chart/
https://www.americangemsociety.org/birthstones/june-birthstones/
https://www.thepearlsource.com/blog/understanding-pearl-colors-oysters-gems/
https://www.purepearls.com/pages/pearl-colors-the-ultimate-guide-to-choosing-the-perfect-pearls
https://www.sacred-texts.com/hin/sbe42/av075.htm