Future king visited The Perth Mint
Jul 23, 2019
The man who was to become King George V visited The Perth Mint at the turn of of the 20th Century. The photograph below, dated 24 July 1901, is a treasured record of the Royal visit.
In the centre of the photograph, His Royal Highness the Duke of Cornwall and York can be seen raising his top hat. On either side of the future King George V are his wife, Mary of Tek, and John Francis Campbell, the first officer-in-charge of the Mint.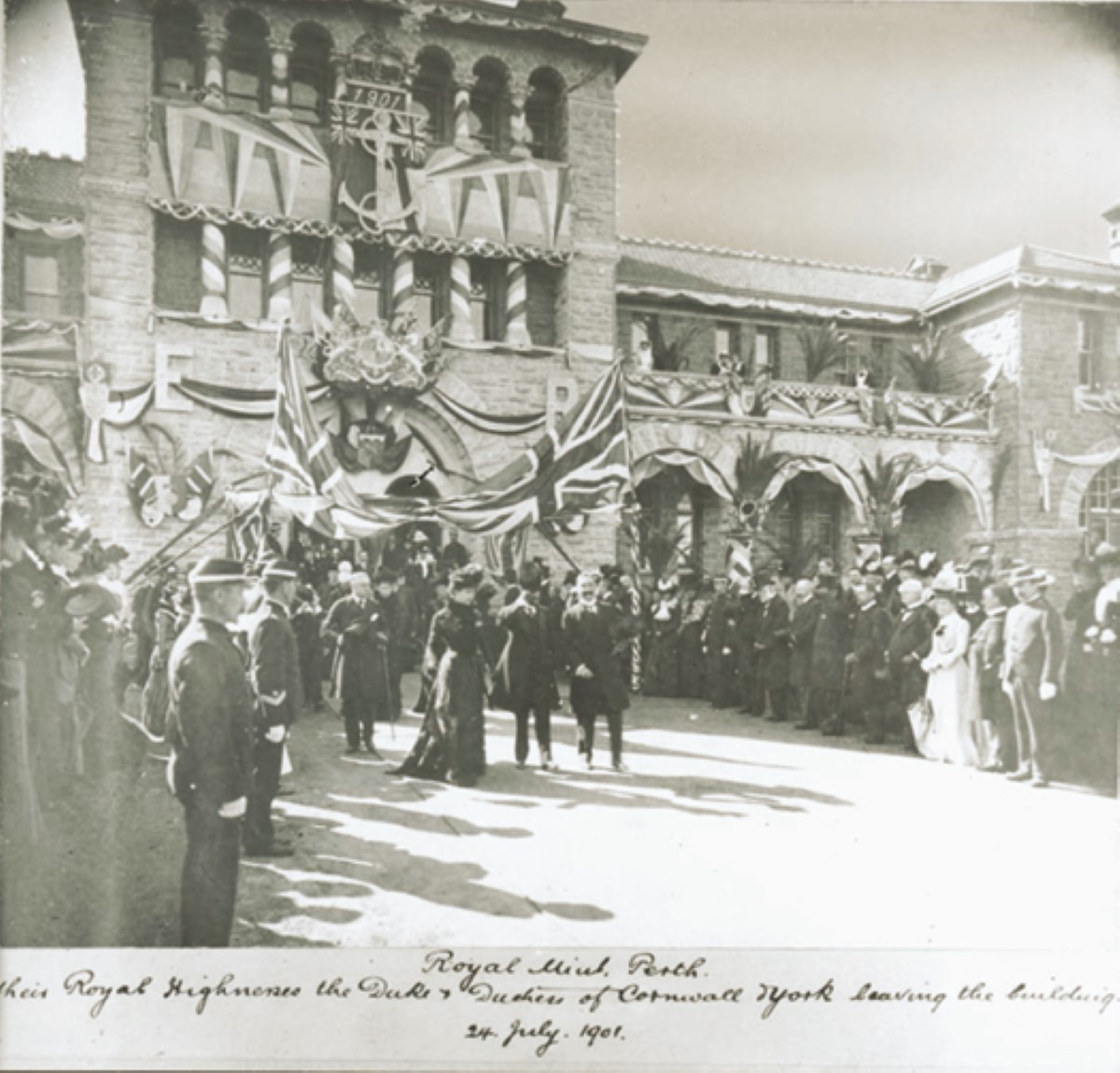 Why was the Royal couple in Perth and how did the people of Western Australia react?
The death of Queen Victoria in January 1901 meant that the Prince of Wales, Albert Edward, was unable to undertake a planned tour of the British Dominions. Instead, he sent his son George, Duke of Cornwall and York, on the extensive eight-month voyage. During the Australian leg of the trip, the 36-year-old Prince famously presided at the lavish opening ceremony of the first Australian Parliament in Melbourne's Royal Exhibition Building on 9 May.
Accompanied by his wife, Mary of Tek, the Royal visitor undertook a series of further engagements around Australia, ending the tour in Perth where anticipation of his arrival had reached fever pitch. Thousands lined the streets to catch a glimpse of the royal carriage and congregated at Kings Park to witness the Duke lay the foundation stone of the South African (Boer) War Memorial in honour of fallen Australians.
Dramatic scenes unfolded at The Perth Mint on Wednesday 24 July. Decked with Union Jack flags and bunting, the grand building looked a picture.
The Duke and his consort were welcomed with an enthusiastic rendition of 'God Save the King' and 'an absolutely fresh display of loyalty and goodwill'.
Conducted to the steps of the Mint, they were presented with a casket from the Chamber of Mines of Western Australia containing gold specimens valued at £250 (the equivalent of more than £30,000 today).
According to a newspaper report, the Duke was delighted and spoke enthusiastically about the benefits of the State's burgeoning gold mining sector.
"We shall treasure this gift as a token of generous good will on behalf of the donors and as a valuable and interesting proof of the richness of the district of Kalgoorlie …. I am glad to learn that the gold mining industry has now become a regularly established industry and I earnestly trust that the present prosperity thereby accruing to the State may not only be maintained, but continue to steadily increase," said.
The heir and his wife then toured the Mint and were presented with a second casket, this one from Deputy Master Campbell, containing two Perth Mint gold sovereigns and two half-sovereigns.
When the Royal pair took their leave after more than an hour, the national anthem was played again followed by much cheering among the happy crowds.