Military aviation coin joins illustrious exhibits at historic museum
Apr 28, 2014
An example of our recently released 100 Years of Australian Military Aviation 2014 1oz Silver Proof Coin is now on permanent display at the Aviation Heritage Museum of Western Australia.
There is no better place in Australia for aero enthusiasts to enjoy the centenary coin release, as our recent visit to the RAAFA-run attraction in Bull Creek, Perth, testified.
There we met Museum Manager John Park, and RAAFA State President Graeme Bland, both brimming with knowledge and anecdotes about the 30-odd aircraft and thousands of aviation artefacts in which they take obvious pride.
Within the Museum's two giant hangar-like wings resides an unrivalled collection of historic military and commercial flying machines. In keeping with the theme of our coin, we were naturally drawn to some of the remarkable military exhibits.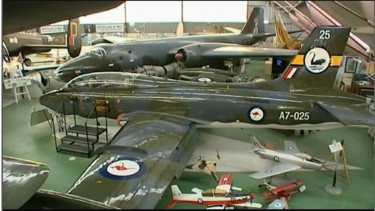 These include a gleaming Canberra bomber, which served with the RAAF in Malaya and Vietnam; an iconic Spitfire, which originally belonged to the RAF; and a beautifully restored Catalina – a superb example of the famous flying boats once seen regularly on the Swan River and Sydney Harbour.
But pride of place, for many, will surely go to the Avro Lancaster, the World War II heavy bomber inescapably associated with the bravery of the Dambusters (No. 617 Squadron), formed in 1943 with airmen from Britain, Australia, Canada and New Zealand.
RAAFA State President Graeme Bland with the 100 Years of Military Aviation coin donated by The Perth Mint.
Post-war, the Lancaster proved useful in a variety of roles around the world. The French Navy, for example, used them for maritime reconnaissance and search-and-rescue roles, basing a number in New Caledonia to the east of Australia.
As these aircraft came towards the end of their service-lives, the RAAFA made a bold request to the French authorities for one of the planes – and, after a little negotiation, was rewarded with its very own Lancaster. It arrived in Perth in memorable fashion, flying over the closing ceremony of the 1962 British Empire and Commonwealth Games at Perry Lakes.
According to John Park, payment amounted to flying the French aircrew back to their Pacific base at Nouméa – about $800 at that time!
For more than 20 years the Lancaster could be seen at Perth Airport where, with no suitable hangar for protection from the elements, its condition gradually deteriorated. In 1983 it was moved to the North Wing of the new Museum at Bull Creek. Today it is a shining tribute to the hard-work and dedication of the Museum's many expert volunteers who have restored it to closely resemble a pre-1945 version in war-time camouflage colours.
"It is the best restored Lancaster in the world in terms of original internal features," John Park said, "and one of just 24 still in existence in various states."
If you'd like to see the 100 Years of Australian Military Aviation silver coin in the amazing Aviation Heritage Museum of Western Australia, and perhaps take the 'Inside Lancaster Tour',