Perth Mint gives royal show of appreciation to volunteers
Sep 20, 2023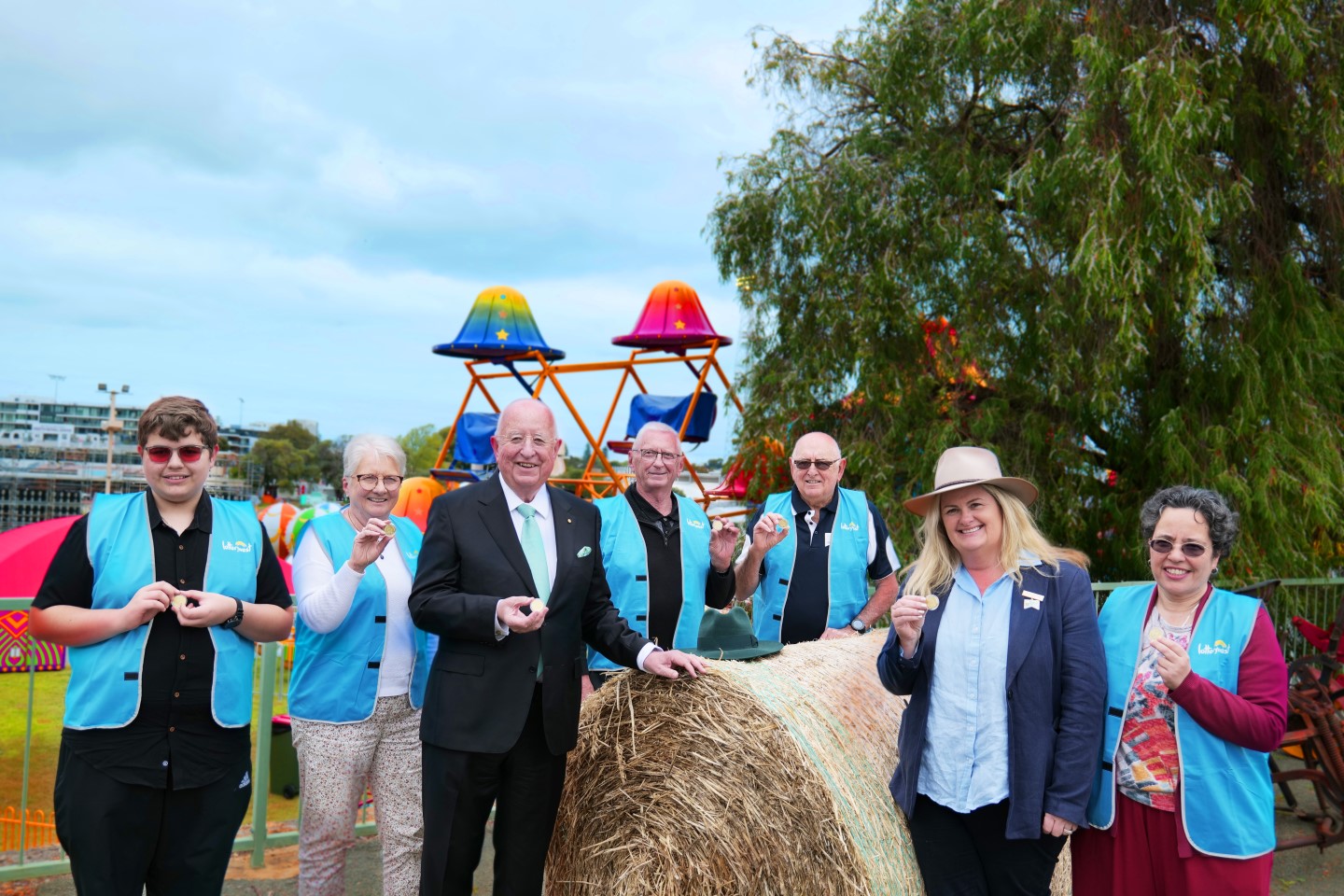 Left to right: Andre Rivas Borge, Penny Wither, Sam Walsh AO, Peter Rudd, John Wither, Robyn Sermon and Maria Rivas Borge
The Perth Mint has donated 250 customised gold-plated medallions to honour the remarkable volunteers of the Perth Royal Show.
This gift celebrates the volunteers' invaluable contributions, without which the show would not be possible.
Co-ordinated by the Royal Agricultural Society of WA (RASWA), the show has been uniting the Western Australian community since 1834, and showcases the best in agriculture, entertainment, and community spirit.
The Perth Mint Chair, Sam Walsh AO, presented the medallions at the Claremont Showground to RASWA CEO, Robyn Sermon, and some of the returning volunteers.
"Both The Perth Mint and the Royal Agricultural Society have a long and proud history in this great state, and I know they value their connection to the Western Australian community as much as we do," Mr Walsh said.
"It is my pleasure to gift these medallions, which have been designed and made at our historic Mint in East Perth, to the people whose hard work and dedication is at the heart of this beloved agricultural fair and thank them for the wonderful work they do."
Ms Sermon also paid tribute to the volunteers.
"The Perth Royal Show simply doesn't go on without the help of our extraordinary volunteers," Ms Sermon said.
"From running competitions, looking after the animals, and guiding patrons around the showground, our volunteers are the reason our show is a success year after year.
"Hundreds of volunteers have registered this year, some as young as 15 and others are into their mid-80s. Many have been helping us for between 10 and 20 years and we feel very lucky they are willing to share their passion and knowledge."
The 32mm medallions were crafted from gold-plated aluminium bronze. Created by the Mint's in-house team, the designs feature some of the most popular aspects of the show, including a cattle dog, sheep, tractor, horse, and the iconic Ferris wheel.

The Mint will stage a free gold panning activity at the show this year, located at the Discover WA - AgVenture Hill zone. Young prospectors will have the chance to win one of 15 gold nuggets daily as they sift through sand in search of hidden treasures.
The Perth Royal Show runs from 23 – 30 September.
For further information and photography enquiries