Pioneer's passion for botany blossoms in Australia's south-west
May 9, 2012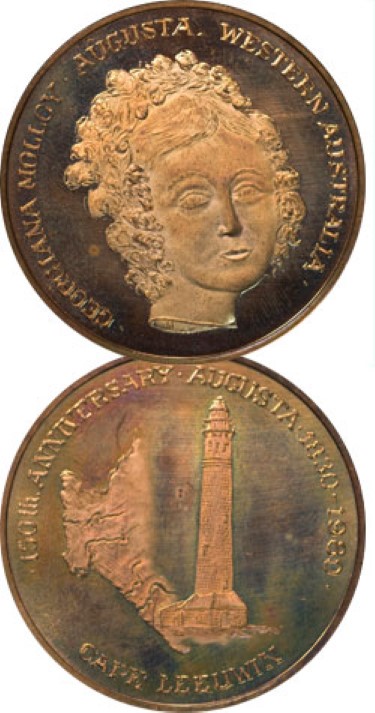 Wellington boots did not exist, neither did sun block nor insect repellent, but Georgiana Molloy was one of Australia's most intrepid botanists.
From the deep, dark, depths of the Vault we illuminate this modest medallion dedicated to this doughty damsel. The medallion was struck by The Perth Mint to commemorate the 150th Anniversary of Augusta in 1980.
Georgiana Molloy (1805 – 1843) was born in Cumberland, England. At the age of 24 she married Captain Molloy, a veteran of Waterloo, and together they set sail for the Swan River Colony.
One week after her arrival in Western Australia she gave birth to her first child whilst she lay in a leaking tent in the rain, a servant holding an umbrella over her. The infant died later in her arms. Georgiana went on to have five girls with her only son, John, drowning in a well.
Her pioneer's life was one of hardship and loneliness, however, Georgiana embraced the strange beauty of the Australian countryside. In 1836, she received a letter from a Captain James Mangles in England, requesting that she send him specimens of native plants. Mrs Molloy ably complied and so began her life-long passion. In England, however, her work was accredited to Mangles and other botanists.
Georgiana suffered bouts of illness related to her pregnancies. Three months after the birth of her seventh child she died tragically young. Eminent horticulturist, George Hailes wrote:
Not only is Molloy of interest to us but Western Australia's JAG Films are currently producing an Australian Film Commission funded interactive documentary on this pioneering spirit; in addition the Georgiana Molloy Anglican School was founded in Busselton in 2002/3.