Centenary medal marks rise of famous Sydney medallist
Jan 24, 2013
With Australia Day celebrations almost upon us, it's timely to examine this 1888 medallion marking the centenary of the arrival of British settlers in Sydney Cove on 26 January 1788.
Housed in our historic collection, it was sent to Perth from Sydney on the closure of the Mint there in 1926. Struck in bronze, silver and gold, these medallions were made on behalf of the Government of New South Wales which distributed them to "prominent citizens".
Contrary to assumption, however, it was not the Sydney Mint that created them.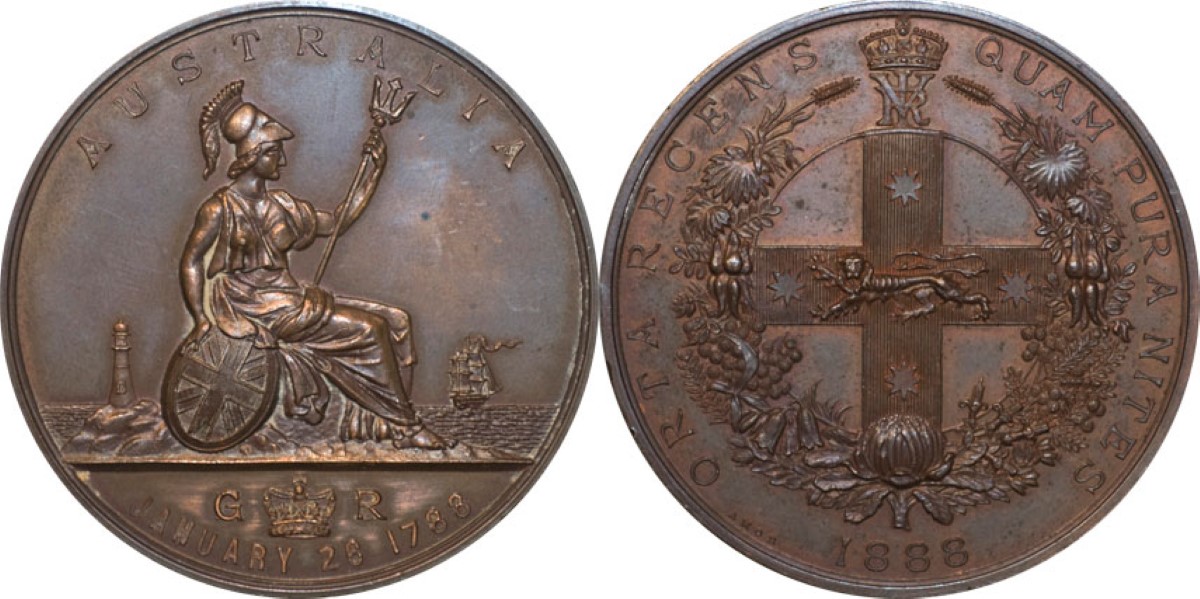 Die engraver William Joseph Amor founded his company in George Street, Sydney in 1888. Learning his craft under English medallists J.S. and A.B. Wyon and later working in Paris, he was en route to America when he was persuaded by Robert Hunt, Deputy-Master of the Sydney Mint, to stay and start his own business.
Marrying the daughter of the Chief Engineer of the Sydney Mint, his association clearly ran deep.
The medal's obverse portrays a familiar Australia/Britannia seated with a sailing ship and lighthouse in the background.
The word 'Australia' appears above the main image; beneath it can be seen the initials GR (George III – reigned 1760-1820) separated by a crown, and the historic date of the settlers' arrival.
The reverse depicts the Arms of New South Wales within a wreath of native flora headed by a crown and the monogram VR. The motto ORTA RECENS QUAM PURA NITES translates to 'recently risen how bright thou shineth'.
Confirmation of the medal's maker can be found on close inspection of the obverse rim at approximately 7 o'clock.
This medallion was one of the very first to be crafted by Amor's company, which became Sydney's major medallist and die-sinker for over a century thanks to its ability to meet demand for locally produced, high-quality commemoratives and insignia such as this.