Australians proud of 1911 penny
Mar 22, 2016
The penny is easily the most collected of all Australian coins. First circulated in 1911 for the new monarch, King George V, it was one of six new Commonwealth denominations to replace British coinage from 1910.
Today it holds a sentimental place in the heart of everyone that lived in the days before dollars and cents. In 1911 it gave citizens of the young Australian nation every reason to be proud.
A royal comrade to Australians
Although Australians have warmly regarded each British monarch since George III, George V (r. 1910 – 1936) seems to have held a special place among them.
A young Prince George first visited Australia when he was just 15, while serving with his older brother Albert as midshipmen on a Royal Navy vessel that patrolled the sea lanes of the British Empire. While on his journey home from Australia in 1881, Prince George wrote in his personal diary [1]:
When extracts from the young prince's diary were published in 1902, it inspired a groundswell of affection and loyalty in Australia.
Prince George next visited Australia in 1901 to open Parliament, stopping over at the Perth branch of the Royal Mint during the tour. With his continued gestures of support for Britain's colonies and Australia in particular, the new King was described in 1910 by one newspaper as being no less than:
A Royal Comrade of Australians…not only their own King, but one who has intimately identified himself with their life, their struggles, and their aspirations, and has proved his title to be regarded as a comrade — as indeed, one of themselves.[2]
The shiny new pennies of 1911 were a direct and official link to the popular monarch, offering Australia's public the first opportunity to see their new King on their own coinage.
Sir Bertram MacKennal – Australian cultural hero
The King's effigy was the work of Bertram MacKennal, the first Australian artist to be knighted.
Born in Melbourne in 1863, MacKennal rose to prominence in London from the mid 1890s. He designed the memorial tomb to King Edward VII, as well as a number of other projects for Britain's royalty and social elite. By 1910, under the patronage of George V, MacKennal had become one of the most successful civic sculptors of his era.
Despite living so far from the country of his birth, MacKennal maintained close links with Australia. He designed a number of important Australian public sculptures – the cenotaph at Martin Place in Sydney, a monument to King Edward VII in Adelaide, a monument to Queen Victoria in Ballarat, as well as the famed Springthorpe memorial in Melbourne to name just a few.
"At the seat of the Empire there is no exclusive privilege more jealously guarded than that of designing the coinage of the realm," declared the press. No wonder, therefore, Australians throughout the Continent were reported to be "expressing their gratification at the fearlessness of the king in conferring so great a distinction upon Mr Bertram MacKennal…"[3]
Many Australians took the appointment not only as the ultimate recognition of his ability as an artist, but also as a de facto acknowledgement of the entire Australian nation.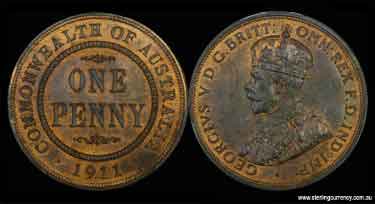 The image portrays an archival-standard strike of Australia's 1911 penny, struck for the express purpose of officially recording the start of the production of Australia's first Commonwealth pennies.
The exact number of such specimens is unknown – just two examples are confirmed to be in private hands, while one more is held in the numismatic collection of Museum Victoria. The first example of this coin to be made available to collectors via Australian auction was not seen until April 2006, when it sold for $30,000.
- By Andrew Crellin
Andrew Crellin's numismatic career began at The Perth Mint. Subsequently he spent over a decade in Sydney with two of Australia's leading numismatic dealers. In that time he wrote two acclaimed books on Australian numismatics, appraised The Perth Mint's archival collection and was nominated to the position of Secretary of the Australasian Numismatic Dealer's Association. Back in Perth, his company Sterling and Currency specialises in Australian coins and banknotes, from the Holey Dollar of 1813 through to the modern coin sets.
Sources:
[1] Newnes; George, "T.R.H. The Prince and Princess of Wales", William Clownes and Sons, London, 1902, p72
[2] KING GEORGE & QUEEN MARY. (1910, December 8). Guyra Argus (NSW : 1902 – 1954), p. 6. Retrieved November 27, 2015, from http://nla.gov.au/nla.news-article174452059
[3] KING GEORGE & QUEEN MARY. (1910, December 8). Guyra Argus (NSW : 1902 – 1954), p. 6. Retrieved November 27, 2015, from http://nla.gov.au/nla.news-article174452059