Footscray Ammunition Factory centenary medal
Apr 22, 2013
This is a really exciting inclusion in our historic collection – a medal designed by eminent Melbourne sculptor and medal-maker Michael Meszaros.
These medals were presented to staff at the Footscray Ammunition Factory during its centenary celebrations in 1988. Now closed, the factory played a significant role in the protection of Australia from pre-federation times.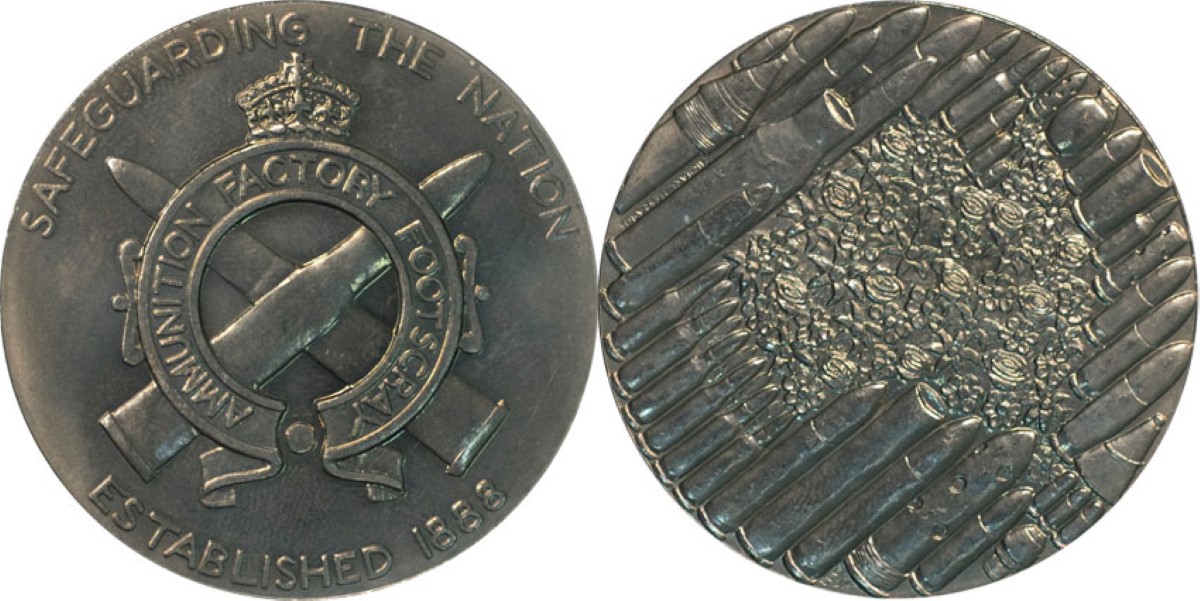 The 1988 Footscray Ammunition Factory medal by Michael Meszaros was struck in bronze (63.5mm) and also in cupro-nickel (40mm).
Calls for ammunition
When Britain withdrew troops in 1870, the self-governing Australian colonies assumed responsibility for their own defence. Under the new arrangement, pressure grew for the local manufacture of ammunition and other ordnance.
Victoria took the lead by encouraging private enterprise to establish Australia's first ammunition plant, with the additional promise that all Government supplies would be procured from the factory.
In 1888, Captain John Whitney opened the 'Colonial Ammunition Factory' on land close to the Saltwater River at Footscray, four miles from Melbourne. Initially, "eight separate buildings were constructed to cover the various stages of the ammunition production," The Illustrated Australian News reported in November 1890.
Subsequently, other facilities were added across Melbourne's inner west, including an explosives plant at Maribyrnong for the home-grown supply of propellant. Ownership was transferred to the Defence Department in 1927 and the factory's importance peaked during the 1940s when it employed many thousands of workers in the production of ammunition and related explosives for World War II.
Symbolism of the medal design
Michael told us his intention for the centenary medal was to put a positive slant on the manufacture of lethal products, a difficult position both philosophically and artistically.
"Since Australian defence was designed to keep Australia safe from external dangers, my design consists of a map of Australia filled with blooming flowers surrounded by seas consisting entirely of the products made by the factory – shells, bullets, fuses, grenades, etc, of different sizes and types. The symbolism is that the products surround and protect Australia and allow the flowers to grow within it."
It was designed prior to the Government's decision to export Australian-made arms and ammunition, a policy he says he regrets.
The medallist – Michael Meszaros
Needless to say, we're pleased to have a design from such a renowned artist in our collection. Michael studied medal-making in Italy at La Scuola Dell 'Art Della Medaglia, attached to Rome's main mint. On his return to Australia, he became a full-time sculptor and medallist, working with his father Andor (1900–1972) in their Kew studio.
According to Museum Victoria: "Michael Meszaros medals are held by the British Museum, the Royal Dutch Coin Collection, and many private collections in Europe, America, Australia, New Zealand and the United Kingdom. In August 2011 he was awarded the American Numismatic Association's 'Numismatic Art Award for Excellence in Medallic Sculpture'. In 2012 he received an OAM in the Queen's Birthday Honours."