Medallion celebrates Lionel Samson
Mar 20, 2013
Browsing through our historic coin and medal collection invariably turns up an interesting looking item we feel compelled to investigate further.
Such a case is this unpretentious medallion produced in 1979 on the occasion of Western Australia's 150th anniversary.
One side portrays a 19th century building, which at first glance is hard to fathom. On the other is an effigy identified as Lionel Samson. According to the inscription, his business also reached its 150 year milestone in 1979.
On further inquiry it quickly became apparent that Lionel Samson was one of those extraordinary pioneering figures upon whose tenacity and skills modern Australia was built.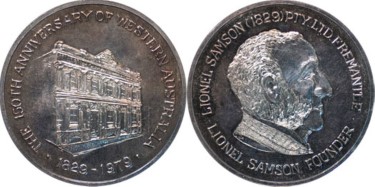 Born in England in 1799, he attended Magdalen College, Oxford before becoming a stockbroker. Rather than follow a career at the London Stock Exchange, however, he emigrated to Australia at the dawn of the Swan River Colony.
Samson arrived in Fremantle aboard the Calista in August 1829 and set up a flourishing import and export business. As well as wines and spirits, his many interests included sheep, cattle, horses, dried fish, sandalwood and whaling. From 1830 to 1832 he served as postmaster-general.
Samson was clearly a driving force within the colony, for "with his wit and charm and his commercial integrity he achieved a respected and prominent position in society," the Australian Dictionary of Autobiography says in tribute.
The first merchants in the colony is today the oldest family business in Australia. Lionel's descendants have remained closely identified with the commercial and civic life of Fremantle.
The Lionel Samson Building portrayed on the medallion, by the way, was originally built in 1835 and remains a part of the port city's outstanding heritage streetscape.