How to identify rare wavy baseline 20 cent coins
Apr 14, 2014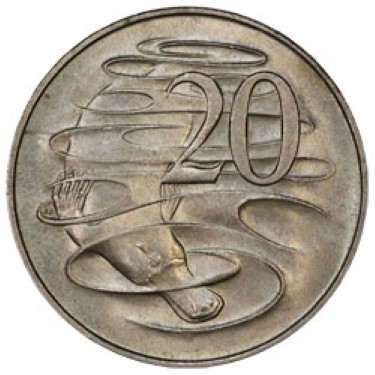 The 1966 wavy baseline 20 cent coin is counted among Australia's rarest decimal coins issued for circulation.
Although 58.2 million 20 cent coins were struck dated 1966, very, very few of these feature what collector's describe as a 'wavy baseline'.
The way to identify the wavy baseline 20 cent coin is to look at the bottom section of the "2" on the tails side. The top and bottom edges of the base of the "2" on all standard 20 cent coins are straight, while on the 1966 wavy baseline 20 cent coin, the upper edge of the base of the "2" has an obvious wave to it.
This seemingly minor, yet quite distinct difference really sets this coin aside from all of the other coins injected into the Australian economy following the introduction of decimal currency on February 14th, 1966. Well-circulated coins dated 1966 can still be found in change nearly half a century later, whereas the 1966 20 cent with the wavy baseline is very seldom seen in any condition at numismatic auctions.
Coins relating to the introduction of decimal currency are hugely popular with the general public – scores of the round 50 cent coins have been hoarded, many thousands of proof and mint sets from 1966 were sold also. Very few collectors will have such an exclusive and intriguing memento relating to the introduction of decimal currency as this however.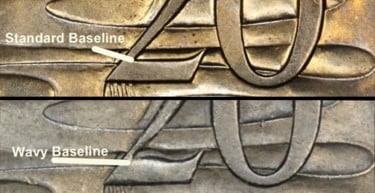 Just what the cause of this design difference is not yet clear – debate is still underway as to whether the wave is due to one or two dies being engraved slightly differently to all others, or whether another explanation might be appropriate.
It is interesting to note online discussions of a design anomaly on several coins in the USA that may or may not be relevant to the 1966 wavy baseline – those coins are known as having "wavy steps" or "trails".
US numismatists that have studied these coins in great detail advise that such errors come about when dies are being created:
"When a blank, conical die is placed in the hubbing press a huge amount of pressure is applied to it. This effectively transfers the image that is on the hub (either master hub or working hub), through compression, to the die. Without atypical conditions occurring horizontal movement between the hub and the die is not produced and the result is a normal image being transferred to the die. However, at times faults do occur and the results lead to an imperfect image transfer."
The trail die and wavy step errors seen on US coins are far, far less obvious than the wavy baseline seen on the 1966 20 cent, so this explanation may well be a red herring. Regardless, I expect that there will be a lot more investigation in the coming months into the technical cause of the design difference on this exclusive and fascinating memento from the heady days of the introduction of decimal currency to Australia.
First published by Sterling & Currency
For sale: TWENTY CENT 1966 Wavy Baseline Choice Unc