Prince's investiture medallion reflects magical day in Wales
Jul 12, 2014
One of the beauties of coins and medallions is their ability to preserve fascinating moments in history forever and this one held in the Perth Mint's historical collection is a prime example. It celebrates the investiture of 17-year-old Edward as Prince of Wales on 13 July 1911.
Since 1301, when King Edward I of England imposed his infant son on the Welsh as their new prince, the title 'Prince of Wales' has been given to the eldest son of the British monarch. The location for the investiture of the 19th Prince of Wales in 1911 was Caernarfon Castle, one of Edward I's 'iron ring' of fortresses built to secure his annexation of Welsh territory 600 years earlier.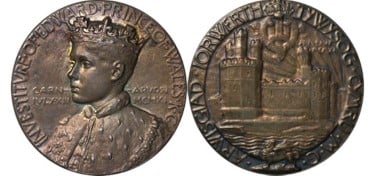 The investiture ceremony itself (watch British Pathé footage here) was without precedent. The young Prince was the first to address the Welsh people in their native tongue and among those to pay their respects that day was a group of Druids.
As we know, Edward was never crowned King. His reign lasted only 325 days. But the "wild enthusiasm" of the huge crowd that gathered outside the castle walls on that perfect summer's day offered no portents of the later crisis.
For the medallion, prolific Welsh sculptor Sir William Goscombe John portrayed the Prince three-quarters left in his investiture robes with a coronet. The bust is surrounded by the inscription 'Investiture of Edward Prince of Wales'.
The words are repeated in Welsh on the other side around a rugged depiction of the castle walls. Reflecting the warm conditions, strong beams of sunlight are seen in the background. Other design details include the Prince's plumes and the Welsh dragon.
Less than 5,500 of these historically important medallions were made in London from silver and a very rare 129 gold versions are also reported to have been created.