SOLD OUT: Jewelled Dragon fires high-end collector interest
Apr 11, 2019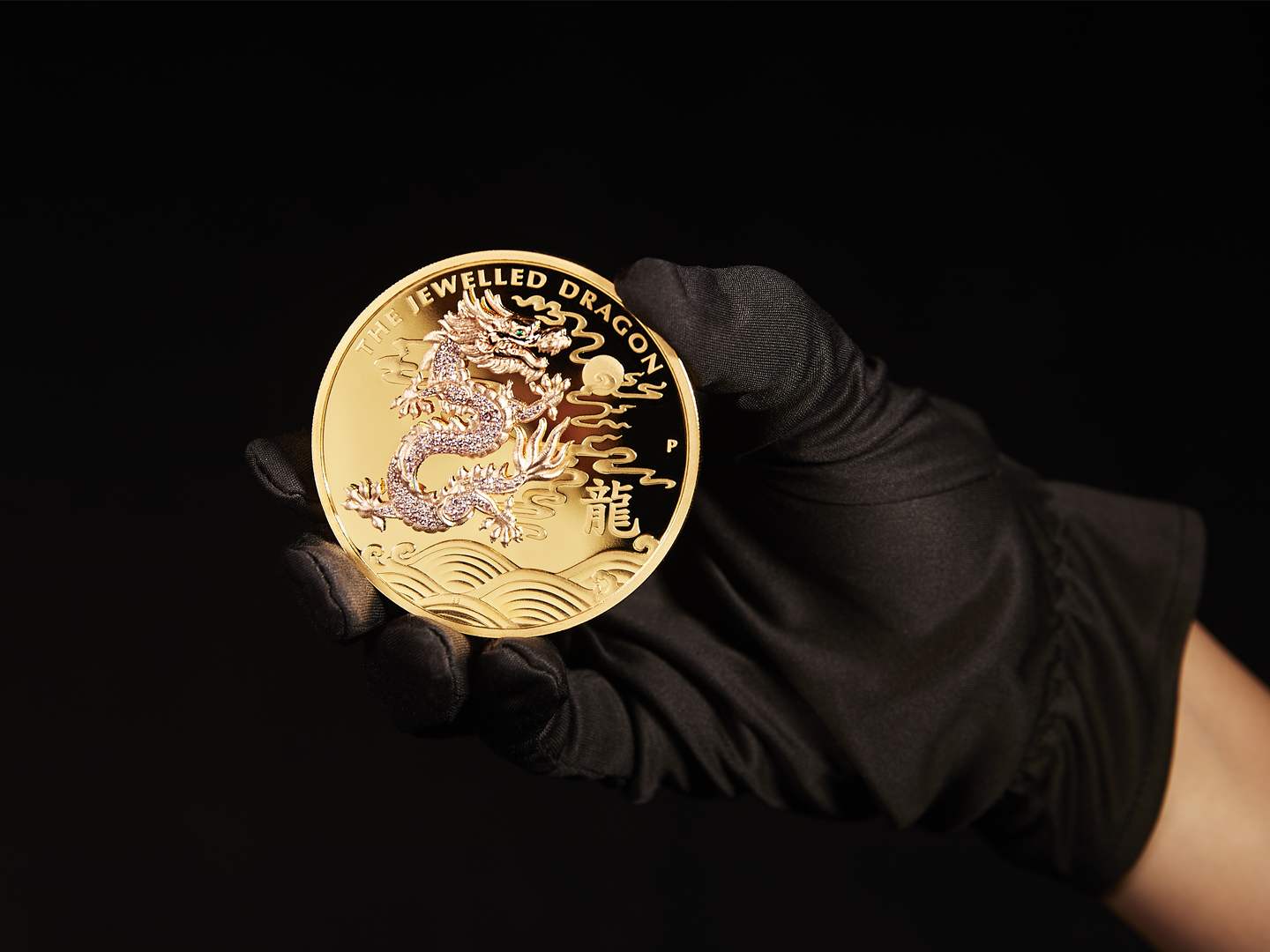 The Jewelled Dragon, a fabulous 10oz gold coin creation featuring 117 rare Argyle pink diamonds, is officially sold out.
Today's news follows our previous announcement that the Jewelled Phoenix, an equally exquisite 10oz gold coin set with 89 Argyle pink diamonds, is also sold out.
Blurring the boundary between collectable coins and remarkable artworks, both issues were designed to satisfy high-end interest in exclusive artistry combining two of Western Australia's most valuable natural treasures – gold and pink diamonds.
As a result of their success, we're now planning a third extremely limited release featuring an animal highly revered in both Eastern and Western cultures.
Flawlessly struck from 10oz of pure gold, the stunning coin is surmounted by a three-dimensional portrayal of the highly symbolic animal. Its serpentine body and sinuous limbs are adorned with 117 meticulously hand-set Argyle pink diamonds representing scales, of which 81 symbolise 'yang' – or male, energy – and 36 represent 'yin' – or female energy.
Far from random, these numbers are closely connected with 'nine', an auspicious number traditionally associated with the noble Chinese Emperor. Each one is a multiple of nine, while the sum of each number's digits adds up to nine.
Argyle pink diamonds
Argyle pink diamonds are among the most beguiling natural coloured gems on Earth. Coveted for their exquisite beauty and provenance, they're so extraordinarily rare that no more than a handful are discovered annually at the Argyle Mine in Australia's rugged north-west Kimberley wilderness.
Adding to the Jewelled Dragon's dazzling aura, its eye is represented by a rich green emerald from the 1,000 year-old Muzo mine deep in the Columbian Andes.
Symbolic coin design
The dragon's mouth is open and eye twinkling in anticipation of capturing the elusive flaming pearl, a traditional metaphor for wisdom, enlightenment, and spiritual essence, partially hidden by spiralling mist and clouds.
The sublime dragon soars exuberantly above rolling waves over which the creature is believed to have dominion.
Mintage of only nine
Exceptionally rare, only nine of these coveted Australian legal tender collectables will ever be released by The Perth Mint.