The Perth Mint unveils 2021 Australian Bullion Coin Program
Sep 1, 2020
The 2021 Australian Bullion Coin Program is ready to deliver for investors at time of heightened interest in gold, silver and platinum.
As a world leader in precious metals for investors, we have an unparalleled reputation for the purity, quality and tradability of our physical bullion products, which are backed by an exclusive government guarantee.
Upholding the very highest standards of minting, these new coins are crafted with meticulous attention to detail from 99.99% pure gold, 99.99% pure silver and 99.95% pure platinum in the trusted form of government-authorised Australian legal tender.
Australian Lunar Gold, Silver and Platinum Bullion Coin Series III
As the first major mint in the world to celebrate the 12 animals of the ancient Chinese lunar calendar, we are pleased to continue Series III of the world-renowned Australian Lunar coin program in gold, silver and platinum.
This year welcomes the Ox, believed to inspire honesty, reliability and leadership qualities in all those born under its legendary influence.
Two designs celebrate the Year of the Ox. Gold and platinum coins portray a strapping ox amid bamboo, a symbol of virtue. Silver coins portray an ox and its calf with a cherry blossom tree, a symbol of love and beauty.
Available 14 September 2020
10oz, 2oz, 1oz, 1/2oz, 1/4oz, 1/10oz, 1/20oz
unlimited except for 30,000 1oz coins
10 kilo, 1 kilo, 5oz*, 2oz, 1oz, 1/2oz
unlimited except for 100 10 kilo and 300,000 1oz coins
Australian Kookaburra Silver Bullion Coin Series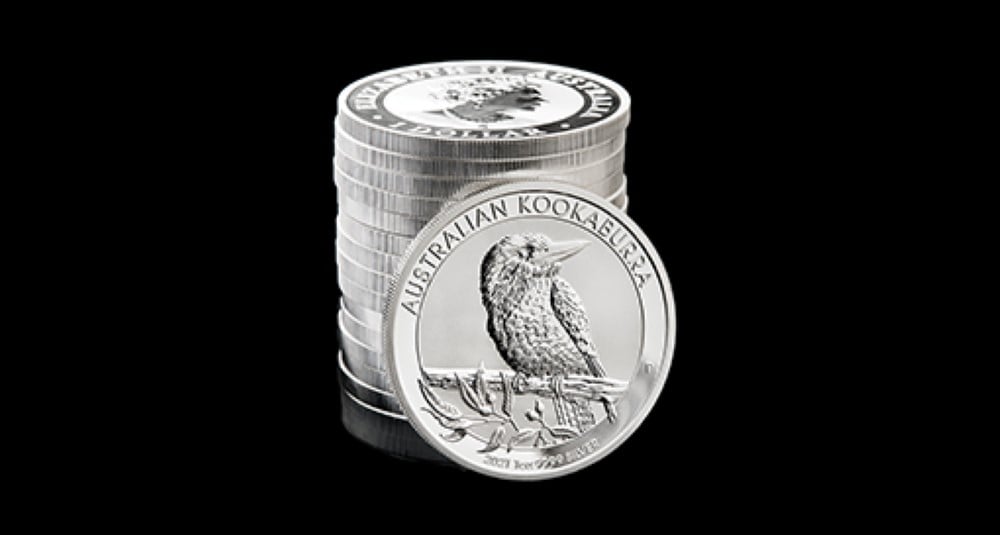 Established for more than three decades, the Australian Kookaburra silver coin series features annual portrayals of the beady-eyed kookaburra, a raucous bird immortalised in Australian folklore for its distinctive laughing call.
The 2021 design portrays a kookaburra with leaves and seed pods synonymous with native eucalyptus trees.
Available 12 October 2020
unlimited except for 500,000 1oz coins
Australian Kangaroo Gold, Silver and Platinum Bullion Coin Series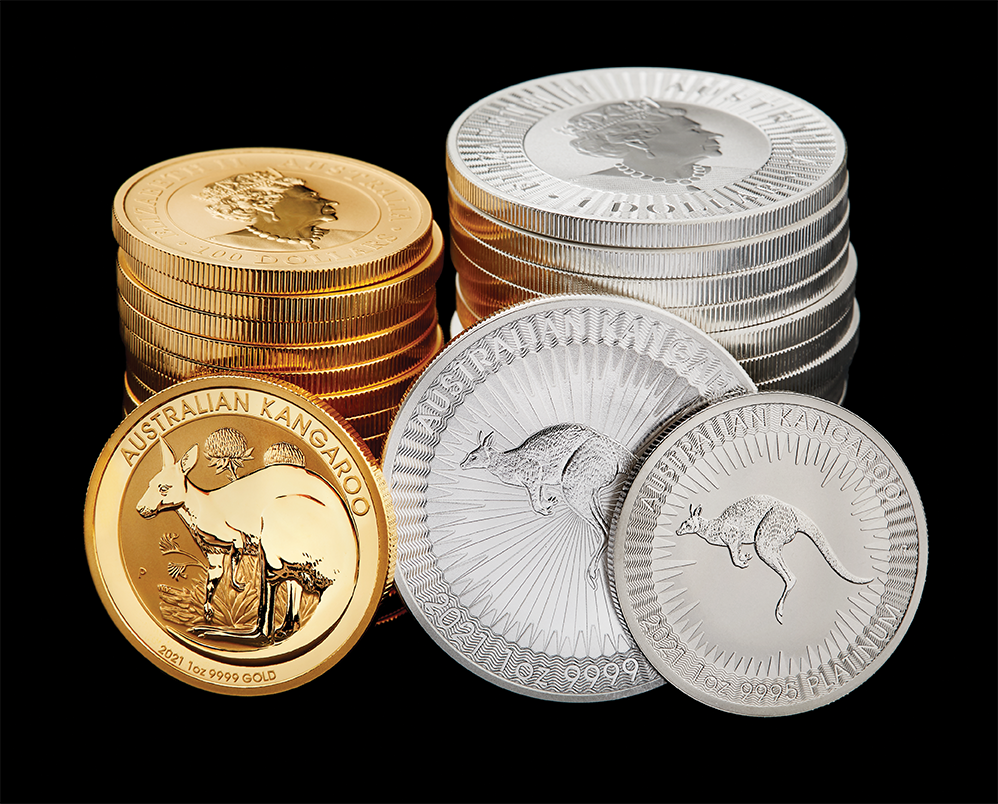 No wildlife symbol more powerfully equates with Australia than the kangaroo. In 2021 we are proud to present our most emblematic animal for the 33rd time on Australia's signature gold bullion coin series. The program also includes sought-after silver and platinum versions featuring our classic 'red' kangaroo artistry.
The new gold coin design portrays a crouching kangaroo against a backdrop of Waratah and Kangaroo Paw native Australian plants.
Available 16 November 2020
1 kilo, 1oz, 1/2oz, 1/4oz, 1/10oz
unlimited except 100,000 1/2oz, 150,000 1/4oz, 200,000 1/10oz coins
For the convenience of volume buyers, Silver Kangaroo coins can be purchased in protective acrylic tubes of 25 coins and monster boxes each containing 10 tubes.
Australian Koala Silver Bullion Coin Series
[INSERT IMAGE]
Spending much of their time aloft among the fragrant foliage of the eucalyptus forest, koalas are Australian native animals cherished the world over. Devouring their favourite gum leaves or dozing contentedly in the sunlight, these gentle marsupials have been charmingly represented on sought after Australian Koala silver coin since 2008.
In 2021, the coins show a sleepy koala nestled between the branches of a eucalyptus tree.
Availability date: 11 January 2021
Silver coins: 1 kilo, 1oz
Mintage: 1 kilo unlimited, 300,000 1oz coins
Two reasons to buy bullion from The Perth Mint
For your peace of mind, The Perth Mint offers the following:
1. Authentication feature
A select number of coins, including all 1oz sizes, include an authentication feature on the reverse in the form of a micro-laser engraved letter. Detectable under a magnifying glass, it is designed to make it significantly more difficult for the coin to be counterfeited.
2. Government Guarantee
The Perth Mint is wholly owned by the Government of Western Australia, which underwrites all our operations, undertakings and obligations – including the purity and weight of our coins and bars. This exclusive guarantee offers clients peace of mind in the knowledge that a highly rated sovereign entity is fully underwriting our offerings.
Four ways to buy your 2021 Australian Bullion Coins
The following options exist for buyers of the 2021 Australian Bullion Coin Program:
1. Bullion Trading Room
Buy and pick up in-store from the Bullion Trading Room, 310 Hay Street, East Perth, seven days a week 9am and 5pm AWST. [Normal opening hours subject to alteration during COVID-19. Please check for current status.]
2. Bullion sales website
Eligible customers can register to order online from the comfort and convenience of their own home between 8.30am and 5pm AWST.
3. Bullion call centre
Order through a Customer Services Officer on 1300 201 112 or +61 8 9421 7218 between Monday and Friday between 8.30am and 5pm AWST.
4. Authorised distributors
Contact your local authorised Perth Mint distributor in Australia/New Zealand, Asia, United States, Canada or Europe.

All unlimited coins will be manufactured until the end of 2021, except the Australian Lunar 1 kilo silver bullion coin which will be manufactured until the end of Series III. Limited mintage Australian Lunar 1oz gold and silver coins will also be manufactured until the end of Series III, unless sold out beforehand. Each coin's final mintage will be declared once its production run is closed off.
* Availability subject to possible delay. Please call for details.