Central bank gold holdings across the past decade  
Sep 23, 2020
As of September 2020, central banks collectively held just over 35,000 tonnes of gold. At a US dollar (USD) gold price of 1,909.35 per troy ounce*, these holdings were worth more than USD 2.15 trillion.
Since the Global Financial Crisis (GFC) hit just over a decade ago, central banks have added to their holdings each year as net buyers of gold. The chart below highlights net purchases on a calendar year basis from 2010 to 2019 and in the first six months of 2020.
CENTRAL BANK NET GOLD PURCHASES (TONNES) – 2010 to 2020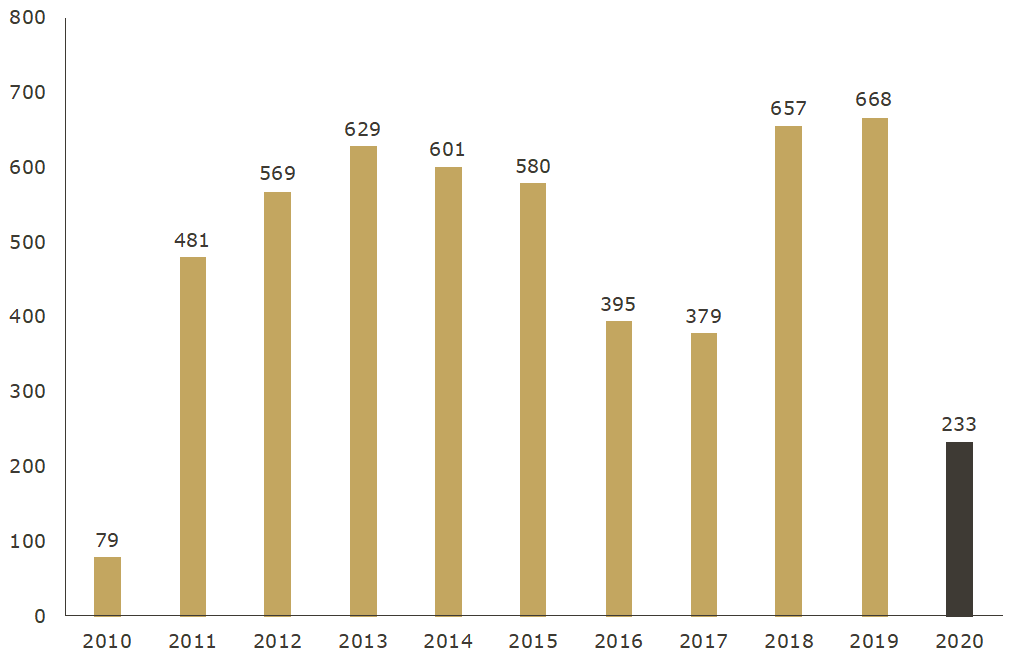 Source: The Perth Mint, World Gold Council
Over this 10 and a half-year period, central banks have purchased more than 5,000 tonnes of gold. 2018 and 2019 were particularly strong years, with over 650 tonnes bought in each.
To put those figures into context, net purchases in 2018 and 2019 were higher than any previous calendar year purchase since the 1970s.
Emerging market nations have been primarily responsible for the rise in central bank holdings, with Russia, China, Turkey, Kazakhstan, Poland, Mexico, India, Iraq, Thailand, the Philippines, Brazil, Jordan, Hungary and a handful of other nations building their gold reserves since 2010.
Why do central banks own gold?
According to a 2020 survey by the World Gold Council, central banks hold gold as part of their reserve assets for many reasons, not least of which is its historical position as a premier monetary asset.
Other reasons given include:
Gold is seen as a long-term store of value.
Gold is trusted as an asset that will perform well during times of crisis.
Gold has no default risk.
Gold is seen an effective portfolio diversifier.
Gold is a highly liquid asset.
Gold can be valuable collateral.
Will central banks continue to invest in gold?
Whilst there are no certainties, it seems that on aggregate central banks will continue to build their gold holdings in the years to come.
There are several reasons for this, including heightened geopolitical risks in the market today, and the lack of real yield available in both short- and long-term fixed income securities.
It is also worth noting that whilst developed market central banks have large gold holdings, both in terms of total tonnage and the share of reserve assets, emerging markets are still playing catch up.
This can be seen in the table below, which shows the total amount of gold and share of reserve assets held by developed market central banks in the USA, Germany, France and Italy. These numbers are compared to those of Brazil, Russia, India and China (known as the BRIC nations).
Central bank holdings by nation
Source: The Perth Mint, World Gold Council
In terms of total tonnes of gold, at just over 1,200 tonnes on average, the BRIC nations hold barely a quarter of the average gold holdings of the USA, Germany, Italy and France. The disparity is even greater when one looks at gold holdings as a percentage of reserve assets.
Given the geopolitical and monetary environment the world finds itself in today, the gap seen in the table above may well continue to narrow in the years ahead.
references
2020 Central Bank Gold Reserve Survey, World Gold Council
*LBMA PM gold price on 21 September