How rare are pink diamonds?
Nov 24, 2022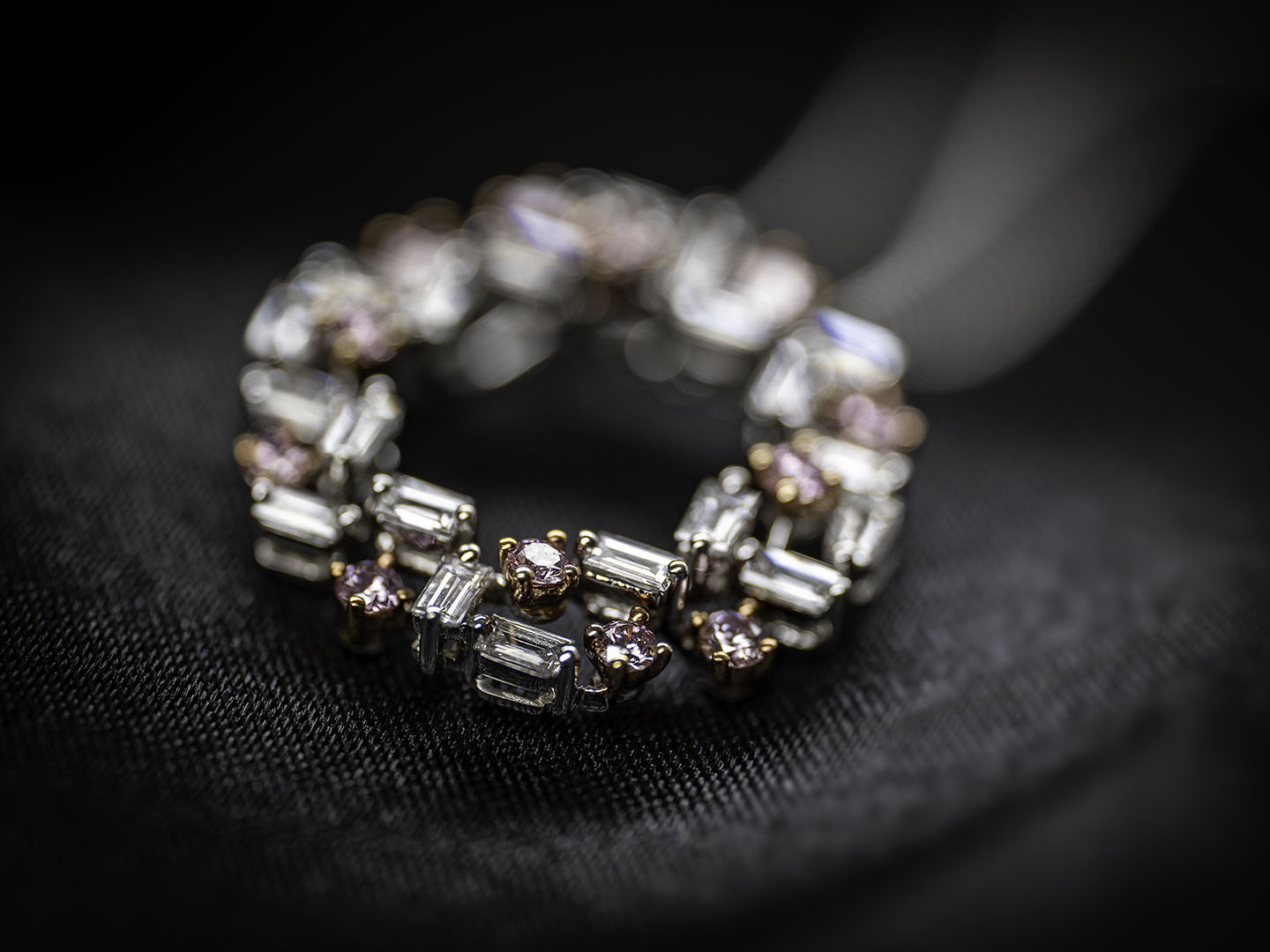 Diamonds are found in many different colours and are among the world's rarest and most valuable gems.
The rarest being the red diamond, with approximately only 30 in the world (1). A blue diamond is the second rarest as they are only mined in Australia, India and South Africa (2).
Then there is the pink diamond, with 90% of the world's supply only found in the Argyle Mine in the Kimberly region in Western Australia. And as recently as July 2022, the biggest pink diamond found in 300 years, named Lulo Rose, was discovered in an alluvial mine (mining of a stream or riverbed) in Angola, weighing in at a phenomenal 170 carats. (3)
Although the rareness of the pink diamond is almost comparable to blue diamonds, pinks are often more costly. Though this hasn't always been the case. As little as 20 years ago, pink diamonds were simply a curiosity to geologists as the colour is not formed the same way as with other coloured diamonds. (4)
What makes a diamond pink?
Most coloured diamonds get their colour from elements and impurities or structural defects in their lattice structure. That isn't the case for the pink diamond. In fact, gemologists are unsure exactly what causes the pink hue. (5)
One theory is that during formation, extremely high pressure is placed on the lattice structure causing it to slip. Known as plastic deformation, graining or slip event, one slip causes the diamond to turn brown, while two slips cause the diamond to turn pink. Plastic deformation is a very rare phenomenon and even more rare when it happens twice.
Perhaps it's this that gives the pink diamond such mystique – and a higher price tag. The closure of the Argyle Mine in 2020 after almost 40 years has also helped increase the desire for these gems as the supply becomes more limited. Incredibly, only 1% of the total mine's production was actually pink diamonds, giving you a remarkable picture of how rare the pink diamond actually is. (6)
Pink diamond colour intensity
The pink diamond is graded according to the strength and intensity of its main colour. In terms of shade, pink diamonds are also categorised by their secondary saturation of colour, if they have one, such as brown, orange or purple. The more intense the main colour, the more rare and therefore more valuable the pink diamond usually is.
The Gemological Institute of America (GIA) grades pink diamonds (5) using the following scale:
Faint
Very light
Light
Fancy light
Fancy
Fancy intense
Fancy vivid
Fancy deep
Fancy dark
Royal pink diamonds
The Williamson pink diamond (7) was discovered at the Williamson diamond mine in Tanganyika, now known as the United Republic of Tanzania, in 1947. The 54.5 carat rough diamond was given to Princess Elizabeth and Prince Philip for their wedding in November 1947 by the owner of the mine, geologist John Williamson.
The following year, Briefel and Lemer – a London-based diamond cutting company – were tasked with transforming the rough stone into a round brilliant cut 23.6 carat polished gem. Cartier was then commissioned to design a suitable setting for the huge diamond.
In 1952, the pink diamond became the centre of a flower-designed platinum brooch surrounded by white diamond petals and was finally completed in 1953 when Princess Elizabeth was crowned Queen Elizabeth II.
Estimated at around USD 34 million, the Williamson pink diamond brooch is thought to have been one of Her Majesty's most valuable brooches in her collection.
More recently, the Williamson Pink Star diamond, named after the stone given to the late Queen Elizabeth II, set a world record after fetching a staggering USD 49.9 million at auction in Hong Kong. (8)
Where can you purchase pink diamonds?
Purchasing pink diamonds should be an enjoyable and unique experience. With The Perth Mint's jewellery boutique you can be safe in the knowledge that the stunning and rare pink diamonds you are buying are of high quality.
In our landmark heritage-listed building, our elegant jewellery boutique is home to some of the world's most exclusive pink diamond jewellery. We even have our very own beautifully appointed pink diamond room where you can discover our wide range of jewellery. When it comes to our luxury Argyle Diamond collection, we offer the peace of mind that comes with purchasing from a Government of Western Australia-owned enterprise with a long-standing reputation for quality and integrity.
As Perth's premier jewellery destination, our elegantly appointed boutique offers an unsurpassed range of sophisticated and stunning pink diamond jewellery, perfect for an engagement ring or wedding band.
Book your appointment today and one of our highly trained consultants can take time to assist you in making the perfect choice for you or your loved one. The Perth Mint Shop is home to an extensive and unique range of treasures which can only be fully appreciated in-store.
References
1 - https://www.capetowndiamondmuseum.org/blog/2013/04/red-diamonds/
2 - https://www.diamonds.pro/education/blue/
3 - https://www.bbc.com/news/world-africa-62316058
4 - https://www.bbc.com/news/magazine-30584361
5 - https://www.gia.edu/doc/Characterization-and-Grading-of-Natural-Color-Pink-Diamonds.pdf
6 -https://argylepinkdiamonds.com.au/mine/#:~:text=While%20operating%2C%20the%20Argyle%20Diamond,both%20in%20size%20and%20complexity
7 - https://www.rct.uk/collection/themes/exhibitions/diamonds-a-jubilee-celebration/buckingham-palace/williamson-diamond-brooch
8 - https://www.theguardian.com/world/2022/oct/07/rare-diamond-williamson-pink-star-hong-kong-auction